There is less snow falling in Lithuania
According to Lithuanian hydrometeorological data, the earliest snow in Lithuania occurred on September 28, 1972. precipitation covered the landscape of Panevėžys. In comparison, snow is not a severe phenomenon in November, on the contrary, snow in Lithuania usually begins in October and November.
Although a large part of the population saw the snow this morning, the first snowflakes appeared on November 8 in Visaginas.
Even so, "this year's snow" is late compared to last winter. In 2011-2021, the first snow fell five times on October 21-29, and for the remaining five years, between November 13-21.
Last year, snow appeared on November 20th.
Long-term statistics show that most of the snow falls in winter in the Highlands – Skuodas, Telšiai, Plungė, Rietavas and other nearby towns.
The southern highlands of Samogitia also like blizzards: in this region they rush for 100-130 hours a year.
Almost a century ago, the thickest layer of snow in the country was recorded near these areas: in Laukuva, the snow cover was as high as 94 centimeters during the entire observation period.
And in 1992, heavy rainfall marked Eastern Lithuania so much that the resulting frost mass reached 250-280 g. From such great frost, the wires were broken, the poles turned and the trees broke.
True, the chances of seeing such a thick half-day and gloomy winters are dwindling again and again. Trends show that snow is falling less and less in Lithuania, and it does not last as long as it did before.
It will not only harm tourism
Clearly, climate change is not just melting Arctic glaciers. Various reports across Europe show sad conclusions, saying one thing: in the next 10 to 20 years, Europe will have more snow than the winter season in Europe in short.
For example, in 2014-2018. Alpine ski resorts, which attract about 43 percent. in the world of skiers, there was less than average snow at the beginning of the early season, shows ski industry report data.
Changes in the amount and timing of snow can affect not only the winter entertainment-oriented tourism industry, but also the use of fish spawning and the amount of water that people can use during the warm season.
Less snow – more rain
According to the U.S. Environmental Protection Agency, climate change could change not only the total amount of precipitation, but also its types. One of the reasons for the decrease in snow is that more winter precipitation is not in the form of snow but in the form of rain.
Higher temperatures cause more water to evaporate from land and oceans, resulting in more rainfall in some areas and higher storms.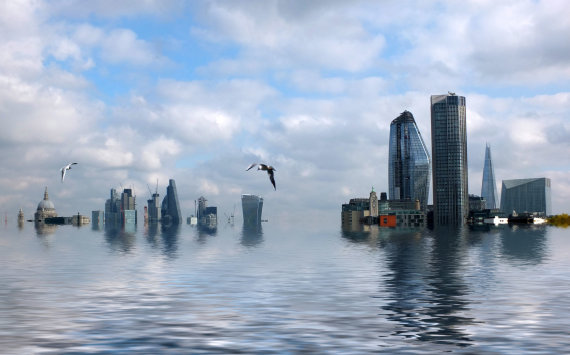 Photo by 123RF.com / This is what flooded London would look like
True, snowfall may even increase in some areas due to climate change. This would happen if the temperature still remained below freezing after rising. In this case, more snow could fall nearby in the local areas, as the lakes remain frozen for a long time, and the large amount of water that has evaporated from the precipitation would turn into snow.
99.9 percent. world scientists agree that climate change is the result of human action. This phenomenon poses a threat not only to some of the animal species that are threatened with extinction due to the warming climate, but also to humans, where melting glaciers can release viruses and bacteria that have lingered in them for millennia.