New increase in positive swabs which also exceeds the 518 positives recorded in the previous 48 hours. The sales positivity rate at 6.6%
FLORENCE – The new cases recorded in Tuscany in the last 24 hours are 521. The count of positive swabs had stopped 24 hours earlier at 423. The figure on Sunday also exceeds the 518 positive ones recorded on Friday.
The 521 new cases emerged from the analysis of 29,881 swabs, of which 9,616 molecular swabs and 20,265 rapid tests. Fewer than 31,583 swabs processed on Saturday.
The rate of new positives rises from 1.34% to 1.74%, while it grows from 5% to 6.6% on the first diagnoses.

The doses of anti-covid vaccine currently being administered are 6,176,572. The government has given the green light to book third doses for over 40s.
Below is the table with the distribution of infections in the municipalities of Tuscany.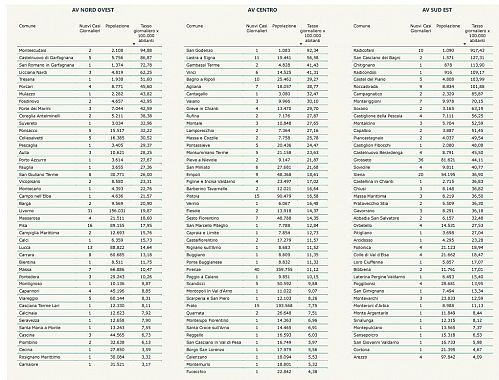 Below is the focus divided by province and age group of the infected.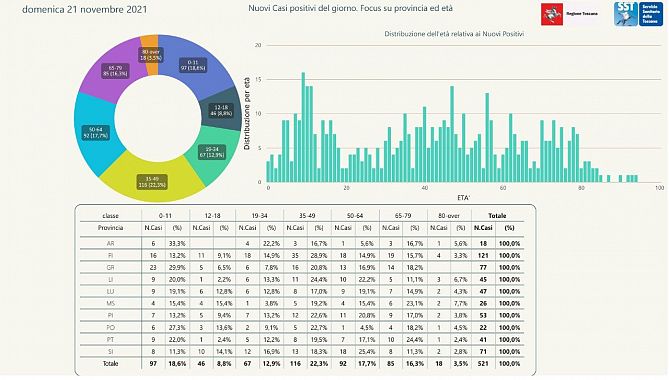 n n n n n n n n
n n n n n n n n n n n n n n n n n n n n n n n n n n n n n n n n n n n n t n t n t n t n t n t n t n t
n t
n t
n t n n t n t t n t t n t t n t t n t t n t t n t n n "; function injectExternalScript (el, src) {var newScript = document.createElement (" script "); newScript.src = src; target.appendChild (newScript);} function injectInlineScript (el, text ) {var newScript = document.createElement ("script"); var inlineScript = document.createTextNode (text); newScript.appendChild (inlineScript); el.appendChild (newScript);} function injectChoiceJs () {if (choicejs) {target = document.getElementById ('choice-js'); target.innerHTML = choicejs; var scripts = target.querySelectorAll ('script'); for (var i = 0; i