The French admits that he did not even know where Lithuania was before. "I am one of those who desperately fell in love with a Lithuanian woman and traced her to another part of the world," said F. Aimable.
Atypical couple
During the year, F. Aimable has already fallen in love with the narrow streets of Vilnius Old Town and the Lithuanian rhythm of life. According to the dancer, the pace here is much slower compared to Paris and its hustle and bustle.
"I adore delicious food, so I can safely say that your masterpiece – cold beets are worth their weight in gold! If one had to choose one dish that would describe the Lithuanian award, it would be 100 percent. it would be cold borscht, "said the Frenchman.
Asked to tell the beginning of the story of "what led to the packing and going to a country he had never visited," Aimable did not say much. In general, the answer to all questions is very simple and clear – love.
"Yes, this is another story about love (smiles). In fact, until I met Ugne, I didn't even know where Lithuania was. Most of my friends didn't know either. They have had to tell for a long time, in the part of the map you can find this small country by the Baltic Sea, "said the dancer.
"We met Felix at the Lock is not a joke camp in France two summers ago. It was the only locking dance camp in Europe. So, it is not difficult to predict that real enthusiasts of this style gathered there, "said U. Norkūnaitė.
It is said that joint activities are very close. The 24-year-old dancer, better known by the nickname Funky U, is a perfect example of Our Life Story: The communication continued after the camp. He moved on to correspondence lasting from morning to evening. However, I think if it weren't for Felix's perseverance, we wouldn't be where we are now – we live together in Lithuania, where we have common plans for the future. "
To the question whether it is easier or harder when two dancers live under one roof and constantly talk and everything else revolves only about dances, U.Norkūnaitė answered that, like everyone else, there is everything in a relationship – both difficult and easy days. But the couple is constantly talking about everything. It's not an easy road, but according to the girl, it's really worth it. "Our lives are filled with loud music and, of course, dance moves. We are definitely not a typical couple, "added U. Norkūnaitė.
Fateful acquaintance
U.Norkūnaitė works as a training coach at the ANT dance studio, in the safe Ogmia city in Vilnius. For both beginners and advanced, she conducts workouts on Mondays and Wednesdays. On the same days, Aimable teaches the secrets of curling and popping there. And on Fridays, the Frenchman also conducts Freestyle training.
"It simply came to our notice then. No matter your age or gender, these dance styles are for everyone, Aimable said. – For someone who feels attracted to dance but doesn't know which style would suit them, I suggest starting with a variety of styles on the YouTube platform. I believe that watching a few such videos will make it clearer to him which style of movement he wants to repeat and which he would not like or dislike at all. Of course, I really want to encourage everyone to try the style of curling dance, which is where I started my journey. "
According to the French, the curious style is visually completely different from other street dances. There is more structure in the movements here: "When dancing, there is such a wave of good energy that after a workout you would be in a bad mood, you should put in a lot of effort (smiles). And the poping style is visually very fun and eye-catching. In this style, the so-called "robot" movements, waves and other fun elements are already called. "
F.Aimable's acquaintance with dance began a little later than a frequent other representative in the field.
"Dancing usually starts in childhood, and I was one of those who discovered dance when it was most needed. Dance came into my life when I was 20 years old. At the time, I was going through a difficult time, it was hard to live with myself, I didn't feel happy, so the dance healed me, – opened the Frenchman, also known as "Dice". – When I think about it now, manifestations that dance can be "my thing" have happened before. When I was a teenager, as one I tried to replicate the movements of popular dancers. But then it didn't turn out to be something more serious. "
Photo album of personal album / Felix Aimable and Ugnė Norkūnaitė
2015 a friend led him to his first training exercise. The French immediately liked, fascinated and intrigued this style of dance. Not long after, A.Aimable began to learn the subtleties of curling, delving into the technique of this dance. And already next year, at one of the fighting events, French dancing is also challenging with a pop style. The latter also seems very interesting to him. This is how poping came alongside curling workouts.
Want to be an example
"In Lithuania, as in France, there are not many representatives of curling and poping. Of course, given the size of the countries and the population, it is natural that there are more dancers of these styles in France. Oh, where there are more dancers, there's more competition. In terms of the number of dancers, again, the more dancers there are, the more likely they are to have more talent and great coaches. All this is based on pure statistics. For example, it is said that only 3 percent. "All dancers become professional dancers," added A.Aimable.
The 27-year-old Frenchman, he says, is a newly "baked" coach. He has been engaged in this activity for only a couple of months. However, F.Aimable already boldly states that it is much more difficult to teach and train than to dance: "Working as a coach puts a lot of responsibility on your shoulders. students need to think about how to interest students every day. However, while it is difficult, it is also very interesting. "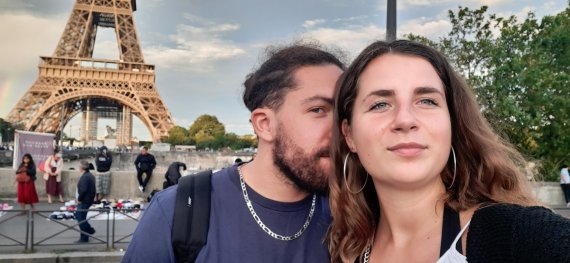 Photo album of personal album / Felix Aimable and Ugnė Norkūnaitė
What is F. Aimable's biggest goal in dance? "It can be said that I started dancing in search of help. I found her dancing. Tad, I aim to talk as loudly and mostly as I can about how strong dance is, how dance connects, teaches, motivates and heals.
It wasn't until I started dancing that I realized how free, happy I am and how boldly I can change my life. For example, pack your suitcases and go to live in another country (smiles). I want to continue to improve in dancing. "I also want to be an inspiration to those who feel brave enough and are afraid to start something new, or do not dare to change things they don't like," said F. Aimable.
By the way, at ANT Dance Studio this is not the first and not the only love story. Violeta DaQueen and Auggi, a married couple, also work as coaches there. A representative of the High Heels dance style and a hip-hop dancer, of course, met in the studio. The "culprit" was dancing again.