Highlights from Minister Karaismailoğlu's statements:
CHANNEL ISTANBUL
We had the Sazlıdere Bridge, the foundation of which we skipped. From here, the Channel was passing through Istanbul. We designed this bridge according to Kanal Istanbul. It will be the first institution of the channel. We were watched. Kanal Istanbul is a waterway. Required to build road and rail systems. In this way, we have paved the way for the Channel together. Cebeci tunnel, one of the widest tunnels in the world, is a 55 km long road from Hasdal. Both transportation and school are Kanal Istanbul school. According to Kanal Istanbul, we are starting to prepare for the competition.
To Kanal Istanbul to design the Halkalı-Kapıkule line for you. Kanal Istanbul is a job that will both take time and die. It is necessary to make alternative routes first. The world is very active in this maritime trade, it is very important for us to be present in the world and to direct such logistics.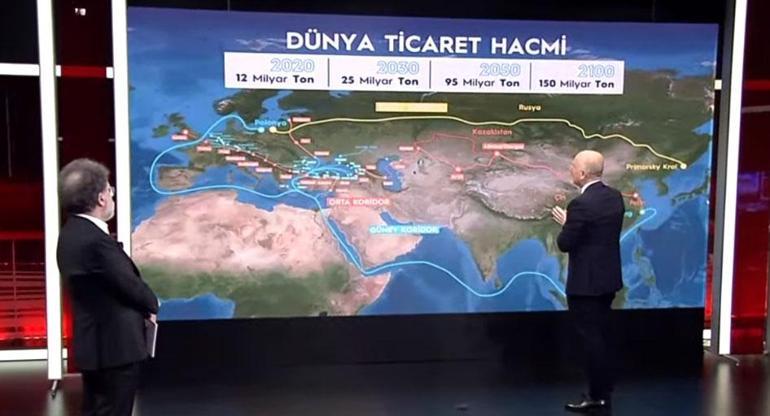 They are the most economical corridors. There are 40 thousand ship movements in Istanbul. Istanbul does not have the capacity to handle this. Today, there are waiting times of up to 20 hours in the Bosphorus. In 2030, it will reach a size that cannot handle 25 billion tons of trade volume. There is a need for bridges and roads for the health of your country. As the state, we need to find solutions to future needs now. In the news that opposes the bridge and opposes the Kanal. Soil will not be excavated in the construction of Canal Istanbul as much as the soil excavated for Istanbul Airport. Canal Istanbul's 70 percent waterway corresponds to 30 of the excavation area.
KILIÇDAROĞLU'S LETTER TO AMBASSADORS

We feel sorry for those who aspire to run the state. Who befits to complain, they complained about their grievances. It's an investment project. Will you hold the ship? This letter certainly does not hinder the project. The most important European manufacturers will come and try to find out that they will take part in this project. Expecting psychics from strangers. We pull to attract, they threaten themselves. This is a transportation plan. It is a project that Turkey and the Bosphorus need to be prepared for risks. You "dry the water" while the same Bosphorus is being built. Is there anything this mentality does? It pays for the investment and for themselves.
CANAKKALE BRIDGE

The son managed the deck in general. After that, we start the fine work. Çanakkale's excellent acceptance is that it can benefit from technology. This bridge is 4600 km. 3 times as many as the bridges in Troy. In the middle are schools around the world. There is also a tower with a height of 318 meters. The middle perimeter is 2023. There is also subtle content. On this 318-meter construction, the bullet of Corporal Seyit will be placed.
HOW MUCH IS THE TRANSITION FEE?

This project is a 2.5 billion Euro project. It was made without a penny coming out of the state coffers. This investment will also have a certain maturity. Our President will announce the transition when it will be opened. It can also be under 15 Euros. You will cross this bridge to 6. You earn with the money you give. Since you cannot give 2.5 billion Euros with the state budget, it is possible with the build-operate-transfer method.
TRANSITION WARRANTIES

It is scheduled from the state budget. I transfer money from the 2.5 billion Treasury. We take it from the pockets of those times. The number of warranty vehicles is 45 thousand. It will not be able to create initial content, but will be available at a certain time.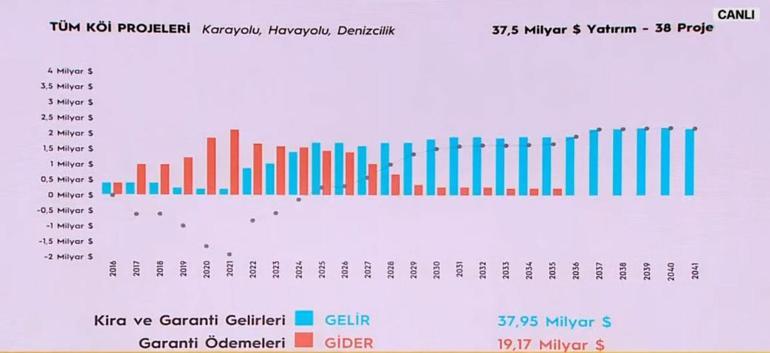 In the 2024 target, we will now come to a head-to-head strategy. We will not add from the state coffers. We start to receive after 2024. In 2036 it will no longer be used and will receive backup income.
ISTANBUL AIRPORT

10 billion Euros, you employ 200 thousand people. You get 22 billion Euros to operate the business. An investment of 37 billion dollars without taking anything out of the state's coffers. USA, Australia England always use this model.
OSMANGAZI BRIDGE
Osman Gazi has 40,000 passes and currently 46,000 passes. You are both fueling and training.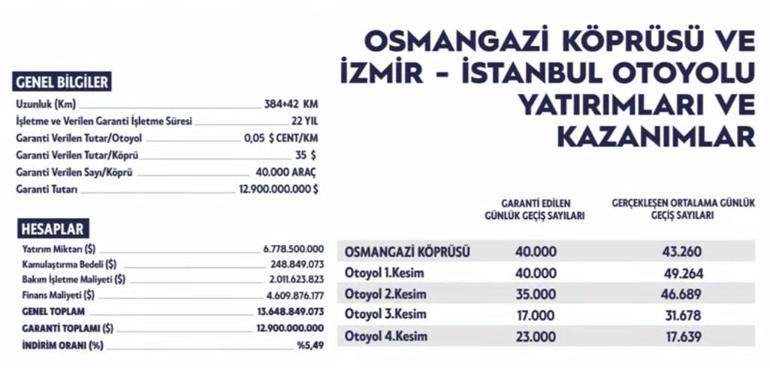 EURASIA TUNNEL

Last week, 62 thousand vehicles used the Eurasia Tunnel. There are 68 thousand passes. Better than expected. The operational period will end in 2041. Eurasia Tunnel contributed 8 billion dollars to Turkey.
ISTANBUL METRO
The AK Party built all the subways in Istanbul. İBB does not have any new projects. There are no projects completed by the current administration. As the Ministry, we have an investment of 103 km. We will finish the Kağıthane-Istanbul Airport metro in 3 months. The fastest in Turkey will be one of the fastest subways in the world. Başakşehir-Kayaşehir Central metro line. The municipality did not make this line. We took over. We increased it to 90% in 18 months.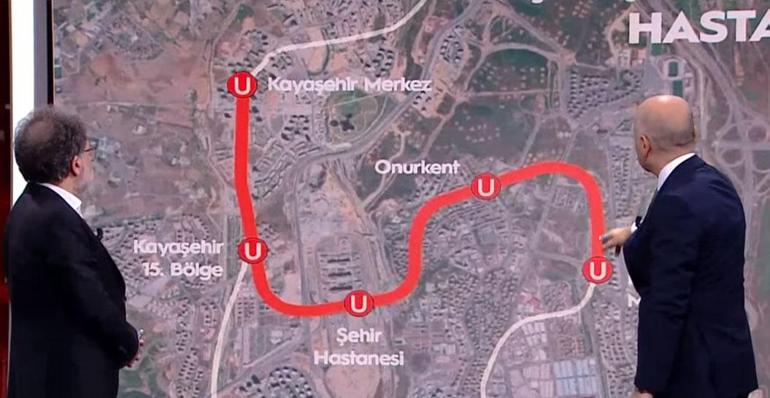 As of June, a person from Taksim will take the metro. It will reach Istanbul Airport, which is suitable for use in Gayrettepe. 33 minutes. For Istanbul, you need to build a thousand 100 km metro line. This urgently needs to be increased to 519 km. If you don't, they will make Istanbul big.