6,950 new cases today, Monday, November 15, at EODY. At the same time, Thessaloniki and northern Greece as a whole remain in the red. The number of patients admitted to the ICU is now 551, of whom 460 are unvaccinated or partially vaccinated. At the same time, another 72 deaths are recorded in the country, with their number reaching 16,838. Finally, 107,798 tests were performed with a positivity of 6.45%.
The announcement of EODY in detail:
"The new laboratory confirmed cases of the disease recorded in the last 24 hours is 6,950 , of which15 were identified following checks at the country's gates. The total number of cases is 838,824 (daily change + 0.8%), of which 50.7% are men. Based on the confirmed cases of the last 7 days, 105 are considered to be related to travel from abroad and 2,727 are related to an already known case.
The youth deaths patients with COVID-19 are 72, while since the beginning of the epidemic a total of 16,838 deaths have been recorded. 95.4% had underlying meaning and / or age 70 years and older.
The number of patients treated intubated is 551 (61.3% men). Their median age is 64 years. 84.2% have an underlying disease and / or age 70 years and older. Among patients treated intubated, 460 (83.48%) are unvaccinated or partially vaccinated and 91 (16.52%) are fully vaccinated. Since the beginning of the pandemic, 3,404 patients have been discharged from the ICU. The admissions1 of new Covid-19 patients in the hospitals of the territory are 365 (daily change -12.89%). The average seven-day admission is 410 patients. The median age of cases is 38 years (range 0.2 to 106 years), while the median age of death is 78 years (range 0.2 to 106 years).
Regarding the geographical distribution of cases in Thessaloniki 1,226 new cases were identified.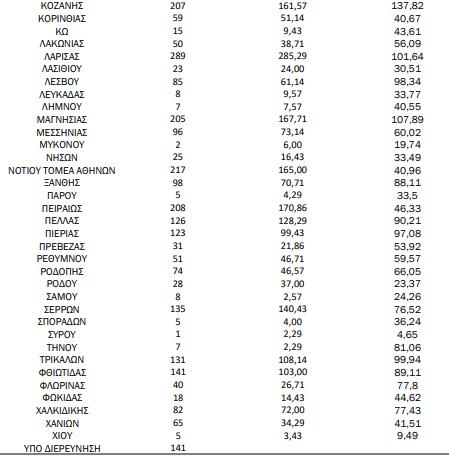 The briefing of the accredited authors for the National Vaccination Plan for COVID-19 disease, will take place at the Ministry of Health today, Monday 15 November at 18:00, by the Chairman of the National Vaccination Committee. Maria Theodoridou and the Secretary-General for Primary Health Care Marios Themistocleous.