Continuation in its undefeated streak in the Greek championship was given by Olympiakos, which, although it was difficult for a half time by the very good PAOK, prevailed with the score 86-68.
Top for the winners are McKissick and Lountzis who scored from 12 points, with the latter having 5 assists. Jones with 17 stood out from PAOK, while Carter added 14 to the harvest.
At 6-0 before next week's derby with Panathinaikos in Faliro, Piraeus, at 1-5, PAOK fell.
The match

PAOK came in very focused on the floor and led 11-10 in 4 ', thanks to baskets by John. Olympiakos missed three-pointers and had a definite scoring only from Fal, who had no opponent on both rackets. With baskets of Di Leo and Jankovic, Aris Lykogianni's team went to +4 (19-15 in 8 '), but the "red and whites" found quite well in the "open" field and reduced to 21-20 at the end of the quarter.
The continuation was proportional, as the guests, in addition to their good percentages of accuracy, received many offensive rebounds, for their favor 30-29 in 14 ', with Carter assisting in the attack. This was followed by a 9-0 streak of Olympiakos for 38-30 two minutes later, with McKissick-Lountzi having an aggressive breath, and creating better levels for the hosts. PAOK, however, equalized again with three-pointers by Giorgos Kamberidis and Griffin, for the two teams to go to the locker room with a score of 41-38.
The hosts entered the defense more concentrated in the second half and although they were inaccurate even in easy words, they were ahead for the first time with +10 (54-44 in 26 '), thanks to the offensive rise of Vezenkov and Dorsey. PAOK lost several defensive rebounds during this period and made several mistakes, with the result that the difference shot up to 17 points, 64-47 thanks to scoring and creations of Lountzis, two minutes before the last period, which started with a score of 66-52 . .
The rise of Lov, helped PAOK to reduce to 66-56 in 34 ', but a three-pointer by Larentzakis and a surprise user by nailing the very good McKisk, put Olympiakos again at +15 (71-56), with five and a half minutes . to remain. The players of Aris Lykogiannis did not … give up, reduced 71-63 in 36 ', but with baskets of Slouka and Martin, the "red and whites" did not allow their opponents to become more threatening and reached the victory with the final +18 .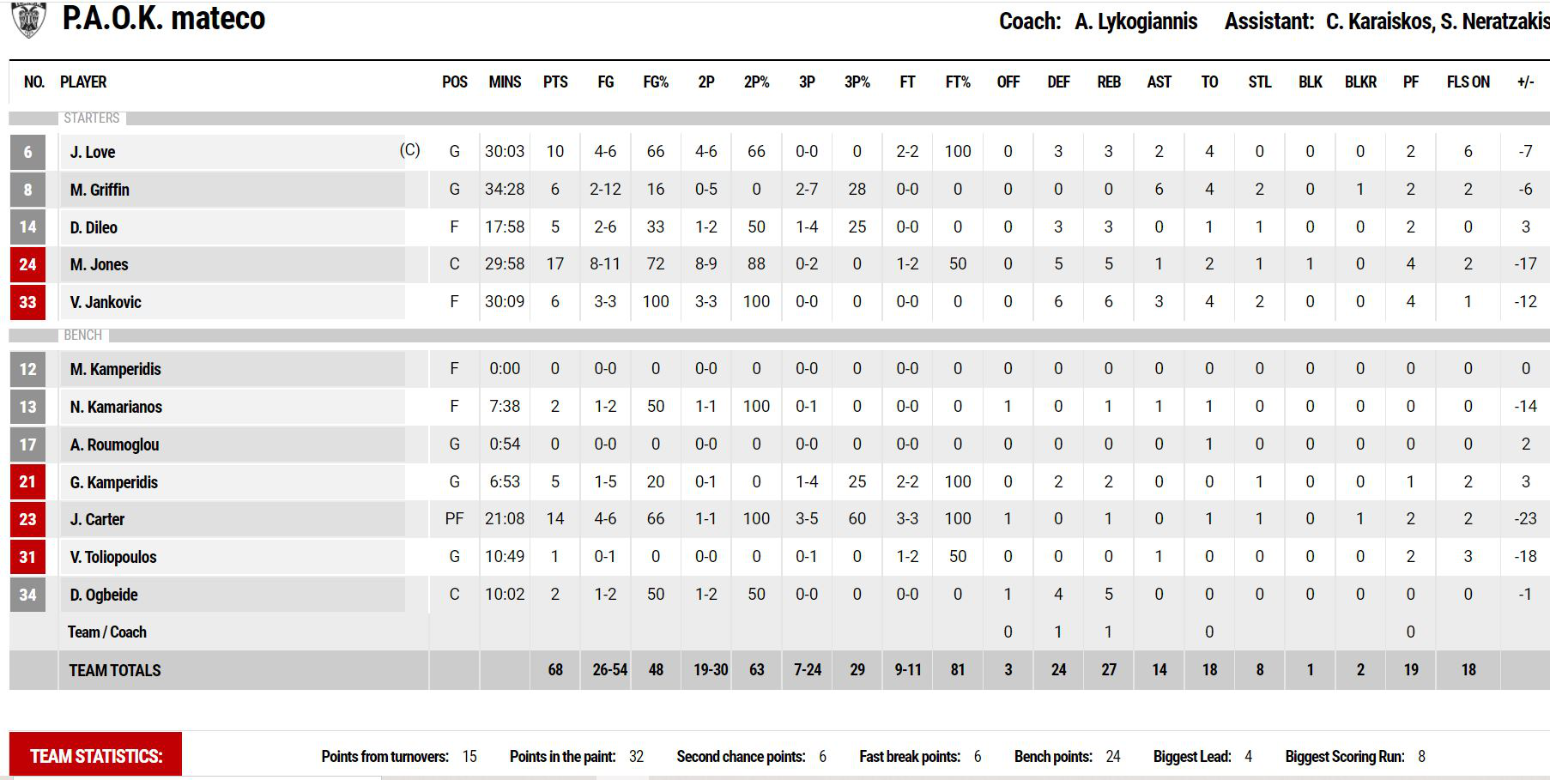 The ten minutes: 20-21, 41-38, 66-52, 86-68.
* The new transfer acquisition of the team, Quincy Aisy, watched the match politically next to the bench of Olympiacos.
Follow bwinSPOR FM 94.6 at Google News to be the first to know the latest news from Greece and the world.