Christoffer Omberg (28) has just returned from a holiday in Spain when DN meets him at the Oslo Business Forum's premises in Henrik Ibsens gate.
He is one of the profile participants in this autumn's round of DN's stock games Fantasy Fund, but best known for starting and leading the event, which in recent years has brought profiled speakers to Norway.
This year, the company was able to celebrate that it strikes back from a heavy 2020, when it had to go from 15 to six employees, and lost the 90 percent of the revenue that was from physical tickets.
2021 is set to be the company's best year, according to Omberg. Better than even 2018, when it brought the former American president Barack Obama as a speaker to Norway.
– 2021 will be fantastic for us, we are aiming for 23-25 ​​million in turnover this year. It was our first year with a real profit, around seven million on the bottom line, he says.
Omberg owns 39.2 percent of the shares in Oslo Business Forum.
– Sold at a loss
Omberg, together with co-founder Marius Røed Wang, dropped out of his studies at BI in 2015, and invested half a million kroner of his own savings to bring in the former Manchester United manager Sir Alex Ferguson as a lecturer to Norway.
Omberg puts money in its own companies rather than listed shares, but admits that the Fantasyfond participation has given more flavor to the stock market.
In February this year, he put around NOK 300,000 in individual shares for the first time to try, and as with most things he does, there was talk of a high risk profile.
Omberg focused on classic growth stocks, such as the IT company Link Mobility and the smartwatch manufacturer Xplora Technologies, both of which reached their peak in mid-February, and which have fallen 65 and 53 per cent respectively since then.
– After a few weeks I was going to buy an apartment and needed the money, so I had to sell with a loss of 50,000 kroner, but those shares have fallen even more after that, haha. It was a friend that I should not go in because the market was extremely overpriced, so I should probably listen even more to him. He has taken everything out of the market, but I wanted to join to learn, he says.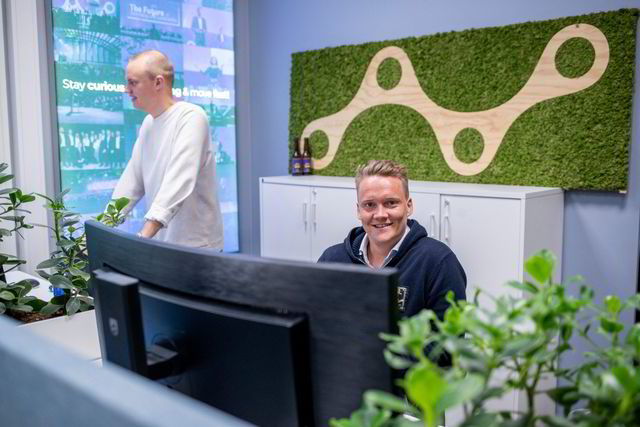 Omberg reads a lot about the stock market in the newspapers, but does not think it is a winning recipe. That is why it is precisely people in his own network that he listens to the most, including acquaintances who work as stock analysts.
He follows the trends and companies he has great faith in. And he has not lost faith in Link Mobility at all, despite the heavy price drop, so he chose to invest in the stock in the Fantasyfond portfolio as well.
– It is a company I know very well, as a major partner of the Oslo Business Forum. The recent quarterly report was not good, so the stock fell a lot, but the company has a good product, a good team behind it, and I think it can grow a lot in the time to come. So yes, I think the stock is a little underpriced right now.
Another stock he follows a lot is the small saver favorite Norwegian.
– I flew with them home from Marbella recently, and then we sat right behind the CEO Geir Karlsen on the plane. I think he and his team are triggered by being judged north and down by many, but I really cheer on them and think they can turn it around. Former CEO Jacob Schram, who is a good friend of mine, also did a very good job, and then you have Bjørn Kjos, who was not exactly media shy. There is always some noise and controversy around Norwegian, I think that is why many people care about the company.
– Has everything to gain now
Omberg got off to a heavy start with its risky portfolio in Fantasyfond, and for a long time was clearly the worst among the profile participants. But in the last couple of weeks, his fund, Omberg Invest, has made a jump of 12 percent.
He had held the same shares from the start and was eventually rewarded for his patience, but chose to make several changes after the recent upswing.
– I have to raise the risk profile a bit so as not to be the last, and have everything to gain now. It will be a little all or nothing. In reality, I had probably diversified to a greater degree. Maybe I would put 30-40 percent in equity funds and a little in real estate. But by personality, I like high risk, so there must also be some individual stocks.
It will be invested to have more to stand on something he also wants to base when he and his friends in the Oslo Business Forum think to develop more businesses in the future.
– We are in the process of rigging up company structures to be able to do more things in the future. We sniff at real estate as a first step, but also spin-offs in technology, marketing, events and sales, which is what we have experience with. I will be surprised if nothing new is up and running within 12-24 months, says Omberg.(Terms)Copyright Dagens Næringsliv AS and / or our suppliers. We would like you to share our cases using a link, which leads directly to our pages. Copying or other use of all or part of the content may only take place with written permission or as permitted by law. For further terms see her.