The Lithuanian National Association of Car Carriers Linava already announced on Wednesday that large queues of trucks were formed at all Lithuanian-Belarusian border checkpoints.
However, the situation is only getting worse. Andrius Burba, Secretary for Innovation and Transport Policy, Linava 15min on Saturday claimed that I have not seen such queues at border crossings for decades
"There were 40 trucks at Raigard's border checkpoint three days ago, now 210, and there is no end in sight. I have spoken to the carriers, and we have not seen such queues at this border crossing for 10 years. There is a 52-hour wait here, "said a carrier spokesman.
In a few days the queues of tractors at all points. According to the data of the Directorate of Border Control Points, the number of trucks is concentrated in Medininkai border checkpoint – 319. The expected waiting time here is 56 hours.
Within a few days, the number of cars at the Lavorai border checkpoint increased by 40 trucks to 140 trucks at the Šalčininkai border checkpoint.
Linked to the migrant crisis
The Customs Department attributes this to the migrant crisis on the Polish-Lithuanian border with Belarus and the slowdown in Belarusian customs clearance of lorries from Lithuania.
A.Burba also agrees with this opinion, I noticed that tractors from other countries are also passing through Lithuania.
"When part of the Polish border sections were closed, we also warned the carrier that alternative routes should be sought and that the main traffic would be directed to Lithuania – which is what we have been seeing in recent days. Not only Belarusians pass through Lithuania, but also Russians, Kazakhs and everyone else, "a representative of Linava explained.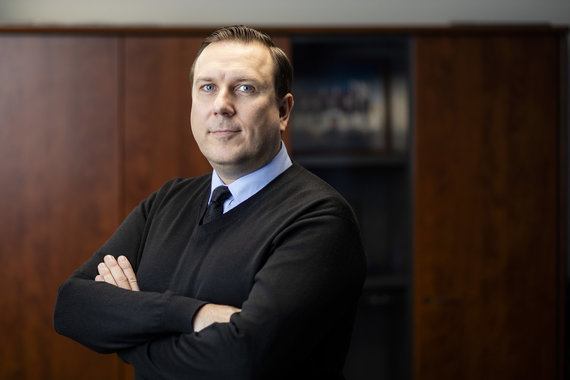 Photo by Lukas Balandis / 15min / Andrius Burba, Secretary of Innovation and Transport Policy of the Lithuanian National Association of Road Carriers Linava
He claims that Poland no longer allows anything at certain border posts, but although the border is not yet fully closed, carriers want to be insured.
"As the information that the border may be completely closed is scattered, it is likely that carriers are reacting heavily and directing their trucks through Lithuania in advance, the closest route is here. We have seen this in recent days – 150 cars have increased in a few days. huge amount ", A.Burba asserted.
He predicted that the situation would only get worse, and the hampered movement across the border with Belarus was in its second year.
"And now we are seeing the final stages towards the complete closure of the border, if the conflict escalates at such a pace. We are very worried about that, of course, we are observing that we will not get to the worst case scenario, but considering everything possible, the possibility cannot be ruled out that the border in Lithuania will be completely closed, as in Poland, "A. Burba discussed.
"We would not want to, we are afraid, but we understand that there are some state plans, so we recommend that carriers, if possible, look for alternative ways and routes of freight transportation," he concluded.