Inflation this year will rise to 2.4%, next year will reach 2.9% and will begin to fall in 2023 to 1.8%.
14:44 | November 11, 2021
Updated: 14:46 | November 11, 2021
author:
Daniel Nikolov
In the first half of 2021, the economic recovery in Bulgaria was hampered by high economic uncertainty and restrictive measures. Investment and the amount of services remained subdued, while domestic consumption and the amount of goods contributed positively to aggregate demand. These two factors, combined with the implementation of the Recovery and Sustainability Plan, should stimulate growth over the next two years. Fiscal stimulus remains strong in 2021, and the budget deficit is expected to narrow in 2022. Low levels of vaccination and high energy prices are short-term prerequisites for recovery, according to the language forecast of the European Commission for the development of the economy in Bulgaria.
The new introduction of a green certificate for Covid-19 may not be enough to limit the spread of the infection and normalize the situation, which may take longer than necessary, the document said.
In addition, the impact of higher energy prices on inflation and consumption may be more serious than expected.
The forecast also says that the recent rise in energy prices and road storage prices to undermine the purchasing power of low-income households.
GDP growth is expected to reach 3.8% this year and 4.1% in 2022, showing reduced forecasts compared to those in the EU Spring Report, according to which GDP in 2021 was to grow by 4 , 1%, and over the years by 4.4%. For 2023, the EC expects stabilization of economic growth to 3.5%.
Inflation this year will rise to 2.4%, next year will reach 2.9% and will begin to fall in 2023 to 1.8%.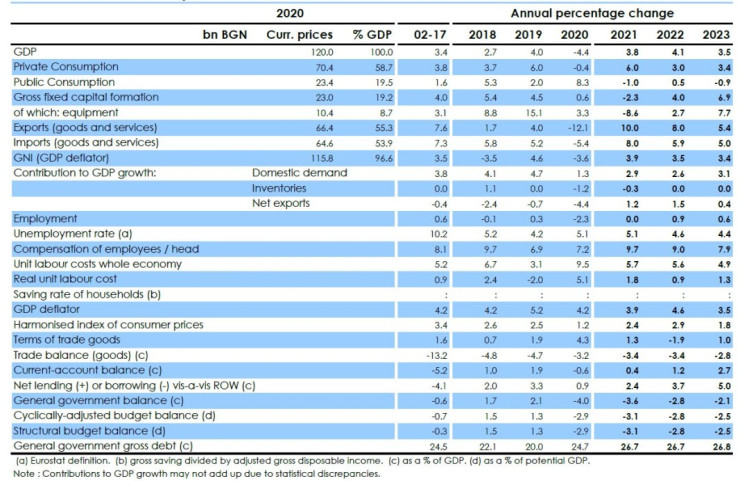 The unemployment rate this year will reach 5.5%, and the EC expects it to fall in 2020 to 4.6% in 2023 to 4.4%.
The projected budget deficit for 2021 is 3.6% of GDP, decreasing from a deficit of 4% of GDP over the years. For 2022 the profit with the deficit to shrink to 2.8% of GDP, in 2023 – to 2.1% of GDP.
At the same time, the Commission calls for government debt to increase this year to 26.7% of GDP (compared to 24.7% in 2020), then to stabilize at that level in 2022 and to increase slightly to 26, 8% of GDP in 2023