One of the main favorites of the Olympics in ice dancing, the French Gabriela Papadakis and Guillaume Sizeron, at the start of the season, were at the center of a scandal. Sizeron reacted sharply to the statement of the Russian judge Alexander Vedenin that their duet looks cold because of the unconventional orientation of the partner.
After winning the Grand Prix stage in Turin, Papadakis and Sizer gave an exclusive interview to the Championship, in which they evaluated their performance, talked about their work on rhythm dance and explained what conclusions they made after performing at the Games in Pyeongchang.
Guillaume did not avoid this and the most acute topic of the season. The Frenchman agrees that he did not file any complaint against Alexander Vedenin, and told why he decided not to be silent.
"We were not completely happy with how we looked in Finland. Therefore, we changed the costumes "
– Gabriela, Guillaume, congratulations on your victory. Are you satisfied with the results of the Grand Prix stage in Turin? What do you need to work on first?
G.P .: We felt good. We are satisfied with our performance and assessments, because we have improved the results compared to the competition in Finland. Especially in the steps, this was our main goal. The competition was high, strong pairs played here – Hubble / Donoghue and Stepanova / Bukin, so there was pressure.
G.S.: We started the season with small competitions and continue it by performing at the Grand Prix series. We feel that we are really well prepared and happy with the way we look now. And, of course, we are very glad that we are again performing with the support of the stands, and we are very grateful to the audience. We performed really well for the start of the season. Of course, there is always something to work on, so now we will have a couple of weeks to remove any shortcomings.
– Before this tournament, you changed your costumes. In Turin, did we see the final version?
G.S.: Perhaps this is an inconclusive version. After the competition in Finland, after watching videos and photos, we were not completely happy with how we looked. So we decided to try something more elegant. I think these costumes are more suitable for our program. People are used to not performing in something shiny or sparkling, and this is a new experience for us. Although I don't think this is the final version, maybe we will change something else.
The Sizeron scandal is pure politics. The French are trying to weaken the position of Russia in the ISU
– Isn't it scary to continue experiments in the Olympic season?
G.S.: It seems to us that we follow our instincts, trying to understand what we need. And if we believe in what we are doing and trust our choice, then it is absolutely normal to take risks.
– Please tell us about the rhythm dance. How did you react to the obligatory theme of the season – street dance?
G.S.: We wanted to do something non-standard and for a long time we looked for unusual styles in hip-hop and street dance. As a result, we chose waacking. We felt that this style resonates best with our body capabilities.
It was a challenge because we had never done that. The brain is simply boiling, because a lot of attention is paid to the republic. We had a few weeks of training where we only worked on waacking, to style on the ice and not look like a rookie. We were delighted to be able to work with our waacking specialist in Montreal, she is one of the best in the world and it was a very inspiring job.
"Sinitsina and Katsalapov have made tremendous progress in recent years"
– Have you already managed to see the performances of Sinitsina and Katsalapov this season?
G.P .: I can't say much about the program at the beginning of the season. The whole world is now actively training and hone their skills. All programs are being finalized, the best options are being looked for. But they are a great couple, very strong, and they have made great progress lately. It will be very interesting to see what they show next week.
– How important is it for you to see what your competitors are skating?
G.S.: Very interesting to see, but it doesn't really affect our preparation and decisions. I think we always follow our artistic instinct, we have feedback from experts, specialists who tell us what needs to be improved. But of course it's always fun to see what other couples are doing. This is highly motivating.
– The Olympic Games in Beijing are very soon. Did you fix your mistakes after the last Games?
G.S.: We know what needs to be done and what work we have to do. We understand at what level we should be at the Olympics, and gradually we are moving towards it. Our program can be improved, and of course we know what mistakes we need to avoid.
Yes, of course, our problem was mainly the suit. (laughs)… But still, we got an invaluable experience. Now our head works differently. Now we have matured, become more confident in ourselves and our work.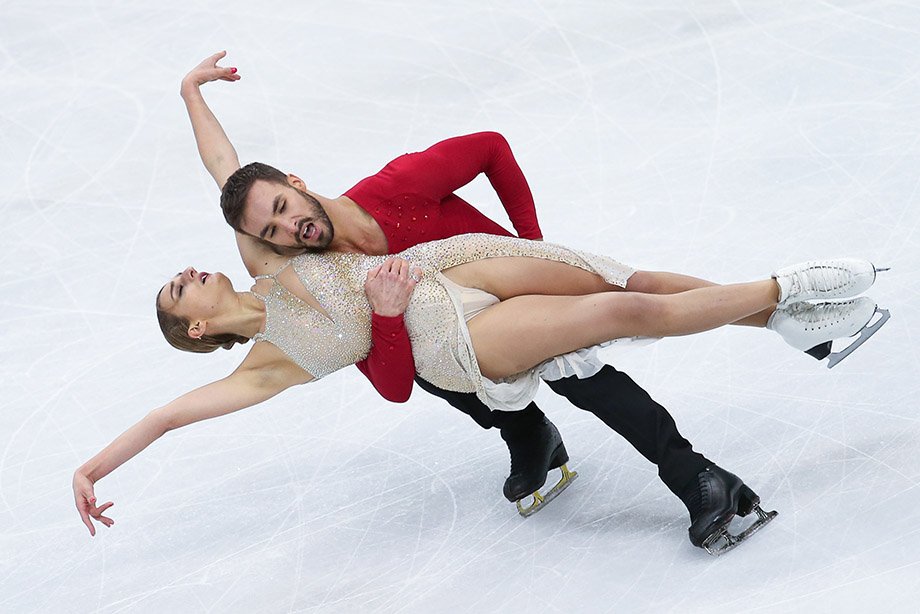 Photo: RIA Novosti
"The situation with Vedenin has nothing to do with figure skating"
– Sorry for the sharp question, but now the ISU is investigating the complaint of the French federation against the Russian judge Vedenin. Which solution would suit you?
G.S.: I have not filed any complaint. All this, after all, has nothing to do with figure skating. I think it was a great opportunity for many to respond to the opinion of one particular person. I am very happy with the support that other skaters and ISU have given me. It is important for me and for all skaters, including the Russians, to remain a safe place for everyone. Yes, this is a sport with judges and marks. You put yourself on display, and you know that you will be judged. But it is important that you are judged by how you perform, and not by any other principle.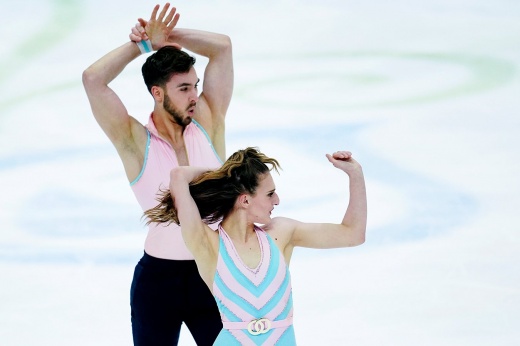 Sometimes it's better to be silent. Judge Vedenin framed Russian figure skaters before the Olympics
– Guillaume, you have received many words of support from Russian fans. Also in Russia there is an opinion, thus the French federation is putting pressure on the judges in the Olympic season. What can you answer to those who think so?
G.S.: Well, first of all, it doesn't matter at all that he is Russian. It has nothing to do with figure skating at all. I didn't take it personally. It's just a message that we always try to bring on the ice – love and acceptance, and that's what matters to us. And only this worries us, politics is more than us, and it was important for me to react to that comment. This was not a personal attack, it was simply said and had to be answered. We're just skaters, we win competitions, and that's exactly what we do.
G.P .: It seems to me that this situation has given us a lot. We received so much support – from ISU, from our federation, from other skaters, from Russian fans, who emphasized that this is not a general opinion, but the opinion of one person. And that was really important.