By Eva Bourgin
For the 14e edition of the International Circus Festival of Lyon, the Medrano circus has set up its tent in Confluence. Under the control of Raoul Gibaut, the troupe provides a "spectacular" show, worthy of the greatest. And it's a full box!
The art of bringing young and old into a world that flirts with the imaginary and the impossible… The Medrano circus knows this song by heart. "Medrano is a name known for its shows, rich in emotions," says the owner, Raoul Gibaut, whose shows have illuminated the cities of France since 1987. One after the sad episode of the Covid, the spectators happily rediscovered the very special atmosphere of the circus.
"The circus must be a popular art and must be able to reach everyone, whether they live in a big city or not," says the conductor. With this in mind and on the occasion of the new edition of the Festival International du Cirque de Lyon, the enchanted village is revealed again in its colors for two months, on its historic location on Quai Perrache.
More than 40 European and Ukrainian artists bring the spectacular

On the program, a recipe that is both classic and innovative, where the sense of the spectacle and the diversity of the numbers lie in the essence of this house, made up of international artists and the French clown. Antoine Lefort. "It's a return to the typical circus, without wild animals. The show is a series of 15 performances forming a harmonious whole, "adds the owner, delighted to reconnect with the magic of the circus and sharing with the public, deprived of representation during the crisis.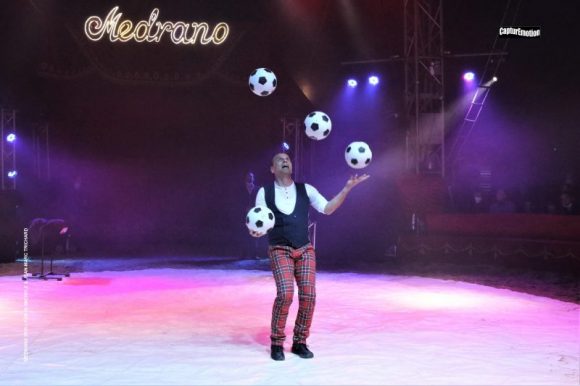 This "past", for two hours, young and old will be captivated by the magic of the track. Flying trapeze, jugglers, stuntmen, globe of death or even tightrope walkers, several worlds will come together to create a majestic result, mixing both thrills and surprises. "There will be the Bulgarian juggler Ivan Radev, who juggles soccer balls. It's both folk dance, combined with a very impressive number, "presents Raoul Gibaut.
At his side, the horses of the cavalry of the Italian national circus stamp their feet under the big top. Trained by the master squire Sacha Houcke, the latter transform the track into an enchanted merry-go-round, where the talent of each illuminates the eyes of those who want to dream and escape… "The circus is an end of the world where everyone makes their own." Words by graphic designer Rémy Donnadieu, who between Rhône and Saône, find a new echo under the circus tent Medrano.
Medrano Circus
Until Sunday November 28, 2021
Quai Perrache, in the district of Confluence – Lyon 2e.
Prices: from 24 euros to 50 euros. Free for children from 0 to 2 years old
Online reservation at https://www.tousaucirque.com/Medrano/
> More information on: www.cirque-medrano.fr/la-tournee or by phone at 06 72 73 55 38