The 17 points of the Americans Brionna Jones and Alyssa Thomas did not help the Praguers to succeed, the USK player acquired a resolution of 73:72 throughout the event six seconds before the end of the event. Jonquel Jones scored a double double thanks to 15 points and 10 rebounds. The most useful player of this year's WNBA season was the best scorer of the home team together with Alba Torrens.
The Czech champions let Ekaterinburg take the lead only three times in the first half. It was 16 seconds after Emmy Meesseman's first basket, then exactly five minutes after Jonquel Jones's threesome at 15:12, and finally until nine seconds before leaving the locker room, when Torrens adjusted to 38:37.
From left: Brionna Jonesová and Alyssa Thomasová from USK Prague.
Michal Kamaryt, ČTK
The Prague team escaped four times for a difference of five points. Veronica Voráčková in particular managed to shoot 15 points in the middle of the match. Brionna Jones complemented her with 11 points.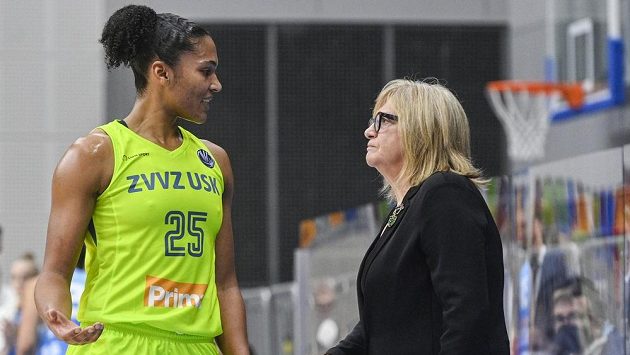 Alyssa Thomasová and USK Praha coach Natália Hejková.
Michal Kamaryt, ČTK
At the turn of the second and third quarters, Thomas interrupted the eight-point line of the Russian team, but the USK players mostly made up for the loss. They took the lead for a while only in the 24th minute, when Thomas again said the score was 44:43.
Then next door at 32:50 thanks to Dragan Stankovičová (60:59), 109 seconds before the end after two successful free throws by Thomas (68:67) and finally at the very end, when after the pass Thomas got through the basket Jones. But Ekaterinburg managed to answer. After Torrens' assistance, USK Bentley was saddened and there was no surprise.
"I think we played a very good match. Of the ones we played in Ekaterinburg, it was definitely the best in the last season. We are terribly disappointed that we lost the second match in the last seconds. We feel that the Euroleague already deserves VAR, "USK coach Natália Hejková told ČTK and also reminded of the initial loss in Montpellier.
"I don't want to comment on it, because it doesn't belong to me, but there were at least one car. We're unlucky that we can't complain. There's no means of that. with a winning shot.
European Basketball League – Group A, Round 4:
UMMC Ekaterinburg – ZVVZ USK Prague 75:73 (23:26, 38:37, 55:53)
Most points: J. Jones and Torrens both 15, Vadějevová 12 – B. Jones and Thomas both 17, Voráčková 15. Fouls: 19:15. Free throws: 13.12. – 15.11. Threes: 3: 4. Rebounds: 42:40.
Riga – Venice 71:57
MBA Moscow – Szekszárd 65:62
Salamanca – Montpellier 88:67.
table:
1.
Salamanca
4
4
0
301: 228
8
2.
Ekaterinburg
4
4
0
313: 271
8
3.
USK Prague
4
2
2
309: 260
6
4.
Riga
4
2
2
232: 259
6
5.
Montpellier
4
2
2
287: 319
6
6.
Venice
4
1
3
262: 276
5
7.
MBA Moscow
4
1
3
242: 275
5
8.
Szekszárd
4
0
4
242: 300
4