10/26/2021, 10:25 PM10/26/2021, 11:56 PM
ZSC – Rapperswil 3: 4 nP
The ZSC Lions are no longer moving in the Hallenstadion. Against the Rapperswil-Jona Lakers after a 2-0 lead a 3-4 defeat after penalty shootouts – the fourth defeat in the last five home games. And in the only victory in this range, the 7: 5 over Servette, the ZSC was still 3: 5 behind until shortly before the end.
The Zurich team was duped against the Lakers. The Lions were leading 2-0 and should have to lead more clearly at this point. A gift (in the form of a bad pass in the build-up of the game) helped Rapperswil to get the next goal. Then the game rocked back and forth: The Lakers were leading 3-2 until 33 seconds before the end. The Zürcher SC forgave the victory after equalizing in extra time when Denis Hollenstein did not open the empty goal in the last few seconds.
Roman Cervenka scored twice for the Lakers in the penalty shootout. Denis Hollenstein was the only Zurich man to succeed, but failed with his second penalty to Melvin Nyffeler.
ZSC Lions – Rapperswil-Jona Lakers 3: 4 (2: 0, 0: 1, 1: 2, 0: 0) nP
7337 spectators. – SR Piechaczek / Fluri, Schlegel / Altmann.
Crack: 14. Azevedo (Kruger) 1-0. 17. Malgin (Noreau / Powerplaytor) 2-0. 27. Wick 2: 1. 52.Brueschweiler (Dünner, Forrer) 2: 2. 54. Mitchell (Cervenka, Zangger) 2: 3. 60. (59:27) Chris Baltisberger (Noreau) 3: 3 (without goalkeeper).
Penalties shoot: Cervenka 0: 1, Quenneville -; Zangger -, Andrighetto -; Eggenberger -, Hollenstein 1: 1; Lamb, malgin; Profico, Azevedo; Hollenstein -, Cervenka 1: 2.
Punish: 4 times 2 minutes each.
PostFinance top scorer: Hollenstein; Cervenka.
ZSC lions: Waeber; Weber, Geering; Noreau, Marti; Guebey, Phil Baltisberger; Noah Meier; Sigrist, Malgin, Hollenstein; Chris Baltisberger, Roe, Andrighetto; Azevedo, Kruger, Quenneville; Diem, Schäppi, Pedretti; Sopa.
Rapperswil-Jona Lakers: Nyffeler; Vouardoux, Profico; Sataric, Djuse; Jelovac, Maier; Baragano; Lammer, Albrecht, Cervenka; Zangger, Rowe, Eggenberger; Wick, Thin, Forrer; Wetter, Mitchell, Brüschweiler; Neukom.
Remarks: ZSC Lions without Bodenmann, Morant, Riedi and Trutmann (all injured), Rapperswil-Jona Lakers without Aebischer, Lehmann and Moses (all injured). ZSC Lions from 58:27 to 59:27 without a goalkeeper.
Freiburg – Biel 0-1
The leader Friborg-Gottéron loses against the strong away pursuer Biel for the first time since September 21 at home. Michael Hügli is the only goal scorer in the narrow 1-0.
The Biel defeat on Sunday in Lausanne seems to have been just an industrial accident. In Freiburg, where over 8,700 spectators were again in the mood, the Zealanders appeared again as if they were all of a piece. With the exception of the first seven minutes, they were clearly the better team. After the surprisingly lost 1-0 (8th) by Michael Hügli, they could win higher.
At times, the Bielers – the best away team in the National League – tied the hosts into their defensive third for minutes, they quickly played power play despite five players each on the ice and thus took the dragon's breath to spit fire.
The Freiburg offensive hardly set any accents and it was thanks to goalie Reto Berra (29 saves) and the lower edge of the bar – with a shot by Tino Kessler (27th) – that they were able to fight for equalization until the end. The closest they came to this was in a power play five minutes before the end by PostFinance top scorer Chris DiDomenico.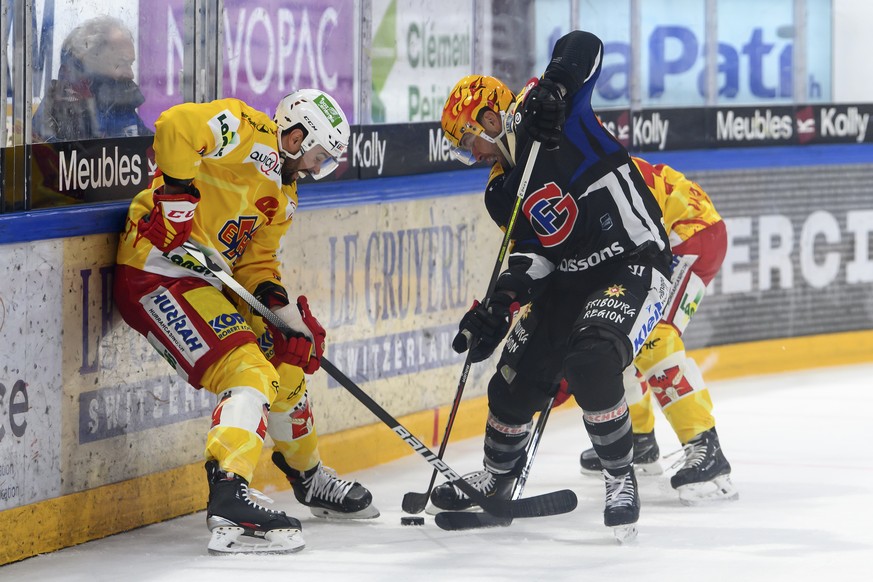 Freiburg-Gottéron – Biel 0: 1 (0: 1, 0: 0, 0: 0)
8788 spectators. – SR Wiegand / Hürlimann, Progin / Kehrli.
Gate: 8. Hügli (Rajala) 0: 1.
Punish: 5 times 2 minutes against Friborg-Gottéron, 3 times 2 minutes against Biel.
PostFinance top scorer: DiDomenico; Brunner.
Freiburg-Gottéron: Berra; Gunderson, Jecker; Sutter, Furrer; Diaz, Dufner; Chavaillaz; Brodin, Desharnais, Mottet; Sprunger, Schmid, DiDomenico; Marchon, Walser, Jörg; Rossi, Bougro, Jobin; Men's.
Biel: van Pottelberghe; Rathgeb, Lööv; Delémont, Grossmann; Fey, Forster; Stampfli; Hügli, Haas, Rajala; Brunner, Trettenes, Künzle; Korpikoski, Tanner, Kessler; Karaffa, Froidevaux, Schläpfer; Charcoal burner.
Remarks: Friborg-Gottéron without Bykow and Kamerzin (both injured), Biel without Cunti, Hischier, Hofer, Sallinen and Jakowenko (all injured). Friborg-Gottéron from 59:30 without a goalkeeper.
Bern – Geneva 3: 2 nV
SC Bern wins the duel between two long-term patients of the current season at home against Servette 3-2 after extra time. Tristan Scherwey forced this extension with the 2-2 after 51 minutes, in which he also scored the winning goal after 2:05 minutes.
With the late turning point, the Bernese were able to prevent them from delivering another series of four defeats like at the beginning of the season.
For Geneva-Servette, last season's playoff finalist, the ordeal continues. The Genevans missed their good second third, in which Henrik Tömmernes and Daniel Winnik managed the temporary turnaround from 0: 1 to 2: 1, in a win and after the 3: 2 against the SCL Tigers last Saturday for the second time to win two games in a row this season.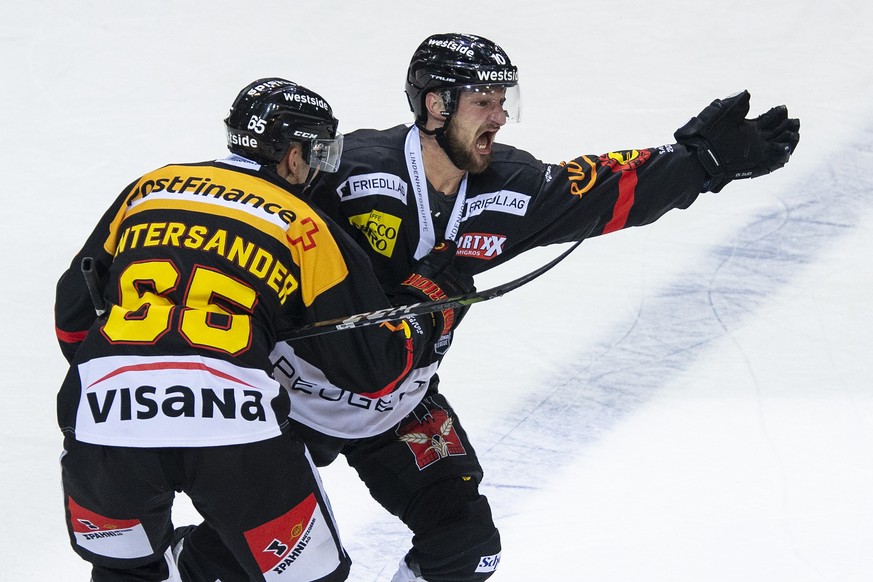 Bern – Genève-Servette 3: 2 (1: 0, 0: 2, 1: 0, 1: 0) nV
12,723 spectators. – SR Stricker / Urban, Steenstra / Huguet.
Crack: 19. Untersander (Kahun) 1-0. 30. Tömmernes (Filppula, Rod) 1: 1. 39.Winnik (Vatanen) 1: 2. 52. Scherwey (Conacher, Daugavins) 2: 2. 63. Scherwey (Daugavins, Untersander) 3: 2.
Punish: 4 times 2 minutes against Bern, 3 times 2 minutes against Genève-Servette.
PostFinance top scorer: Kahun; Tommernes.
Bern: Angry; Untersander, Henauer; Andersson, Beat Gerber; Thiry, Colin Gerber; Kast; Thomas, Kahun, Moser; Conacher, Daugavins, Bader; Praplan, Fahrni, Scherwey; Sciaroni, Neuenschwander, Jeremi Gerber; Berger.
Geneva Servette: Descloux; Karrer, Tömmernes; Vatanen, bricklayer; Völlmin, Le Coultre; Smons; Rod, Filppula, Winnik; Moy, Jooris, vermin; Miranda, Smirnovs, Vouillamoz; Riat, Berthon, Patry; Campaign.
Remarks: Bern without Blum, Jeffrey, Pinana and Ruefenacht (all injured), Genève-Servette without Antonietti, Jacquemet, Mercier, Richard, Tanner (all injured) and Pouliot (surplus foreigners).
Lausanne – train 3: 4 nV
Master Zug prevailed despite striker hospital (6 injured regular players) and despite two storm lines of the EVZ Academy in Lausanne – after a 0-2 deficit with 4: 3 after extra time.
Lausanne benefited from Zug's absences in the first section. The Vaudois took the lead 2-0 with their first chance to score (through Floran Douay) and their first power play chance (through Lukas Frick).
The turn in favor of EV Zug then led Dario Simion with his seventh goal of the season to 1: 2 and Leonardo Genoni 33 saves. In addition, Swiss players jumped in breach for the absent: Defender Claudio Cadonau equalized with the first goal of the season to 2-2, Livio Stadler, also a defender, scored with his second goal of the season to 3-2 for Central Switzerland. Stadler had already scored the first goal of the season against Zug.
In overtime, Lino Martschini scored the 4: 3 winning goal after 61:45 minutes.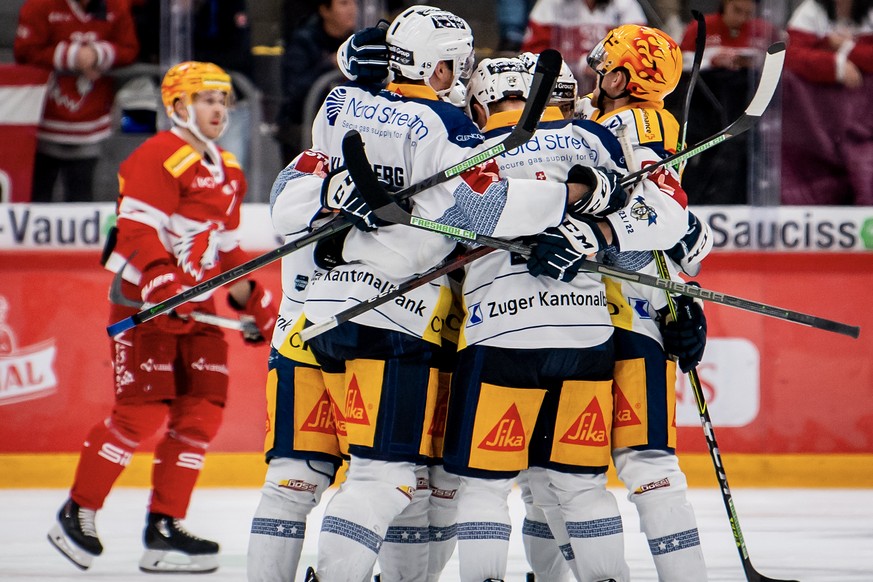 Lausanne – move 3: 4 (2: 0, 0: 2, 1: 1, 0: 1) nV
5129 spectators. – SR Tscherrig / Borga, Stalder / Burgy.
Crack: 2. Douay (Genazzi, Bertschy) 1-0. 14. Frick (Genazzi / Powerplaytor) 2-0. 21. (20:52) Simion (Djoos, circle) 2: 1. 37. Cadonau (Leuenberger) 2: 2. 48th Stadler 2: 3. 57. Almond (Bertschy) 3: 3. 62. Martschini (Djoos, Leuenberger) 3: 4.
Punish: 2 times 2 minutes against Lausanne, 3 times 2 minutes against Zug.
PostFinance top scorer: Bertschy; Hansson.
Lausanne: Bolthouses; Heldner, Frick; Glauser, Barberio; Genazzi, Marti; Kruger, Krakauskas; Frolik, Varone, Sekac; Kenins, Bertschy, Douay; Maillard, Jäger, Bozon; Holdener, Mandel, Arnold.
Train: Genoni; Hansson, Stadler; Smurf, large; Circle, Djoos; Cadonau; Martschini, Müller, Simion; Klingberg, Leuenberger, Bachofner; Allenspach, Neumann, De Nisco; Hofer, Wüest, Stehli.
Remarks: Lausanne without Baumgartner, Emmerton, Fuchs, Riat (all injured) and Gernat (sick), Zug without Lander, Senteler, Suri, Zehnder (all injured), Herzog, Kovar and Wüthrich (all sick).
Ambri – Tiger 3: 1
HC Ambri-Piotta ran after the SCL Tigers for a quarter of an hour, but won the game against the Emmentaler 3-1. The Leventines celebrated their sixth home win in their ninth game in their new arena.
Johnny Kneubuehler and Dario Bürgler skorted at the beginning of the second section within 196 seconds, pioneering goals from 0: 1 to 2: 1. Daniele Grassi welcomed the victory with the third goal in the 58th minute.
The course was set in the 25th minute: Jesper Olofsson, currently the best scorer in the league, failed with the Langnauer's best chance to score against Benjamin Conz (29 saves), with the counterattack Bürgler made it 2-1 for Ambri. In the SCL Tigers, Ivars Punnenovs (38 saves) once again guarded the gate.
Ambri-Piotta – SCL Tigers 3: 1 (0: 1, 2: 0, 1: 0)
5378 spectators. – SR Lemelin / Hungerbühler, Obwegeser / Wolf.
Crack: 9. Pesonen (Schilt) 0: 1. 22. Kneubühler (Bürgler, Hietanen) 1: 1. 26. Bürgler (Isacco Dotti) 2: 1. 58. Grassi (Pestoni) 3: 1.
Punish: 3 times 2 minutes against Ambri-Piotta, 5 times 2 minutes against SCL Tigers.
PostFinance top scorer: Pestoni; Olofsson.
Ambri-Piotta: Conc; Fora, Isacco Dotti; Hietanen, Burren; Fohrler, Zaccheo Dotti; Hächler, Fischer; Kozun, Regin, D'Agostini; Bürgler, Heim, Kneubühler; Pestoni, Grassi, Zwerger; Trisconi, Köstner, Bianchi.
SCL Tiger: Punnenovs; Blaser, Erni; Schilt, Leeger; Großniklaus, Elsener; Aeschbach; Grenier, Schmutz, Olofsson; Schweri, Saarela, Pesonen; Petrini, Salzgeber, Sturny; Berger, Diem, Langenegger; Losli.
Remarks: SCL Tigers without Guggenheim, Huguenin (both sick), Stettler, Weibel, Zaetta and Zryd (all injured). SCL Tigers from 58:38 without goalkeepers.
Lugano – Ajoie 4: 1
The party in Lugano turned out to be the expected clear cause. The Ticino beat Ajoie at the bottom with 4: 1. After just 25 minutes, the home team was leading 3-0 with two power play goals and a shorthander in front of long-time Lugano coaching legend John Slettvoll.
Coach Chris McSorley's team has – unlike other teams – had no problems with Ajoie at all this season. Lugano won the first game in Pruntrut 7-2.
At Lugano, 33-year-old Canadian Leland Irving guarded the gate for the second time this season. Irving lost the premiere in Ambri 1: 2. Three goals conceded in 120 minutes and a catch rate of almost 96 percent are impressive for Irving.
Lugano – Ajoie 4: 1 (2: 0, 1: 0, 1: 1)
4756 spectators. – SR Hebeisen / Mollard, Cattaneo / Duarte.
Crack: 4. Josephs (Morini / Powerplaytor) 1-0. 14. Herburger (Bertaggia / Unterzahlenor!) 2: 0. 26. Fazzini (Alatalo, Arcobello / Powerplaytor) 3-0. 43 Hudacek (Alatalo, Josephs) 4: 0. 51 Devos (Fortier / Powerplaytor) 4: 1.
Punish: 5 times 2 minutes against Lugano, 4 times 2 minutes against Ajoie.
PostFinance top scorer: Fazzini; Frossard.
Lugano: Irving; Alatalo, Riva; Nodari, Müller; Chiesa, Bernd Wolf; Villa, Haussener; Fazzini, Arcobello, Bertaggia; Hudacek, Thürkauf, Josephs; Vedova, Herburger, Morini; Trotter, Walker, Stoffel.
Ajoie: Östlund; Hauert, Pouilly; Birbaum, Joggi; Hänggi, Eigenmann; Schnegg, helper; Rohrbach, Frossard, Romanenghi; Wannström, Devos, Fortier; Bogdanoff, Ness, Dirt; Free, Macquat, Huber.
Remarks: Lugano without Carr, Fatton, Guerra, Loeffel, Schlegel (all injured) and Bödker (surplus foreigners), Ajoie without Rouiller (sick), Asselin, Gauthier-Leduc and Hazen (all injured). Ajoie from 58:53 without a goalkeeper.
The table
(dabs / sda)