Bargains and expensive items from the Classic Expo vehicle market. The oldtimer fair in Salzburg had 20,000 visitors and offered an entertaining variety of cars.
Dealers from various countries as well as private individuals offered oldtimers, youngtimers and parts during the Classic Expo. According to its own information, the classic car fair in Salzburg had 20,000 visitors within three days. Those who wanted to get in had to prove that they had been vaccinated, tested or recovered – it was already the second Classic Expo under pandemic conditions. Larger trade fairs such as the Retro Classics in Stuttgart, the Techno Classica in Essen and the Rétromobile in Paris did not take place this year.
Dorotheum auction on Saturday
Dorotheum Classic Car Auction October 16, 2021

Fast 30,000 euros for this Ford Capri

read more
Perhaps it was also because the Classic Expo exhibition halls were full. Hall 1 recorded a particularly large number of visitors on Saturday, where the Austrian auction house Dorotheum had accurately lined up 76 classic vehicles for auction. 72 of them could be sold. Right at the beginning, a Steyr Fiat 1100 M was auctioned for 18,500 euros – half more than the estimated value. The most expensive car in the auction was a 1979 Lamborghini Countach, which went to an Austrian bidder for 460,000 euros.
Dealers, clubs and a parts market could be found in other halls. Among other things, the clubs used the space to celebrate 25 years of the Porsche Boxster and on this occasion to display some special models up to the current anniversary Boxster. Together with several clubs, the organizer had organized two special shows on the 75th anniversary of the Vespa and 60th anniversary of the Jaguar E-Type. In addition to historic emergency vehicles, Hall one includes a private vehicle market.
Amphicar, Porsche and Mercedes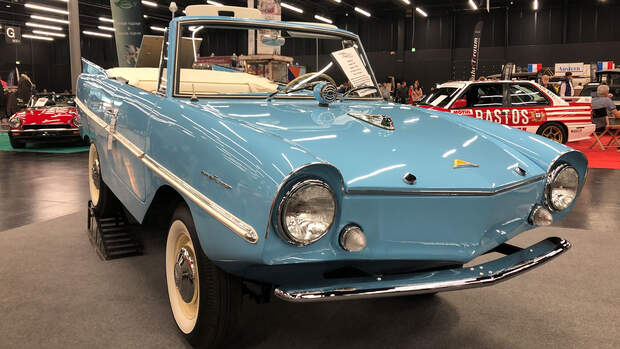 Apart from the usual focus on Mercedes and Porsche, the offer was diverse. Only two Amphicar were on offer. Cars with low mileage could be found quite often: a Mercedes 200/8 with around 63,000 kilometers, which a German dealer offered for a proud 34,900 euros. Or the Porsche 996 Cabriolet from an Austrian dealer with 19,000 kilometers in the eye-catching special color dragonfly green metallic.
There were real opportunities to be found on the private market – for example a Daimler Double Six for risk-takers who were willing to bet 6,000 euros as an entry fee. Or a little driven Chrysler New Yorker, which offered an American Way of Drive with nineties technology at a nice price for cheap 5,290 euros. In modest astral silver, a hand-shifted Mercedes-Benz 280 S for just under 10,000 euros with the charm of the well-kept basic model attracted attention: a sensible introduction to the world of the S-Class.
Conclusion
In addition to the exaggerated prices at trade fairs, the price level at the Classic Expo seemed realistic. Anyone visiting the fair will find a colorful mix of oldtimers and youngtimers in various states. These range from the low-miler with a low five-digit mileage and the appearance of a year-old car to project cars of unknown provenance.