Annecy is "their" spot for Déborah, Olivia and Audrey. But last spring they decided to discover in a very different way, and to take us on a rather (very) sporty tour of the lake.
"We decided to go and ride around our home. You have certainly read or seen a good bunch of articles and videos starting this way. This time, the story is a little different since "behind us" also coincides with the largest mountain range on the continent. The program was therefore going to be sporty. To avoid getting lost on the trails, we had to wander on a map, connect the known sections and imagine what is hidden under the unexplored purple tracks.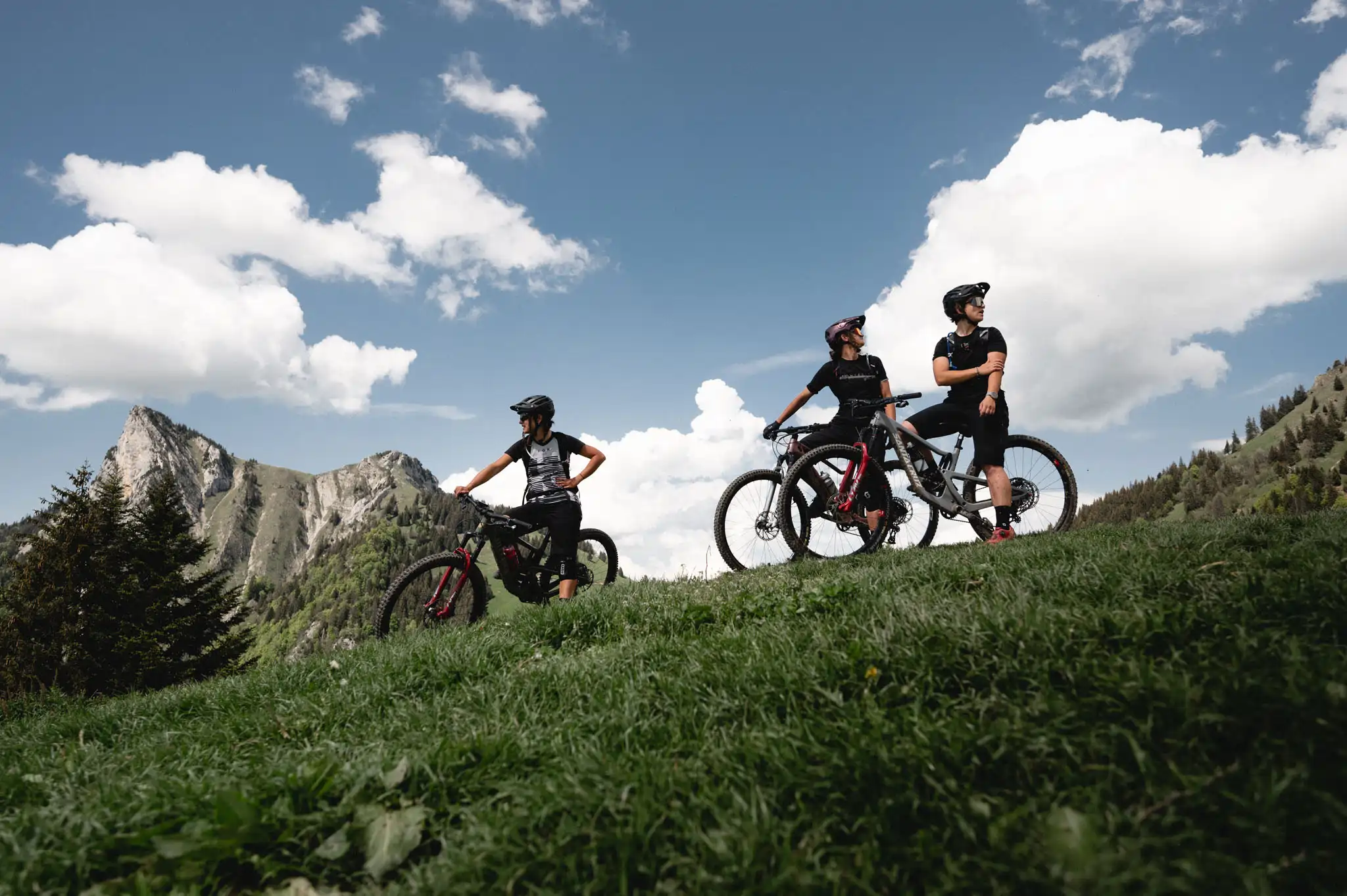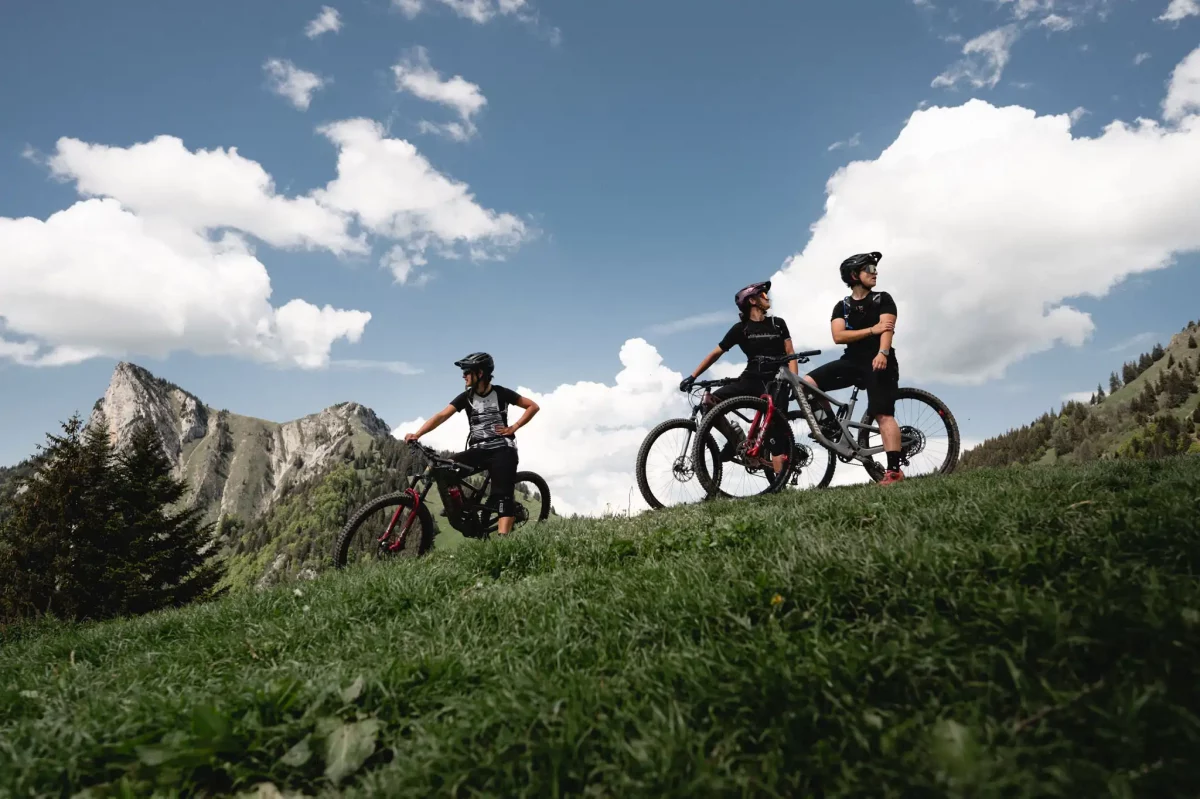 You will always find bigger, more demanding or more extreme, but the objective here was to take a tour of the mountain block and to greet the owner, Lake Annecy. On the program, 80km and about 3000 vertical meters awaited Déborah, Olivia and Audrey. And besides, who do we find in the casting?
Déborah Motsch: Débi is this friend who is always looking for new spots. She is ready for anything on her bike, except to give up her ice cream at the end of the outing. Débi is also a mountain bike guide and teacher, and one of the founders of "Bikettes», Annecy association that promotes mountain biking among women.
Olivia Kemp: Do you know that feeling of happiness after guiding your friends on one of your favorite trails? That's Olivia's job! For several years, she has been accompanying riders on the Beaufortain trails with her company Up'N'Down. This time around, she traded in her enduro bike for a slightly lighter machine and a day she won't soon forget.
Audrey Gianotti: Each flock needs its shepherdess. And during her time in New Zealand, she led herds of hundreds of heads. Since then, Audrey has swapped her overalls for a Sram t-shirt but it was no problem that she kept Olivia and Débi in the sound throughout the day, while making sure to see them complete this project in good health.
Even for a route "from home", "at home", the trio quickly realized that three pairs of legs should not have too much and that being surrounded by her friends was going to start this adventure on the right foot.
Add to that Paul Humbert's camera and Pierre Henni's camera and the alarm clock could ring at 5 a.m. There is no "high road" around Lake Annecy and throughout the day, each descent, each climb tells its own story. The one where everything is going well, the one that will seem the hardest, the most fun and sometimes the most difficult.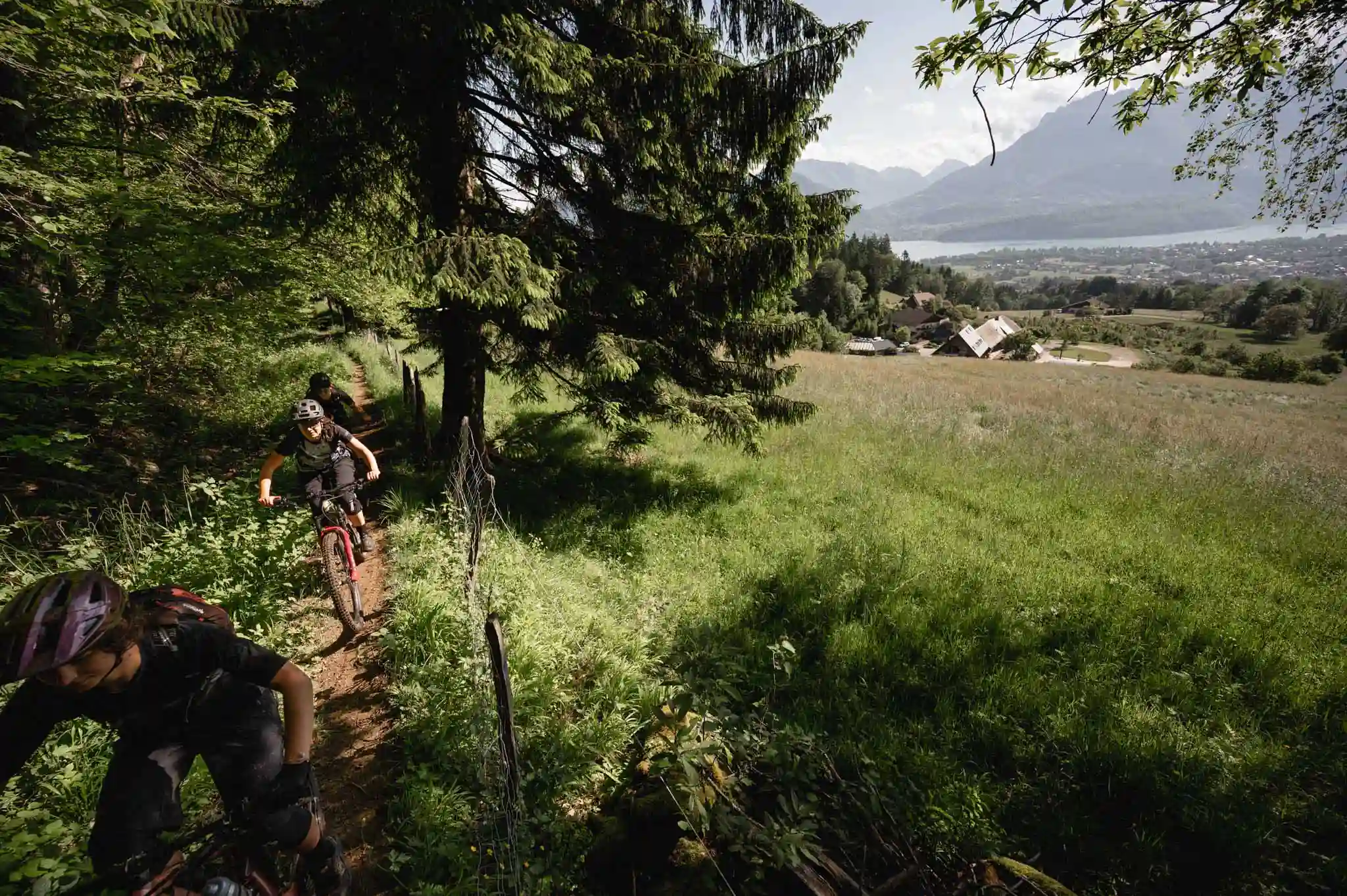 More than a little cycling adventure, this tour of the lake was above all an opportunity to spend a lot of time together and to let emotions cross for long hours. From pain to happiness, from the lever to sunset.
"I had this day in mind since last summer, and all winter on ski touring, I can't stop thinking about it", Debi whispered to us. When she presented this idea to Audrey, Débi did not have time to finish her sentence as the meeting had already been taken. For Olivia, once the stops were secured, everything was countersigned.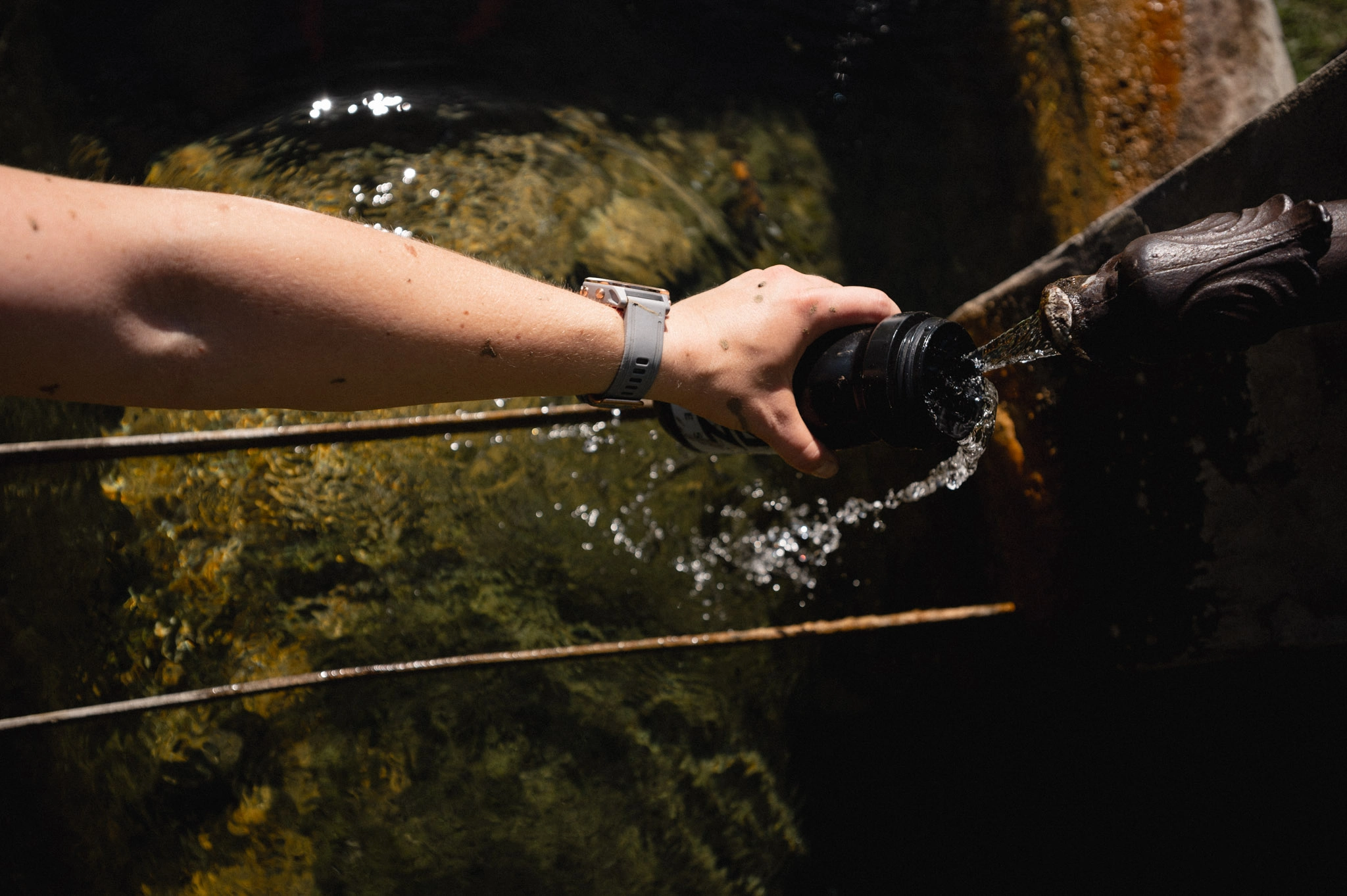 The first pedal strokes are given by the lake and on the trails that Débi, Olivia and Audrey know by heart. That morning, however, everything seemed different and they set off on the first link in a chain that would have to be referred at the end of the day.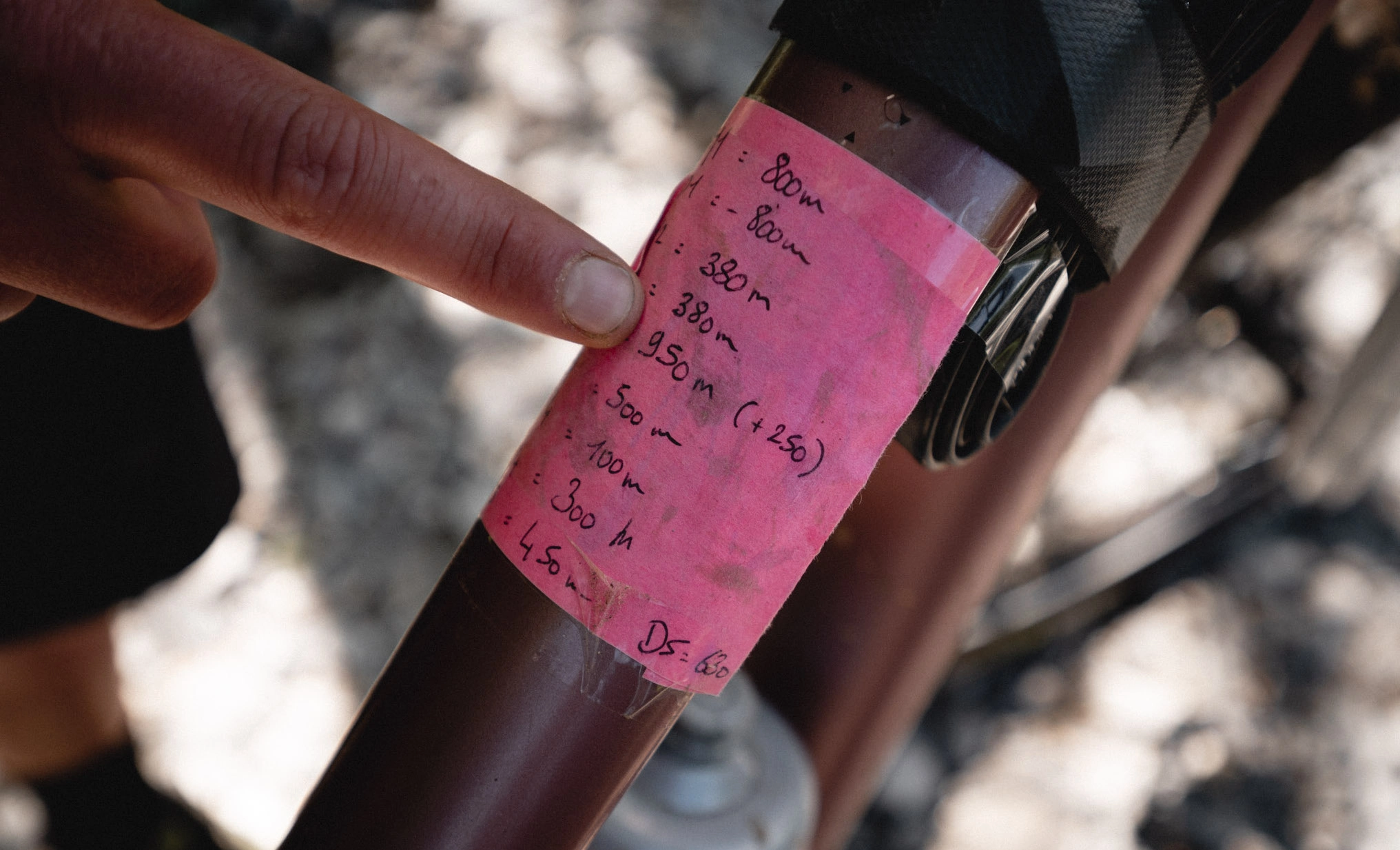 Each one assumes her role: Débi guides the troops, Audrey checks that the banana supplies are assured and Olivia ticks the stages one after the other on a sticky note already soaked in sweat.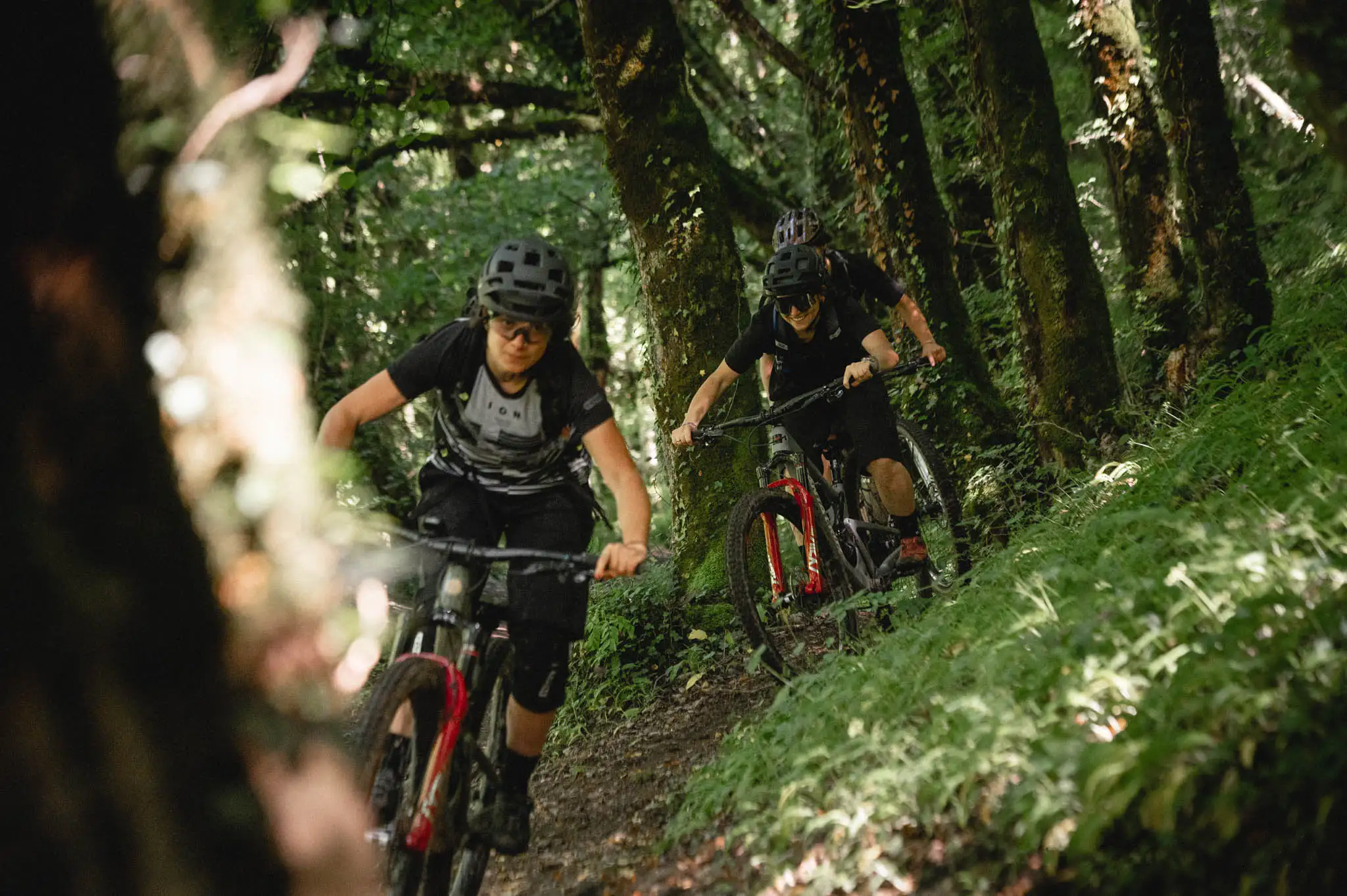 It quickly gets hot, quickly sunny and the climbs follow one another.
The descents are also linked despite heavy rains which arrive as real rewards.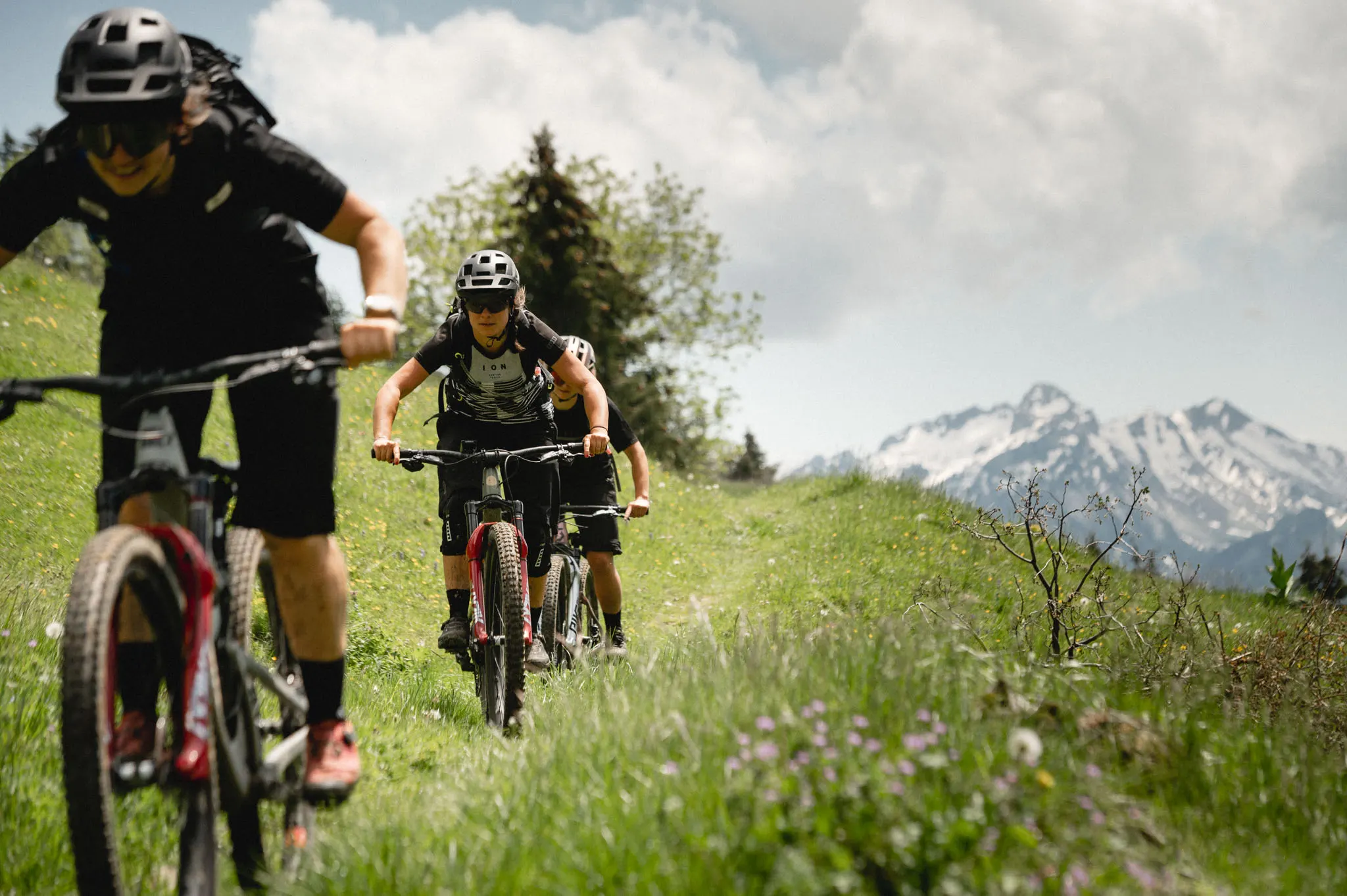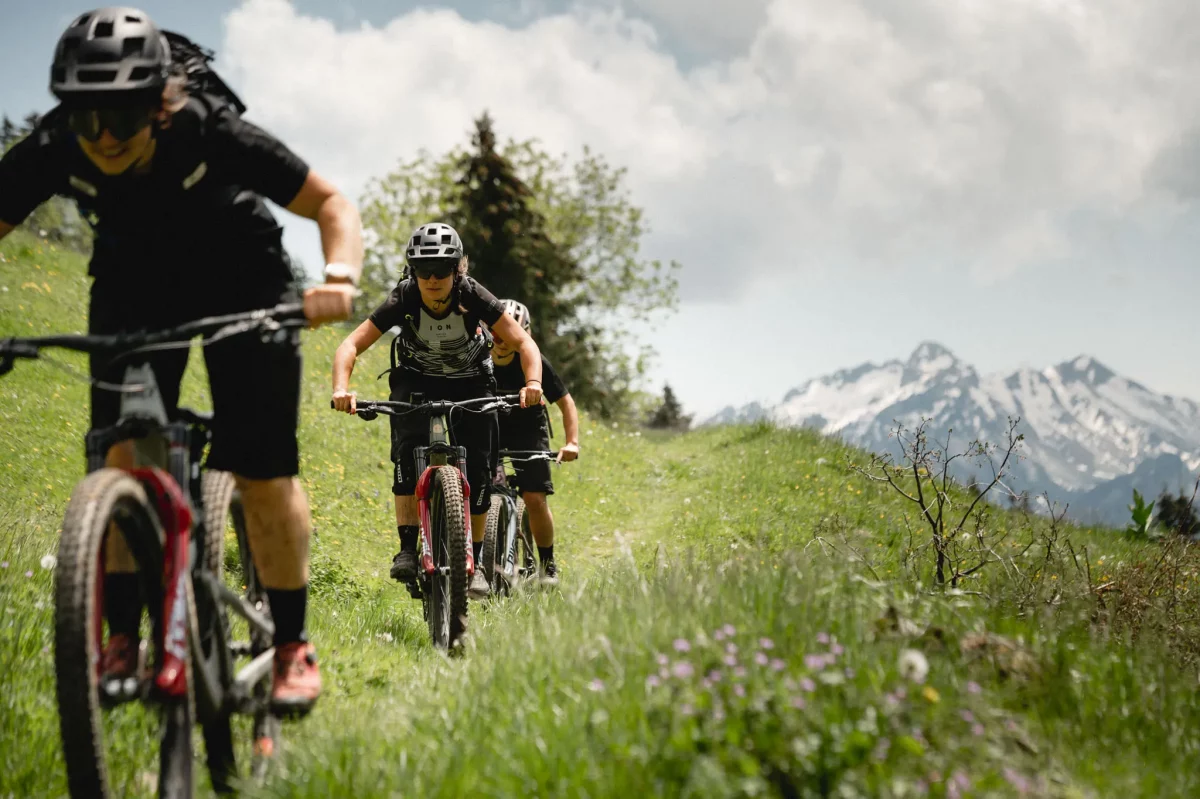 Annecy, Semnoz, Saint Jorioz, Entrevernes, Doussard …
Avoiding the road means avoiding noise, asphalt and cars.
It is also to ensure less peaceful climbs but to guarantee well-deserved and oh-so-appreciated refueling.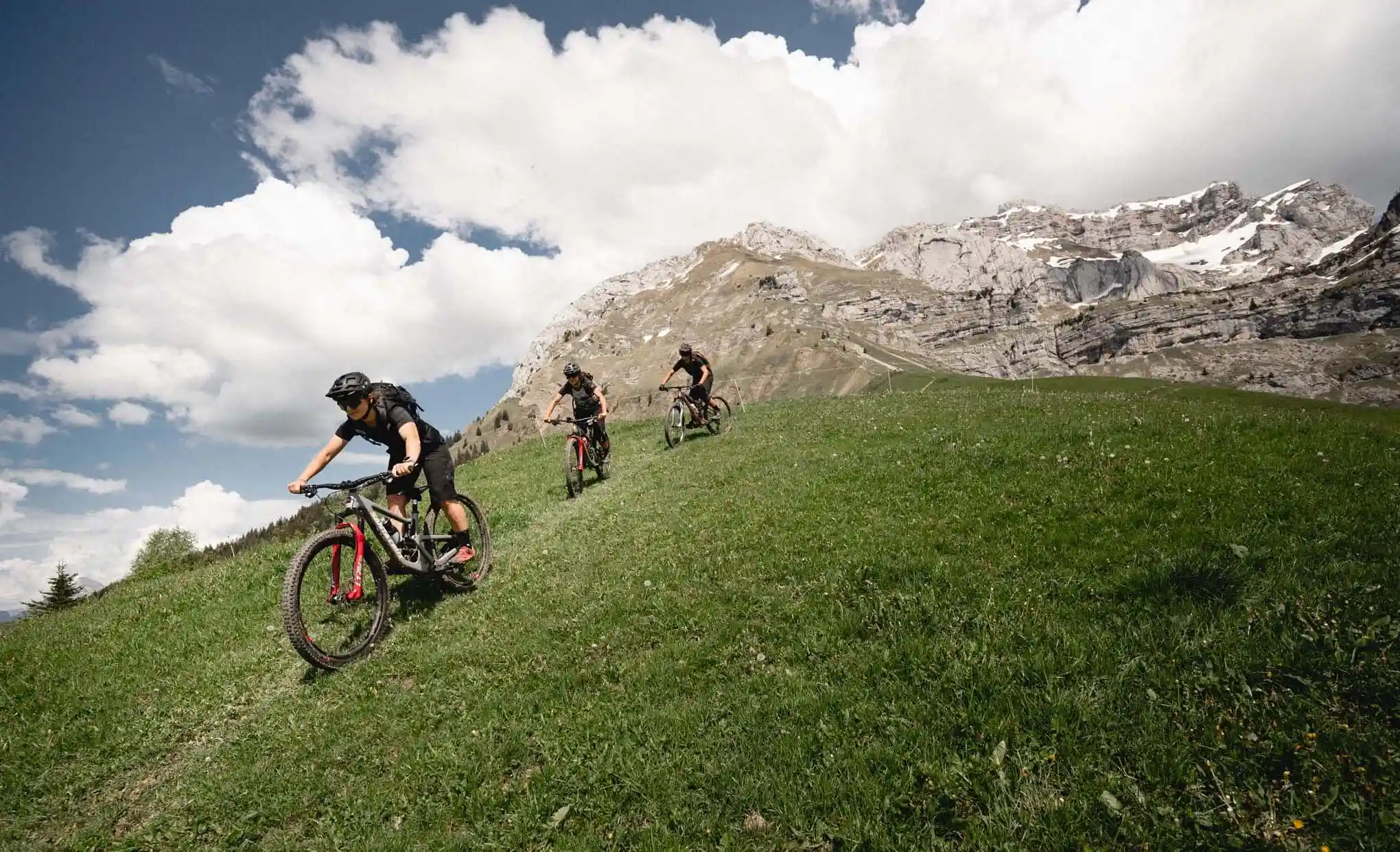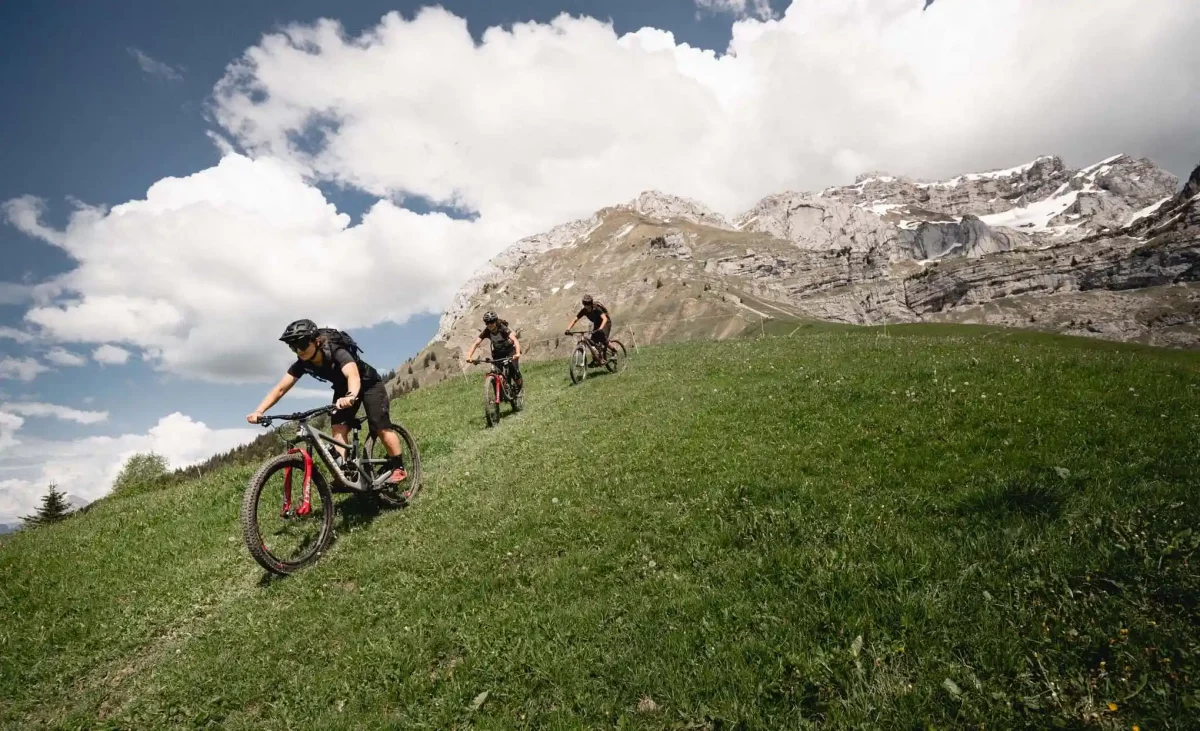 Let's talk about it: we MUST eat, and the pockets of our trio were well loaded at the start of the outing. One of the darkest moments of the day cannot be overlooked either: the closure of the Aulp chalet, and especially its kitchen …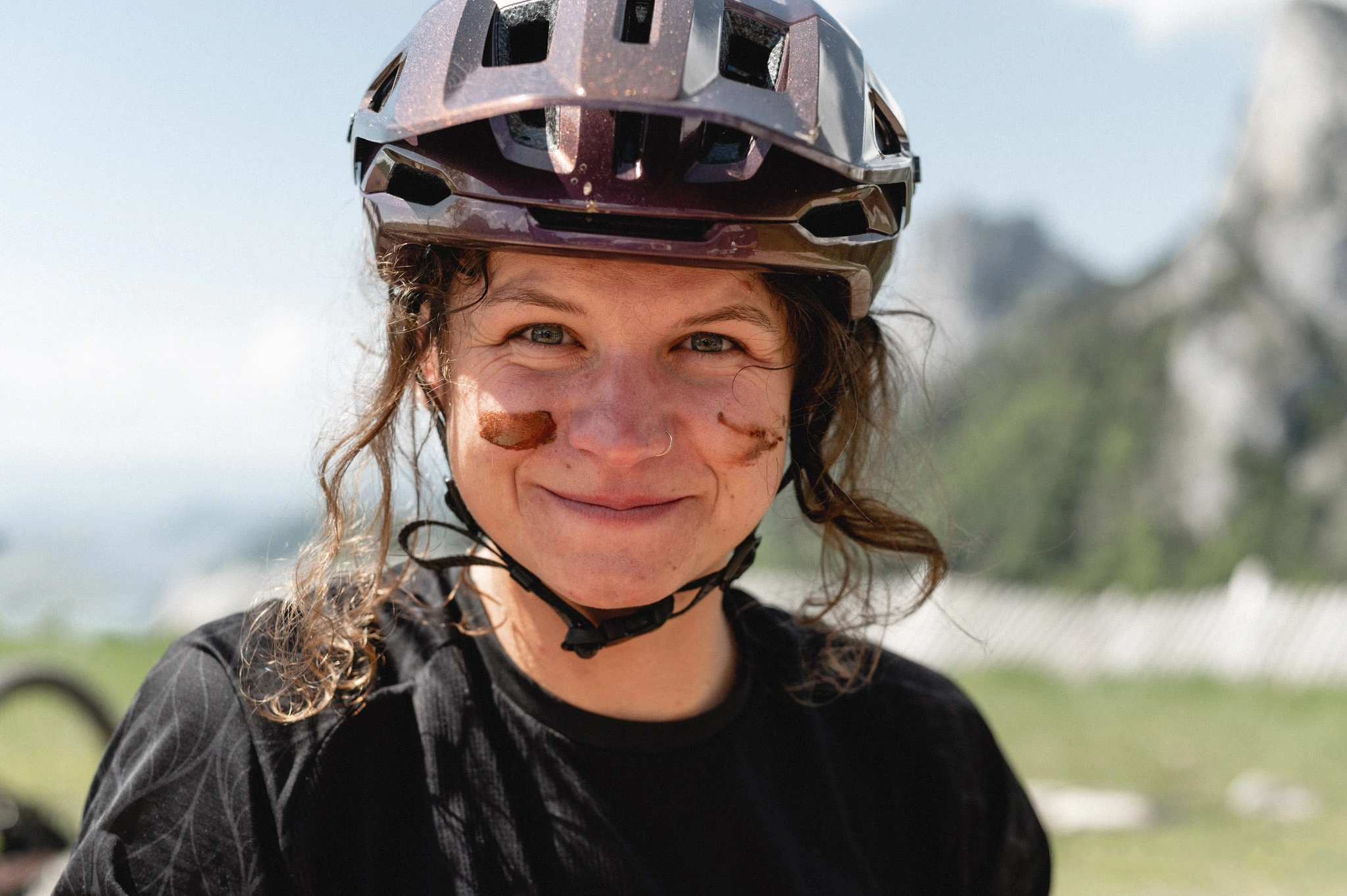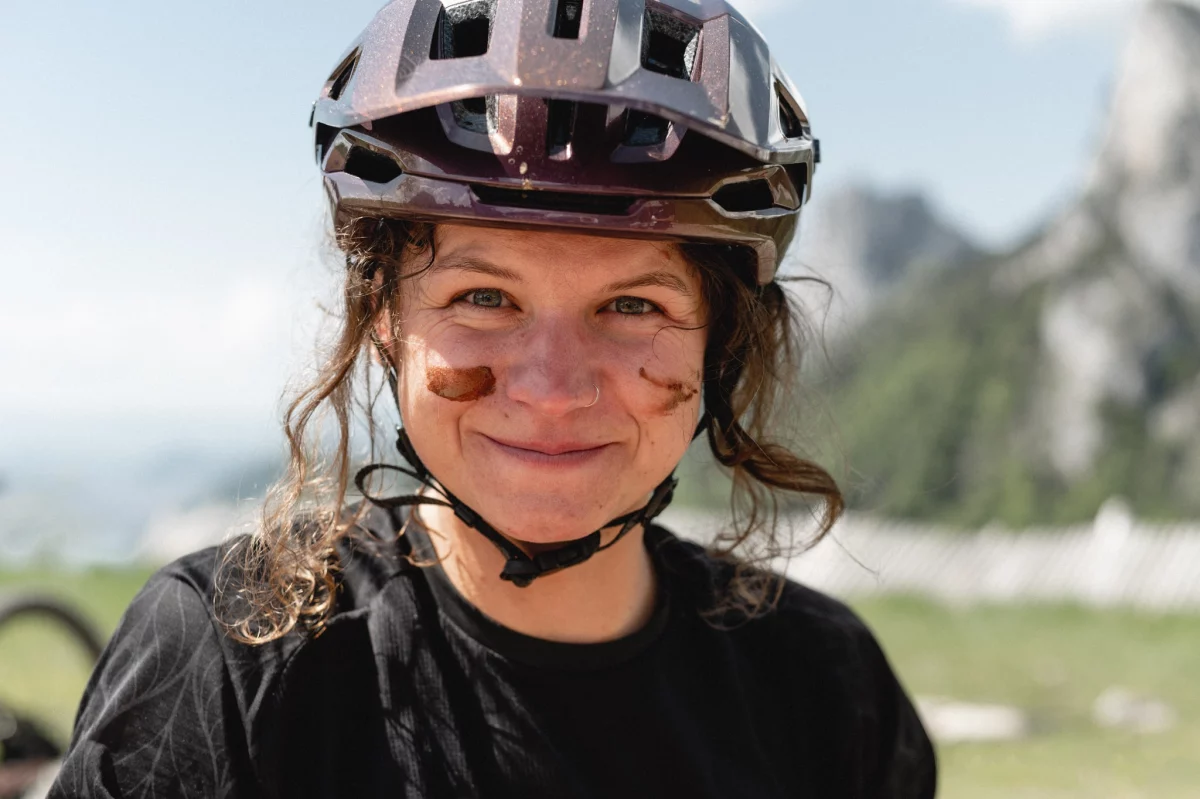 It is in the face of the prospect of a blueberry pie flying away that we judge the courage of his friends but we did not hear the rustle of a growl.
To forget this dirty story, the trio embarked on one of the most beautiful trails above Lake Annecy. In a series of pins, still wet roots and in a bottleneck one could dream of at night.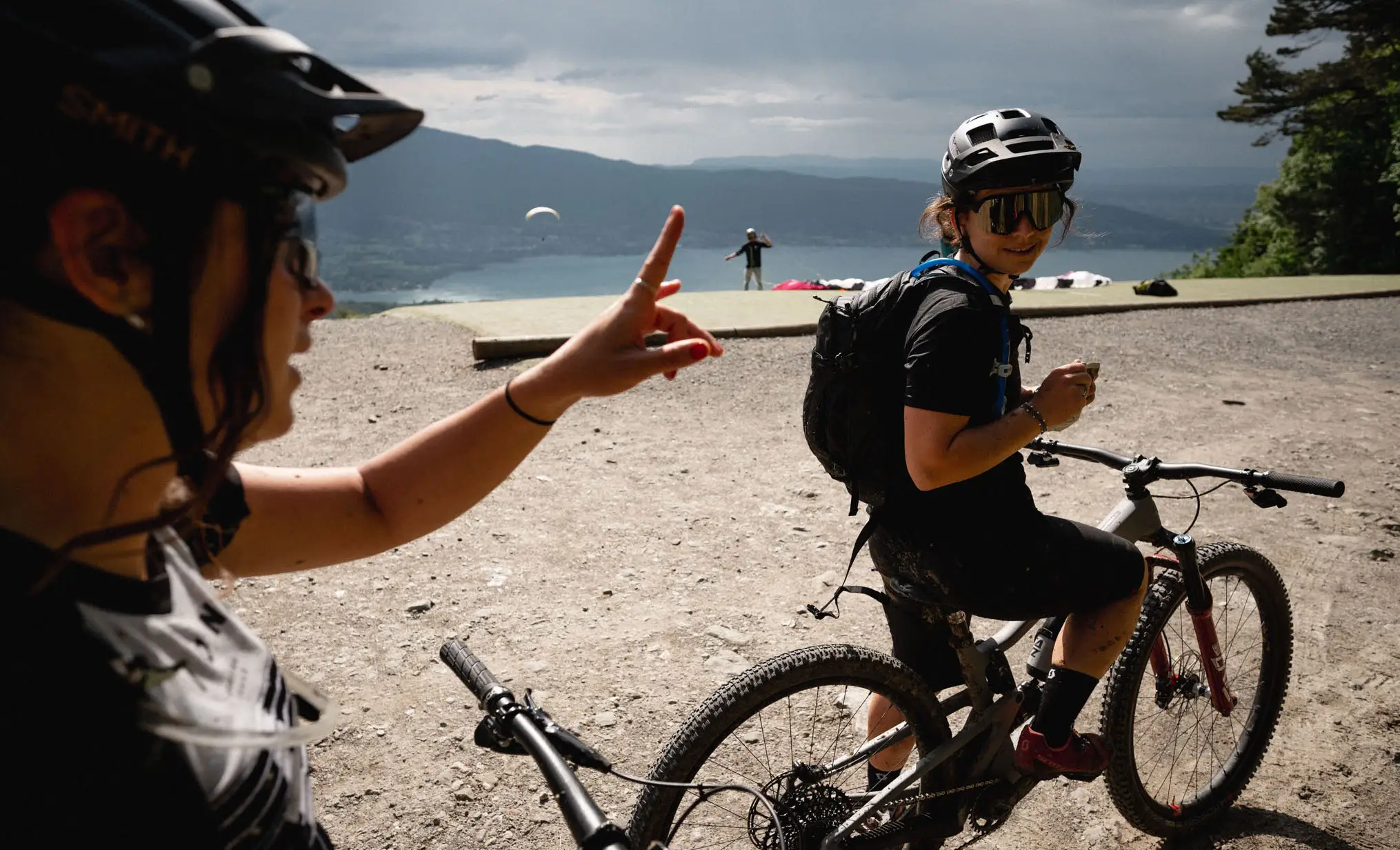 The lake… it's probably the best thing that could happen to Audrey, Olivia and Deborah before the last climb that awaited them.
Montmin, the Aulp chalet, Bluffy …
The closer the end, the harder each pedal stroke. We almost see the end, almost… And that's when we discover that no one really rides on the where our trio is about to ride. It is at this moment that we can hear the first grunts and the drops of sweat falling to the ground, between two sounds of shoes sliding in a heavy earth and laden with humidity.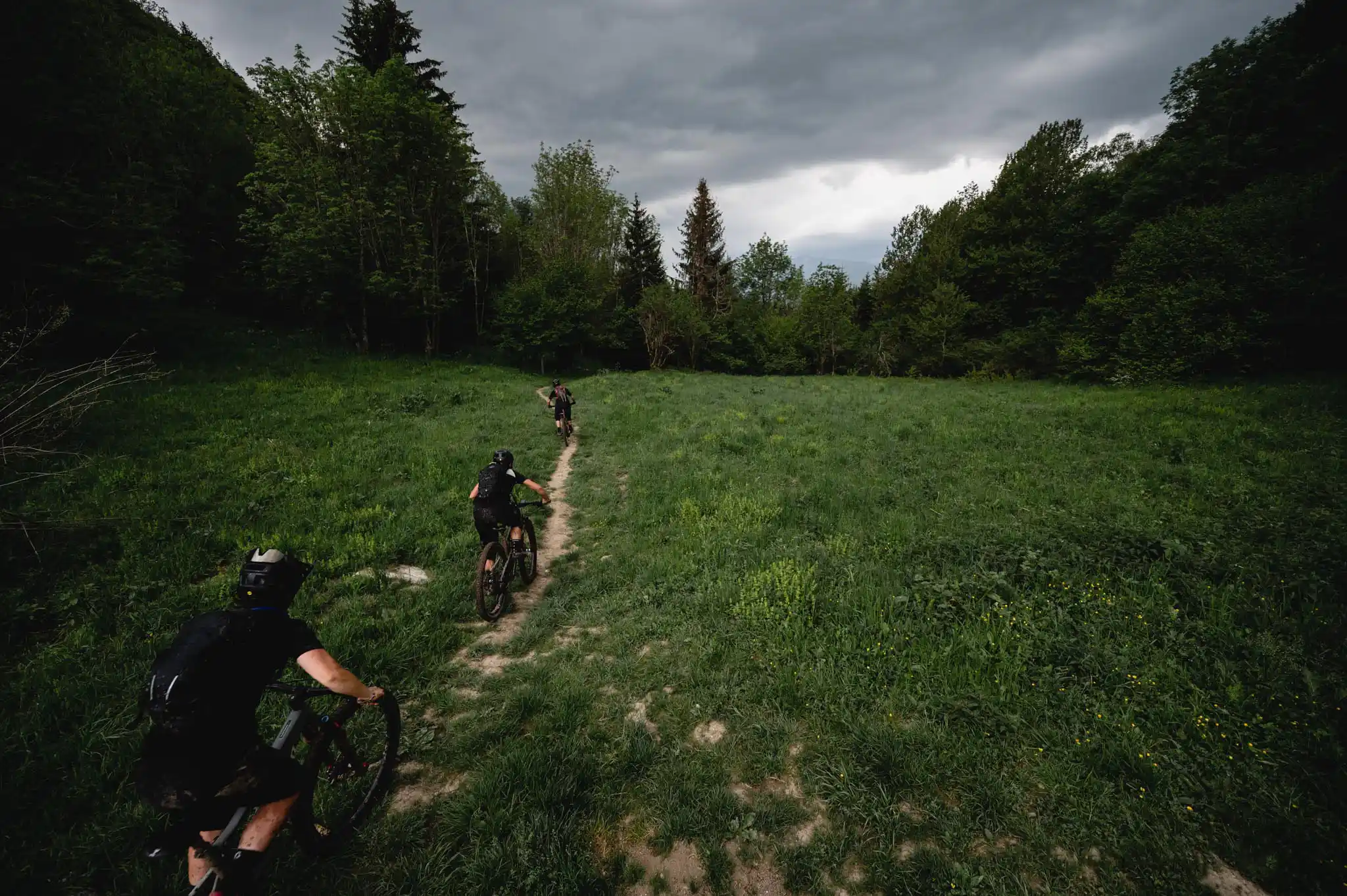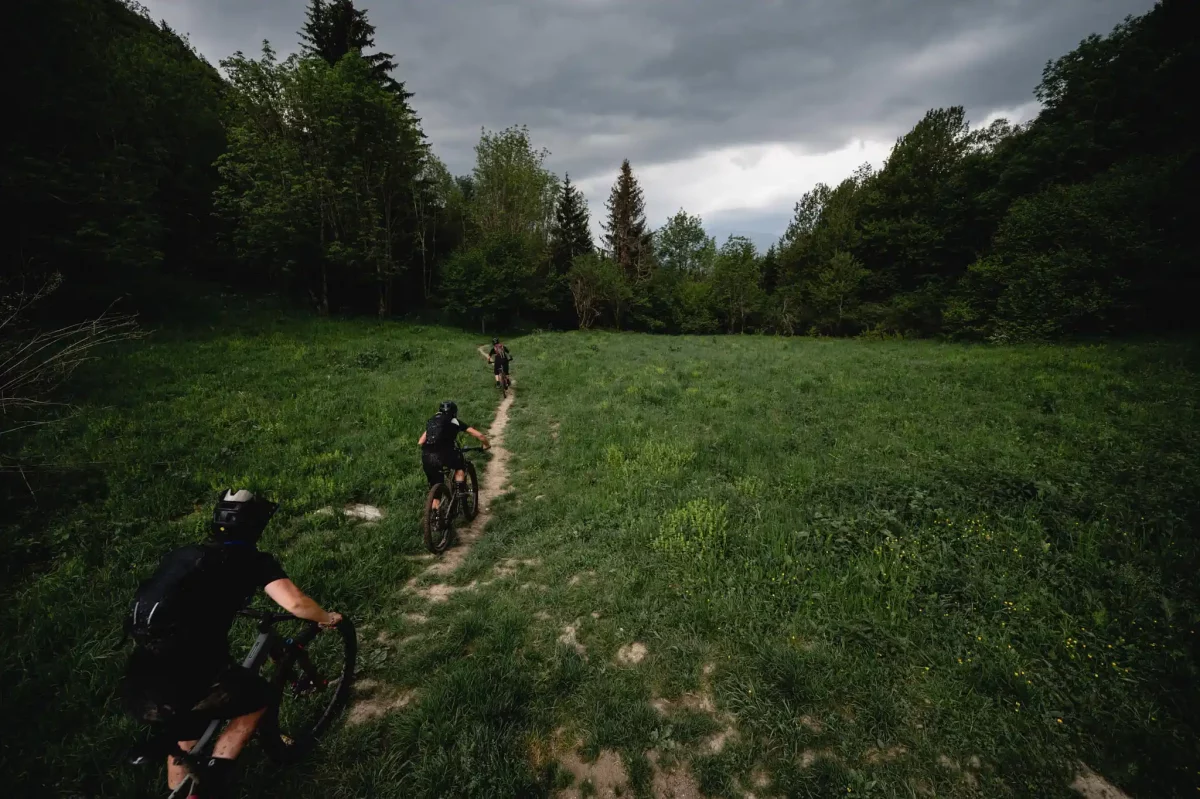 This is also when the sky charges and we hear the thunder rumble. But this is especially when you can count on your friends and the energy they give you. The end is near.
The smugglers pass, Annecy.
There is really no more energy in stock, but so much adrenaline that Olivia, Audrey and Débi reach their point of departure and arrival in the small port of Annecy le Vieux with a good pedal stroke and in the pouring rain at the foot of the smugglers pass.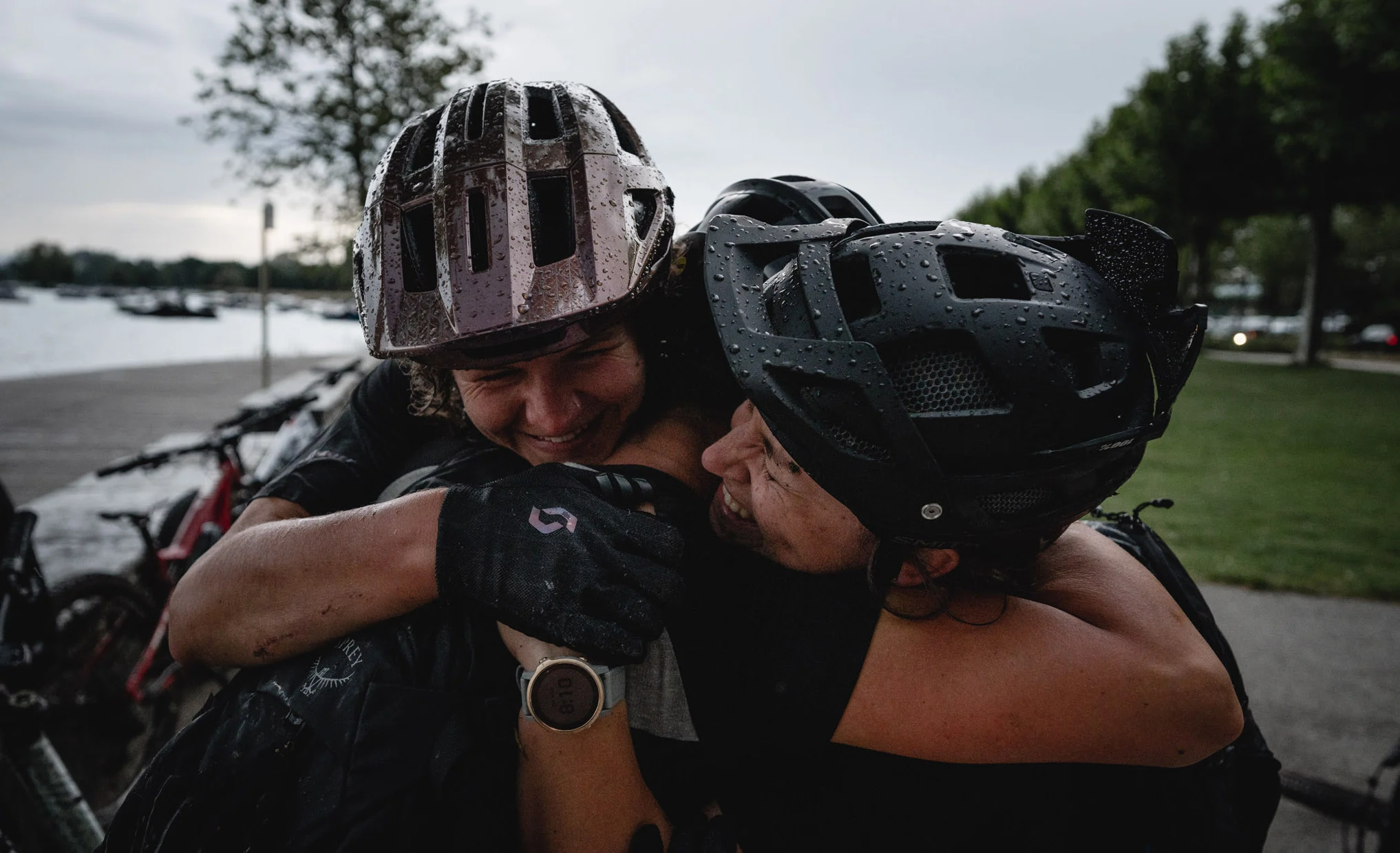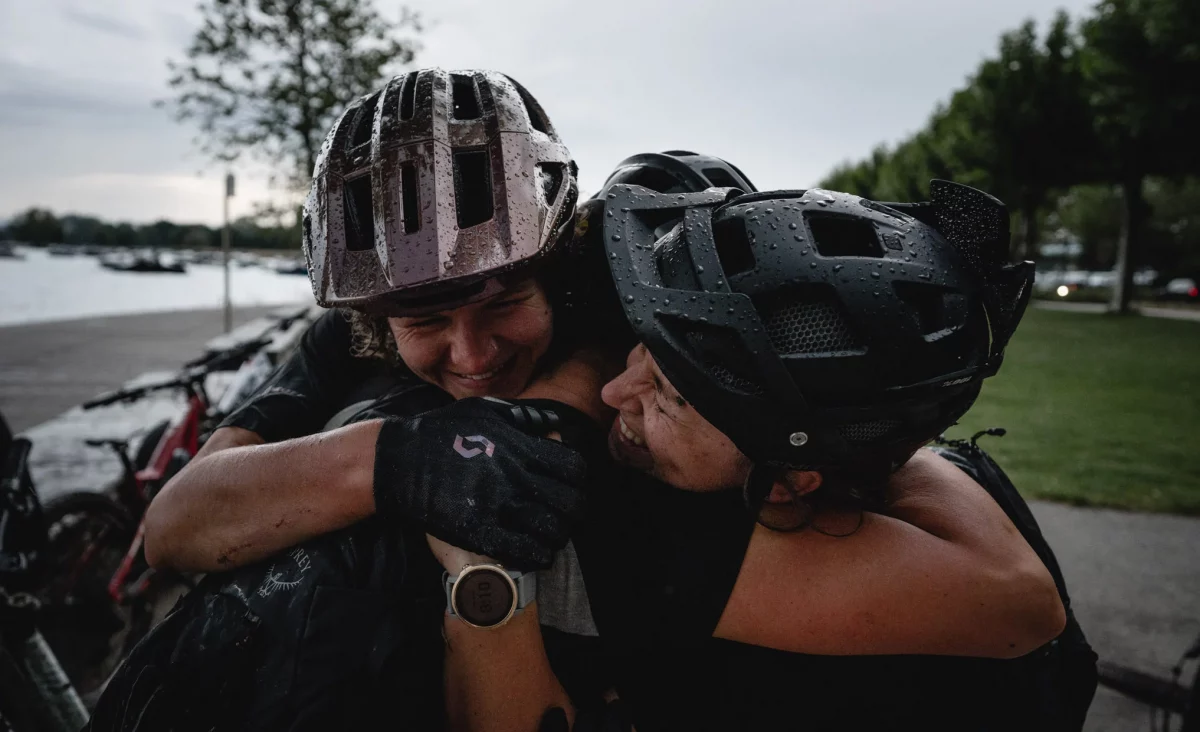 In the rain mingle a few tears of joy and good swipes of well-deserved beers.
For Débi, it's a strange feeling: "I had no more energy but I felt invincible.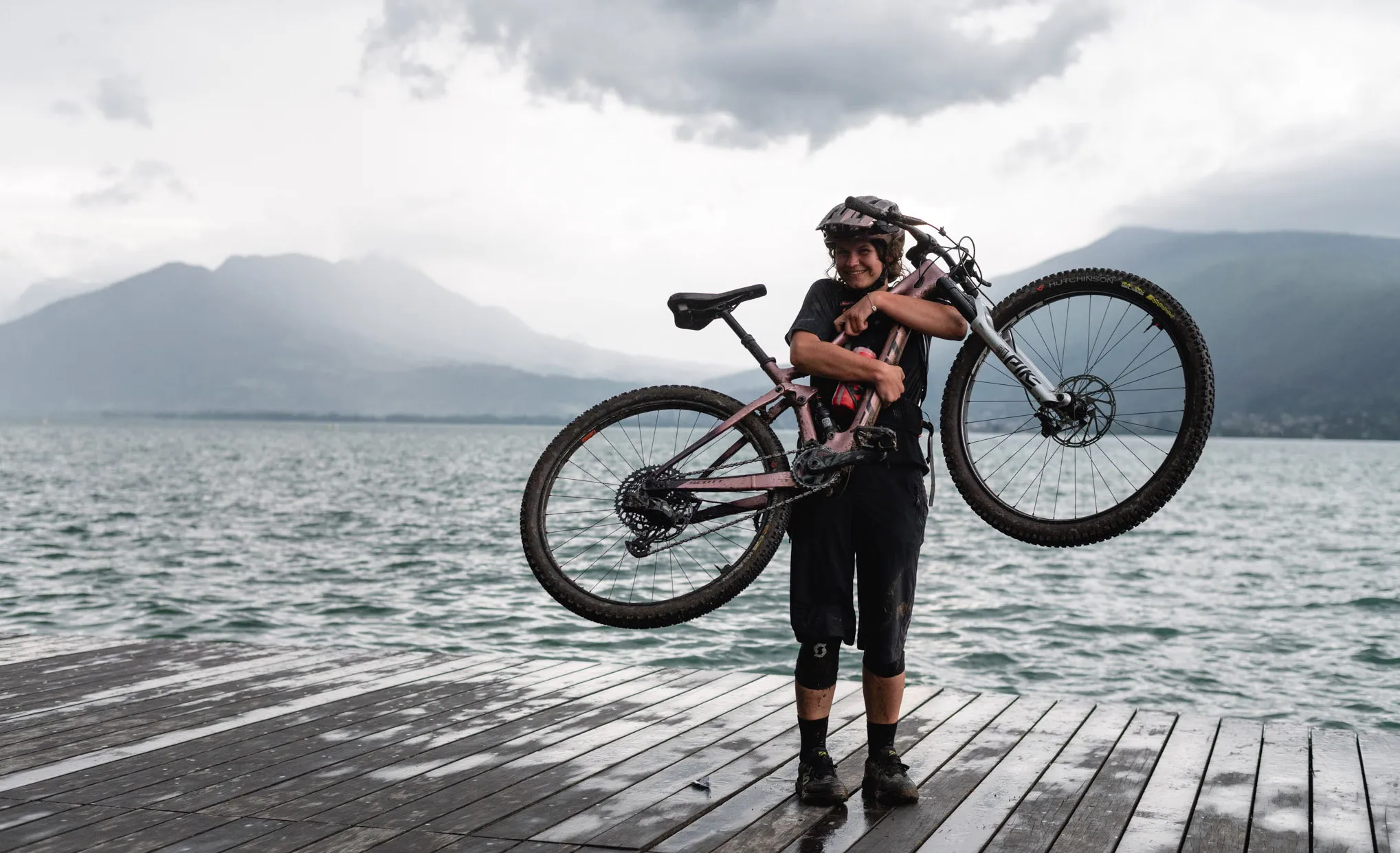 Olivia: "I didn't know if my body could take so much, and even more in such a busy time of year for me. But my little brain could not say no to the temptation of this expedition. I'm used to riding with these two girls and we know each other by heart. This is also a good reason not to say no, I trust them. I'm cranky when it can get tough, but I haven't wanted to bitch once during the day, and I've never wanted to be anywhere else. So here is my conclusion: better than food (and believe me, I know what I'm talking about) and energy drinks: friendship! Sharing these days on the bike with friends turns us into our best version of ourselves and we go beyond any kind of limit we impose on ourselves. "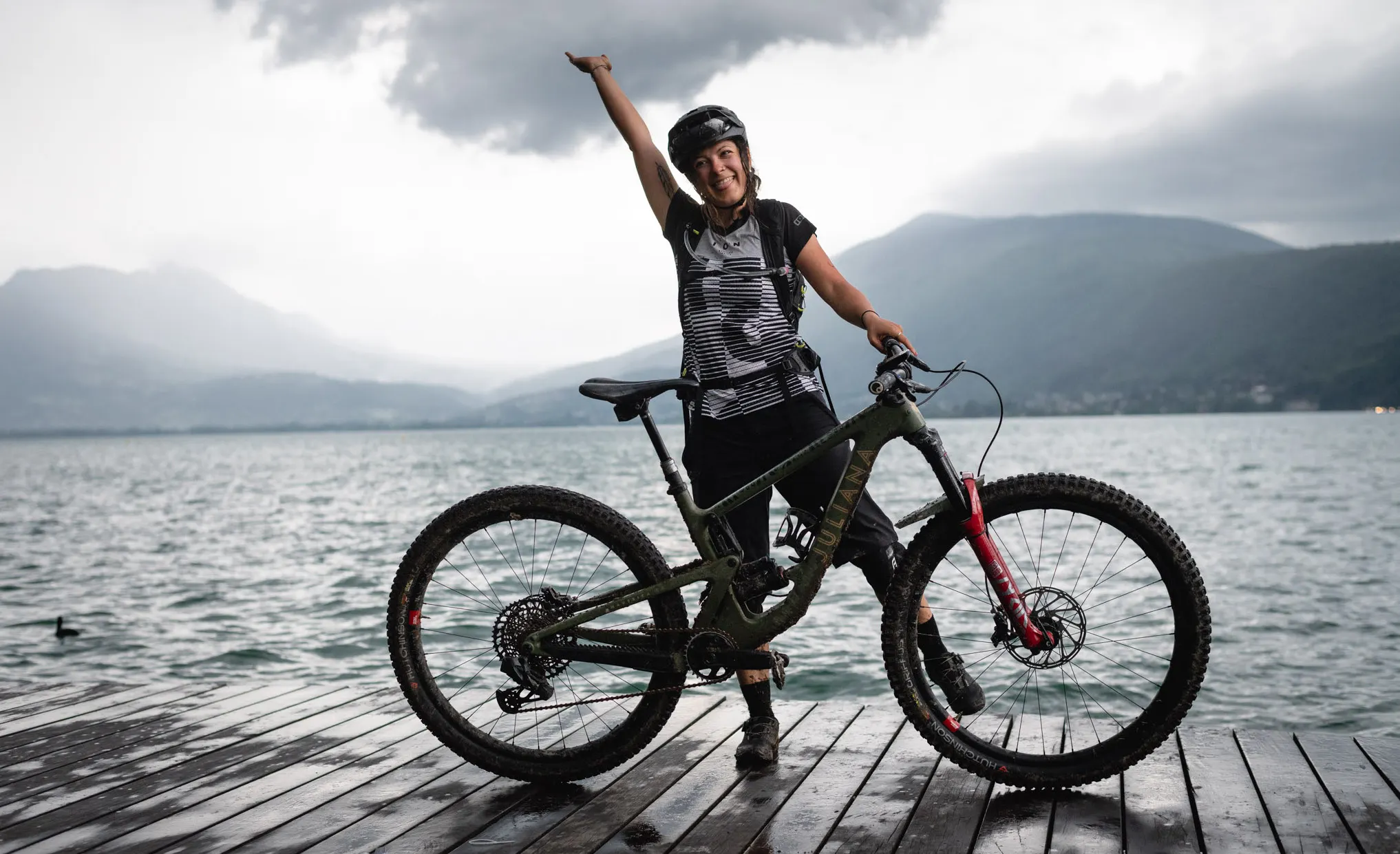 Débi: "We had never embarked on such a big outing, and I didn't know if we were going to be able to finish it. It was really a challenge for all three! We had a lovely time in the sun, we were physically and mentally ready and we spent our time like in a bubble enjoying every moment. We helped each other when needed, and we got a shower 5 minutes from arrival. In the end, on did it and I am delighted to have done this with my friends! "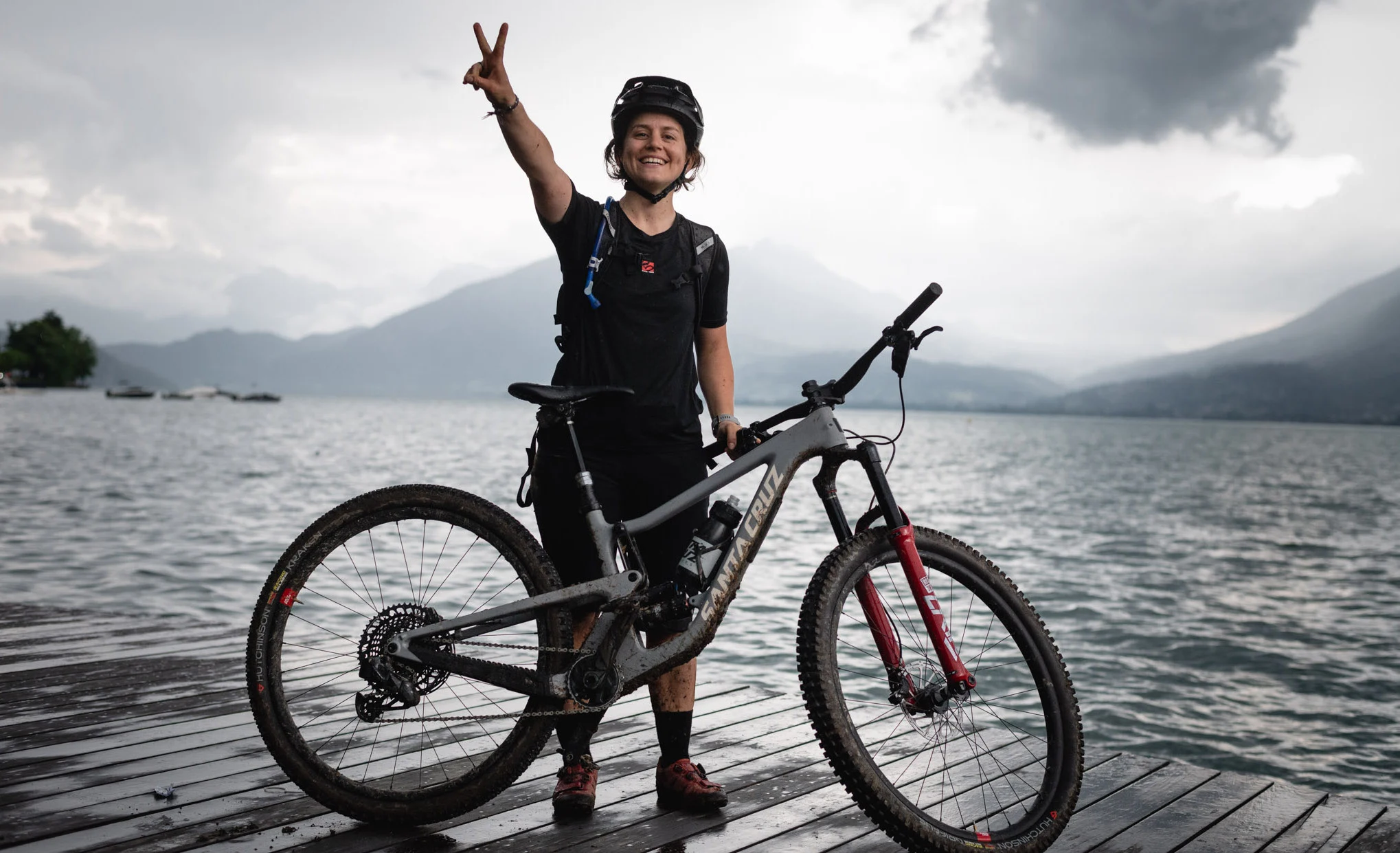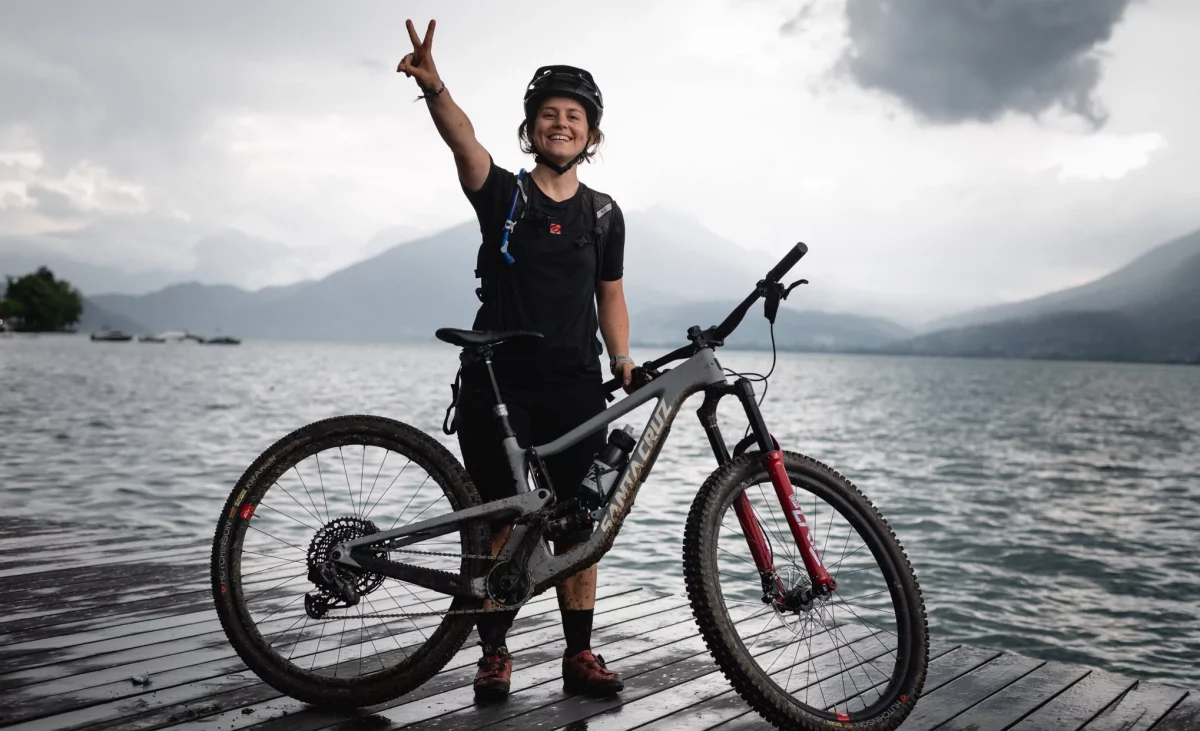 Audrey: "It was one of those days when the planets align and where we can enjoy the present moment in a good mood. There aren't many times like this in the year and this adventure was perfect. In addition to that, we completed a tour that was not easy with long steep climbs, technical singletracks, real mountain biking what. We will remember it with Débi and Olivia. There is no doubt, we know why we ride, why we spend so much time talking about bikes and investing our lives in them. And after ? "
---
In a single day, Olivia, Débi and Audrey toured the place where they chose to take up residence. Like a chain reaction, they engulfed all of their usual outings in one loop with the sheer strength of their legs and their group. We don't really choose where we grow up, but we can choose where we decide to live and let the mountains around us shape us. Three mountain bikers, three women, three friends and one question: when is the next one?
Article published with the kind collaboration of Vojo.
Header photo: Paul Humbert
Themes

:

Annecy
Adventure
Mountain biking