10/13/2021
Photo: PegasFilm
Caption: Blanka Bohdanová in her latest feature film, the drama Bastardi by Tomáš Magnusek
PHOTO / VIDEO The cynical and ironic ladies, carefully hiding their feelings and passions, were insurmountable, the psychological complexity and emotional rupture of her heroines downright fascinating. But we could have used them much more, had it not been for the openness with which the stunning queen of drama did not hide her views. (Continued from Monday, October 11)
A charming lady, a charismatic actress with a sense of endless twists and secret corners of the human soul and the dynamics of a great drama, an original artist and a talented writer. Blanka Bohdanová, an emeritus member of the National Theater, was a unique personality who managed to fight for her truth like a lioness in the theater and said clearly and out loud in 'civilian' what she thought. And it was sincerity that severely hampered her work as she stood artistically at the very top. Telling the truth just doesn't pay off here and there, and at the time of the coming normalization, it was twice as true.
As a singer in 1964 in the absurd satire of Milan Uhde Král – Vávra; foto EF Burian Theater – Karel Minc
She gave Werich a basket
Her former pedagogue and head of the local drama, director Karel Novák, offered her the most great opportunities in her engagement in Pardubice, but he had to leave for Olomouc in 1956. At that time, he would have preferred to take Blanka with him, but for her, Haná was too far from her native Pilsen, where her parents lived. When Jan Werich saw her on the Pardubice stage as Polly in the Beggar's Opera in 1957, he liked her so much that she had already opened an offer of engagement, Otomar Krejča also wanted her for her ensemble. Prague really was Blanka's goal, so in 1957 she finally accepted the offer of the Municipal Theaters of Prague. Three years later, she willingly returned under Novák's wings when he headed the resurrected EF Burian Theater, and became one of the pillars of his ensemble for six years. In 1966, Novák surrendered with the heavy heart of his stars and recommended that she accept the offer from the National Theater. She remained on the stage of our largest theater stage for forty-four years, portraying a long line of dazzling and fascinating characters, from Cleopatra to Lady Macbeth and Roxana to Celestina, and performing even when her career was automatically limited. At the same time, she repeatedly guested at the Poetic Café Viola.
In 1967 in Shakespeare's play Antonius and Cleopatra; foto National Theater – Jaromír Svoboda
The breathtaking love of a great playwright
Already during her work in Pardubice, she started working with dubbing, but she got the first opportunity in the film only after coming to Prague. In 1958, she played the daughter of furrier Kalous Rio in the psychological drama Citizen Brych, which was shot by director Otakar Vávra based on the novel of the same name by Jan Otčenášek. She also collaborated with Czechoslovak television for the first time and appeared on screen as Hermione in a production of William Shakespeare's classic drama The Winter's Tale. Film and television offers came more and more often, mostly played by various burgher ladies, neurotic or snobby mothers. One of the most important in 1965 was the character of Ema's companion in the television adaptation of the short story Frána Šrámek Leaving with Autumn, which won an award at the International Television Festival in Monte Carlo. In 1967, she literally captivated the audience as Mrs. Campbell in the television productions Dear Liar. She stood in front of the camera as a partner of Felix Le Breux, who excelled in alternation with Karel Höger on the stage of the ABC Theater in Prague in the comedies of Jerome Kilty, written on the basis of authentic letters by the famous playwright George Bernard Shaw and actress Stella Campbell.
Companion of the envoy of the French king Kateřina and the knight Václav Rynd of Loučka (Rudolf Hrušínský) in a raw image of a small man in the middle of great history Honor and glory; foto Barrandov Film Studio – Karel Ješátko
Cruel dying
She had been thinking about motherhood during her first marriage, at that time she even said she was buying many children's books, but the more she wanted the child, the more she became more distant from fulfilling a great wish. And not just for trust. "When I moved to the National Theater in Prague, I took my parents with me, and then I experienced my father's long-term death from lung cancer. At that time, I lost the feeling that leaving the world like this is terrible and that I can't even bring a new offspring into this situation, "she revealed in 2005 in an interview for the weekly Vlasta. The occupation in August 1968 and the subsequent normalization slowed down its own, several 'ridges' contributed to this. Her most interesting role at that time was Kateřina in the historical drama directed by Hynek Bočan Honor and Glory, but the author of the literary masterpiece Karel Michal immediately emigrated to Switzerland, so shortly after its premiere in January 1969, the film found itself in a safe and television viewers could watch it for the first time. only in 1991. In 1969, Blanka still managed to study in Great Britain, which was then added to her list of offenses.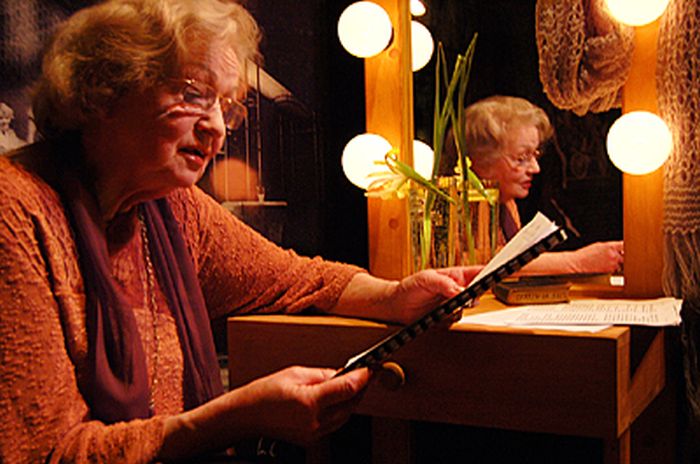 In 2006 in the benefit of Jan Kačer However, let the lights let plát; foto National Theater – Hana Smejkalová
Freedom for the soul
Moreover, she never joined the communist parties, so although she could remain in the National Theatre's drama ensemble, her work was limited to a supporting role. "Everything at the theater pays off for characters who don't say yes or no and wait to see what happens," she said bitterly in an interview with Vlasta, but never regretted her open experiences and sincerity. "Even though I paid for it for a long time after 1969 and the use was against me. In the theater, I lost the great role of beautiful full femininity. I don't even want to remember everything I could have played on television, radio or dubbing. But – I started painting and finally devoted myself to family life. I enjoyed my son's childhood abundantly. I said: Thanks to the party and the government, son, you will enjoy your mother. "At that time, she also began to devote herself intensively to painting, and then she never left this love of her life. "Painting saved me when I was cut off from theatrical activities, and I already kept it. Painting is something amazing and free, even now it will protect me in old age, "she revealed to the novinky.cz server some time ago.
Gin game:
With Josef Somr in the tragicomedy of Donald L. Coburn, which
they premiered at the Viola Theater in Prague on March 20, 2001
and has been on the program for fourteen long years
The art of leaving at the right time
In the eighties, her role in television and film finally increased, she taught acting at the Prague Conservatory and in 1985 she was awarded the title of Merited Artist. In 1996, she received the František Filipovský Award for dubbing of the film The Driver of Miss Daisy and a year later the award for lifetime championship in dubbing. In 2001, they won the Thalia Award for their role as Fonsie in The Gin Game, in which they excel for fourteen years alongside Josef Somr. She officially retired from the engagement at the National Theater, on the stage of which she has portrayed more than eighty characters in 44 years, in 2010. .cz. At that time, she also stood in front of the camera for the last time as a teacher Rýznarová in the drama Bastardi by Tomáš Magnusek.
With Stanislav Zindulka in the play by the Austrian playwright Felix Mitterer My Ghost, about a marriage she managed to say goodbye to even death; foto Drama club
Soul, hidden in the picture
By leaving our prestigious scene, however, she definitely did not resign from acting and continued to play in the Prague Drama Club. "We consider it an honor that their last theatrical role – Róza in Mitterer's play My Ghost – was created with deep life elegance in our theater," the Drama Club states on its website. She also wrote the books Life as in a Cobweb and Life as such and published the book Josífek from her father's literary estate. Above all, however, she devoted herself to fine art and celebrated her 90th birthday with the opening of her paintings in the Azeret Gallery in Žižkov. "I put my dreams, ideas, thoughts into the paintings and it always fascinates me when I imagine that 'hanging' somewhere in a foreign apartment of that painting radiates some of my hidden energy and I enter the privacy of people and remain a memory for their children, for example. home, "she told editor Blanca Kovaříková in an interview for the weekly Vlasta. For a long time she had a cottage in southern Bohemia, with the arrival of the new millennium she decided to definitely get closer to nature and moved to a house on the outskirts of Prague. The extraordinary actress, pedagogue and painter Blanka Bohdanová died on October 3, 2021 in one of Prague's hospitals, and her complications after a fracture of the femoral neck became fatal.
Entered by: Adina Janovská