In the next match of Group A, the Czech champions will be welcomed on their board in the week of October 20 by the Hungarian Szekszárd, who lost at home to Montpellier 65:72 today.
USK players boarded the opponent without their American stars Alyssa Thomas and Brionna Jones. After joining the WNBA, they did not manage to join the team and obtain visas on their way to Russia.
USK Praha players (from left) Maria Condeová and Dragana Stankovičová.
Michal Kamaryt, ČTK
However, even without them, the Czech champions have a well-known entry into the match and after less than five minutes they led 12: 0. The newcomer to the competition had a hard time pushing himself against the attentive defense of the Prague team and already had seven losses to him after six minutes. The first quarter was won by USK 19: 7.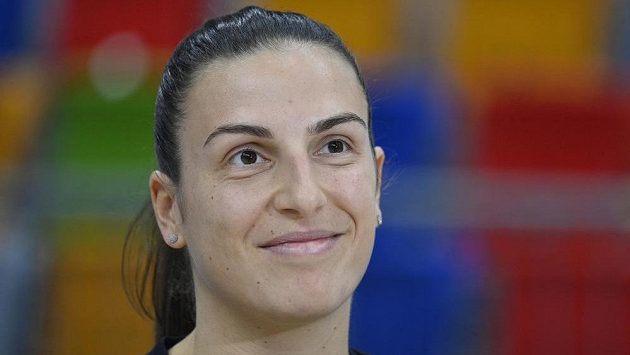 Team captain Teja Oblaková.
Michal Kamaryt, ČTK
In addition, coach Hejková's team supports her in concentrated performance in the second part as well, and when she got to the lead by 24 points after Oblaková's goal, the home coach took a break. Although the Muscovites cut the Prague strings, they did not get below the twenty-point shortage. At half time, they have accumulated 21 losses and lost 22:44. On the other hand, as a week ago in Montpellier, the Prague shooter Condeová pulled the Prague women, who had 16 points when leaving the cabin.
Nothing in the picture of the game even in the second half and the more experienced USK has to continue to control the development of the match. Pivotka Dragana Stankovičová or quarterback Barbora Bálintová joined Condeová, and after a series of quick counterattacks by free throws, the guests finished the third quarter with a lead of 29 points.
In the final part, the Moscow players reduced, but the USK did not allow any point drop. On the contrary, Voráčková completed her double double in the constraint and Stankovičová was close to reaching it with 15 points and 9 rebounds.
European Basketball League – Group A, Round 2:
MBA Moscow – USK Prague 54:79 (7:19, 22:44, 35:64)
Most points: Kirillovová 11, Glontiová and Stoljarová after 8 – Condeová 18, Stankovičová 15, Voráčková 14. Fouls: 19:20. Free throws: 12/9 – 19/16. Threes: 5: 7. Rebounds: 31:40.
Szekszárd – Montpellier 65:72
20:30, Salamanca – Riga.
Table:
1.
Montpellier
2
2
0
147: 139
4
2.
USK Prague
2
1
1
153: 129
3
3.
Venice
1
1
0
80:59
2
4.
Ekaterinburg
1
1
0
71:56
2
5.
Salamanca
1
1
0
70:64
2
6.
Szekszárd
2
0
2
124: 152
2
7.
MBA Moscow
2
0
2
118: 149
2
8.
Riga
1
0
1
56:71
1