The results of the elections to the Chamber of Deputies probably determined the future of municipal policy in Prague. The election leader TOP 09 in the capital Jiří Pospíšil flirts with his former breadwinner ODS and also solves a joint procedure for the elections in the capital. "Voters in Prague made it clear that not only do they not want Andrej Babiš, but also that they prefer right-wing parties. I will do my best to stand together in the next municipal elections and offer citizens more right-wing solutions in transport or housing, "Pospíšil told Lidovky.cz.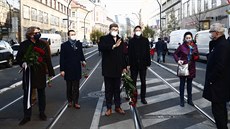 Courtship between TOP 09 and the ODS at the Prague level took place even before the parliamentary elections. However, the excellent result in the metropolis confirmed the politicians in their idea. The coalition Together, composed of ODS, TOP 09 and KDU-ČSL, was elected by 40.02 percent of Praguers. The Pirates and Mayors coalition finished second, but 22.64 percent far behind the first group. YES then finished third in Prague with 17.46% third.
"I see that forty percent as a huge commitment. We've been talking about this for a long time, but we've been waiting for the election to see how it turns out in Prague. The result is clear, "added Pospíšil, noting that the official negotiations have not yet taken place. But he expects to invite the People's Party to the joint project.
A common presidential candidate? The coalitions do not want to break up their forces, it will depend on Zeman's health
You do not have to decide on a possible coalition during the autumn. After all, there is nothing to wait for. The elections for the Prague City Hall are already next autumn.
The parties have joined forces for the last municipal elections in the capital. In 2018, TOP 09 ran together with the Mayors and Independents and the People's Party under the banner of the United Forces for Prague. The coalition at the municipality was then formed with the victorious Pirates and the Prague movement, led by Jan Čižinský. According to Pospíšil, Topka cannot complain about cooperation, but there are also obvious differences. "We agree with the ODS ninety percent," says the former Minister of Justice.
And who would be a candidate for mayor in such a group? According to Pospíšil, it is still early for that and it is not something on which the project should fail. The fact is, however, that the Civic Democrats would not like the option of leaving the post of mayor to someone else. And TOP 09 just like that.