By Marco Polisson
It is in the garden of the private mansion of the Fondation Napoléon Bulukian that Florence Verney-Carron received from the hands of Francoise Nissen, former Minister of Culture, the insignia of Chevalier des Arts et des Lettres.
The setting is unknown to the Lyonnais who pass 26, place Bellecour. Behind the facade of this 17th century house, former family property Villardiere, hides a beautiful mansion built on the Parisian model: courtyard side and garden side. Since 1984, the building has been the property of the Fondation Napoléon Bullukian, newly acquired by Jean-Pierre Claveranne. *
Who was Napoleon Bullukian? This grandson of a wealthy Armenian caravaneer, whose family was decimated during the genocide perpetrated by the Turks, made his fortune in real estate under the era Herriot and Pradel. When he died, he bequeathed his property to his foundation. The latter is very active in supporting young artists, hence the link with Florence Verney Carron, very involved in the art world with her husband, the gallery owner. Georges Verney-Carron, and Minister of Culture of Laurent Wauquiez in the previous term.
The place was therefore well chosen, just like the godmother Francoise Nyssen, former Minister of Culture ofEmmanuel Macron, friend of Florence for 6 years and very attentive, like her, to the Aurillac festival. But more than the poster, for the 50 handpicked guests, above all the pleasure of meeting around one of the last courtesans – in an intriguing sense – Lyonnaise, prevailed on the piano notes ofAndré Manoukian.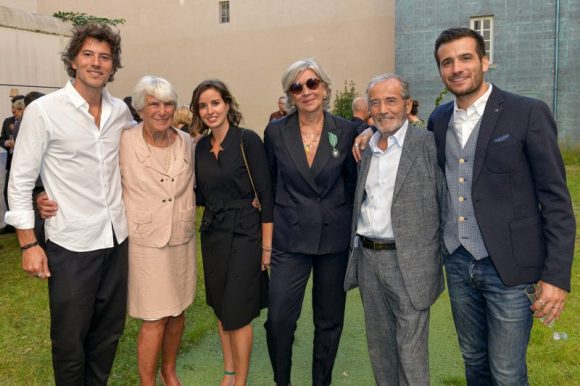 Before she declined her thanks, the Lyonnais musician's scales learned a breath of lightness… allowing Florence's tears to fly away under the amused and tender gaze of the audience. "It's my way of expressing myself, I'm not depressed! She whispered into the microphone to reassure her fans. Who, moreover, were not really worried, since they had already experienced such a downpour during his medal of the National Order of Merit.
> * Full report on this mansion in the Lyon people magazine, devoted to the heritage of Place Bellecour (online, here)
Friday, September 17, 2021
1. Florence Verney-Carron
2. Jeannine Dubuis and her daughter Florence Verney-Carron
4. Claire Hébert (Opéra de Lyon) and Emmanuelle Durand (Orchestra of the National Auditorium of Lyon)
5. Pascal Regard, Director of Customs and Marie-Sophie Verney-Carron
6. Nicolas Daragon, Mayor of Valence, Stéphanie Pernod, 1st Vice-President of the Region and Yannick Neuder, Vice-President of the Region
7. Florence Verney-Carron and Laurent Wauquiez, president of the Auvergne Rhône-Alpes Region
8. Françoise Nyssen, former Minister of Culture, Marc Drouet (DRAC) and Marie Le Gac (Auvergne Rhône-Alpes Cinéma)
9. Dominique and Victor Bosch (Le Radiant), Virginie Mathieu, Seychelles consul, Marco (Lyon People) and Serge Mathieu (Novali)
10. Richard Brunel and Claire Hébert (Opéra de Lyon)
11. Stéphane Malfettes (Les Subs), Pierre-Yves Lenoir (Les Célestins) and Arnaud Meunier (Maison de la Culture de Grenoble)
12. A word of welcome from the President of the Bullukian Foundation, Jean-Pierre Claveranne
13. Speech Françoise Nyssen, former Minister of Culture
15. Presentation of the medal
17. Florence Verney-Carron and Françoise Nyssen
18. Florence Verney-Carron pinned
19. Friends of Florence Verney-Carron
20. Thanks from Florence Verney-Carron
21. Florence Verney-Carron and her family
22. André Manoukian and Florence Verney-Carron
23. Florence Verney-Carron and Geoffrey Mercier (Auvergne Rhône-Alpes region)
24. Françoise Nyssen, former Minister of Culture, Florence Verney-Carron, Philippe Cochet, mayor of Caluire, Rhône senator Etienne Blanc and Laurent Wauquiez
25. Victor, Oriane and Laurine (More Penguins)
26. Stéphanie Pernod, 1st vice-president of the AURA region, Florence Verney-Carron, Etienne Blanc, senator from the Rhône and André Manoukian
27. Mathilde Atangana (Auvergne Rhône-Alpes region), Boniface Verney-Carron and Ingrid Maldague (Auvergne Rhône-Alpes region)
28. Julie Gâteau, Archibald Verney-Carron and Charlotte Vergely
29. Mickaël Marin (Annecy Festival) and Marie Le Gac (Auvergne Rhône-Alpes Cinema)
30. André Manoukian and Florence Verney-Carron