The fashion world had its eyes on Milan, for the Bulgari Serpenti Metamorphosis Party, the night of Wednesday to Thursday. It was the fashion event of the week with dozens of guests in party looks. Among the distinguished guests, the Spaniards Ester Expósito, the wife of the Moroccan international, Hiba Abouk and Nieves lvarez.
The fashion world is looking at Milan, one of the world's fashion centers, where Milan Fashion Week has marked the path and the trends. But this time it was the Bulgari Serpenti Metamorphosis Party, the event no one wanted to miss, under any circumstances. The Spanish actress of Libyan and Tunisian origin, Hiba Abouk dazzled in her black outfit with transparencies and lace. " Congratulations dear Boris Barboni and the whole Bulgari team for the spectacular event in Milan Ashraf Hakimi's wife wrote on her Instagram page.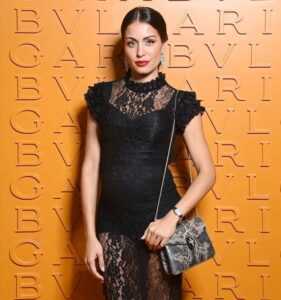 Several of his fans reacted to his photos, which received more than 17,000 "likes". "Tunisia is proud of you," An War said. " I saw the third season of the Mothers series and I wanted to congratulate you on your great work as an actress, I loved it. Kiss », Commented Esther Solana Perez. " Why do you keep hiding your pregnancy? In any case, congratulations ", Teases Simira Benj. " Always so elegant Jihene Bel Hadj Ammar believes.
Undoubtedly, this event, in organized one of the fashionable places of Milan, Terrazza 21, was historic and left a "red carpet" full of party looks for all tastes: short and long dresses, with cutout details, outfits with wide pants and a blazer, a combination of colors such as emerald and fuchsia, bodices, bets on white dresses, sequins and breathtaking necklines.
To read : Hiba Abouk and Achraf Hakimi are expecting their second child after Amin!