07.10.2021 – Czech Republic
---
---
Representatives Prague Airport concluded on Tuesday with a consortium of banks long-term credit facility in the amount of seven billion crowns. The aim is to further strengthen the financial stability of the operator of the largest Czech airport. Due to the negative effects of the coronavirus pandemic on the company's finances.
In May of this year, Prague Airport announced a public tender for long-term financing, in which a total of ten banks qualified. The winner of the proceedings was the group of banks formed Czechoslovak Commercial Bank, the other members are General Credit Bank AND Raiffeisenbank.
Jíří Pos, Chairman of the Board of Directors of Prague Airport (left) with representatives of financing banks (photo: Prague Airport)
"The terms of the loan are above standard. Due to the position of Letiště Praha, its long-term financial stability, high rating and great interest of creditors in the tender, this company obtains highly advantageous financing conditions, which they will be able to use in future years, if necessary, for operations and investments. Funds in the amount of seven billion crowns can be used by Prague Airport without restrictions and will be used gradually according to their future needs until 2024, " Jiří Pos, Chairman of the Board of Directors, said of the loan and added that, unlike many airports, Letiště Praha maintained a high rating despite the effects of the Covid-19 pandemic.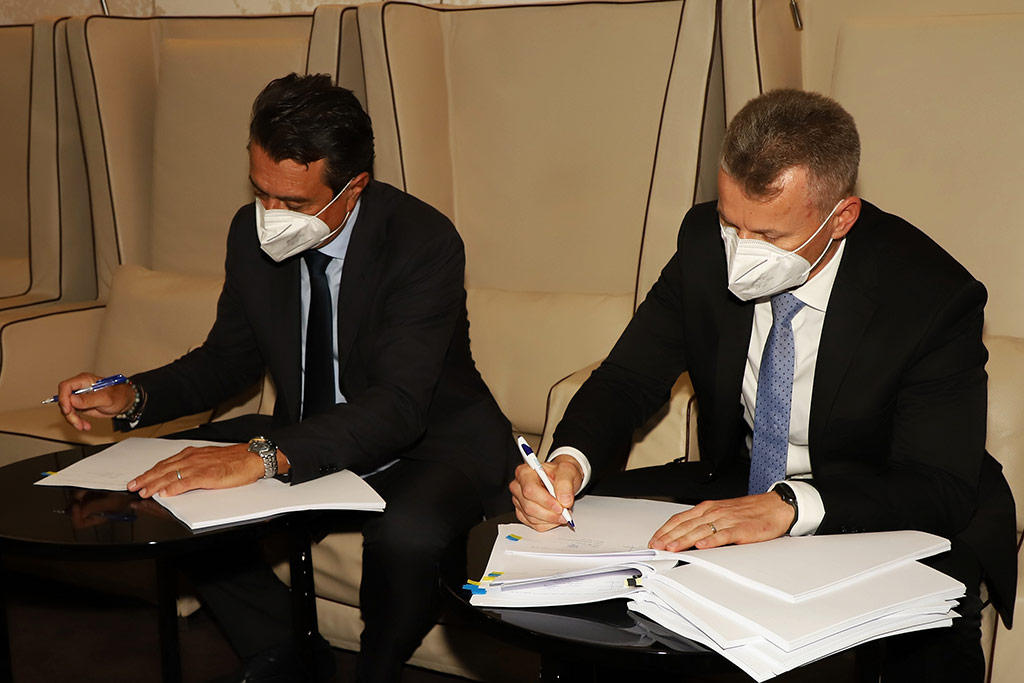 Signing of an agreement with a consortium of financing banks (photo: Prague Airport)
"We are pleased that Václav Havel Prague Airport places great emphasis on sustainability, decarbonisation and ecology in its investments, which is in line with the long-term philosophy of the ČSOB Group. Companies in the Czech Republic must respond to the transformation of the economy, which is still driven not only by the need for an emission-free future, but also by innovation and digitization, " said Ján Lučan, Member of the ČSOB Board of Directors responsible for Relationship Banking.
Prague Airport responded to the slowdown in air traffic and the drop in the number of passengers handled in March last year. The company demonstrated a revision of costs and projects, made savings in various areas, and there was also a decline in partial infrastructure at terminals. The airport also saved on energy, materials, labor costs and other areas. Thanks to these measures, the airport was financed to operate from its own resources for a period of nine months. The airport did not resort to external sources of funding until last year.
Themes