06.10.2021 16:46 | Comment
COMMENT You can carry a lot, but sometimes it just overflows. And that's exactly what happened to me last night. I have lived in Vršovice for five years. I must say quite objectively that even five years ago it was not a godly luxury. There weren't ten blue zones back then, so we were such a car jungle. We didn't excel in order either. But it was safe with us. At least one was not afraid on the street at night. He didn't protect himself from sitting on a bench, and when you saw someone lying on the ground, you knew he was sick and needed help. Those were the times.

In other parts of the city gradually to improve the situation. Formerly insulted Nusle are much better today than Vršovice. And what about Žižkov.
survey
Do you blame Babiš for the "castle in France" case?
voted: 25581 people
And what really pissed me off? Humus. Incredible humus. Everywhere. On the ground, around garbage cans, in the park, just about everywhere. And an enormous number of strange individuals. There is a great place for Sokol, every evening, sometimes even during the day, one can learn a lot there. During the day, acrobatics, but only at a glance, because few people will have the courage to pull in someone who has a head in electrical waste or a container for clothes, and ask him for advice on how to perform such a performance.
Ninth is even better. Those who do not know how to get especially stimulants into the body will see an illustrative example here
It occurred to me that night trips for schoolchildren could be made in Vršovice as part of civic education. I think it would be much better than lectures and movies in schools. Until recently, the showcase of Vršovice, reconstructed Moskevská, was transformed into a night hostel for the homeless. So far they have comfort, on the whole street from Vršovice Square to Svatopluk Čech Square you will meet only three to four.
It's worse in Čecháč. There are more of them in the local park, and even share the space with those who go there for a drink in the late hours. We have one specialty with us. Local shops, so-called convenience stores run by hard-working Vietnamese, serve as infusions for the less mobile.
It works easily.
You will come with an empty beer bottle, take a new one, pay for the liquid and drink the beer on a stand on the street or in Čecháč. This way it can be filmed all evening. And even if an enormously hard-working Vietnamese at eleven in the evening, you take the last drink and close the empty bottle you hide the next day.
We have another unique Prague.
Few bins for small waste, but a lot of bins for municipal waste in public spaces. Sometimes I really admire mothers with children how they manage this obstacle course. I think it's a superhuman feat. But this phenomenon has another negative externality in addition to its occupied place. It attracts. It attracts those who like to dig in garbage cans. But few of those who visit the garbage can clean up the beagle after themselves. So it's a bit of a vicious cycle. Lots of work for the cleaning crews and lots of crying for those of us who live here.
Photo gallery: – Dirt in Vršovice
But the stupid thing is that in the neighborhood where I pay taxes and fees, I start to be afraid to go out in the evening. It never occurred to me that it could go wrong. That by doing nothing you can destroy a nice part of Prague like this. And that's exactly what's happening here. The city district does not solve it. No one controls the street. The police will drive here, but let's be honest, what do you see from the car? And I myself witnessed them pass by while someone was stroking, shouting, or throwing mixed rubbish on the sidewalk in the street. However, the boys didn't even slow down.
I dont have a facebook. No, I'm not a pensioner. I just prefer a personal meeting. Anyway, a friend sent me a link to a post from someone from Vršovice about the mess. And so I asked a colleague who let me on his profile, went through the pages of Prague 10, Vršovické party and Desítka. On the one hand, I was very happy to see that I wasn't the only one seeing the problem, and that I wasn't hypersensitive, that others were seeing the problem, that they were even reporting it to the city district. Hope poured into me. But I also learned that people are not only dealing with clutter and a large number of drug addicts and homeless people, but that cars are also stolen more often in our country. That there are probably some looting groups in our country. And that you don't have to keep anything in the car, because everything is taken, even a rope, a jack, sunglasses and a few crowns.
From the FB group Ten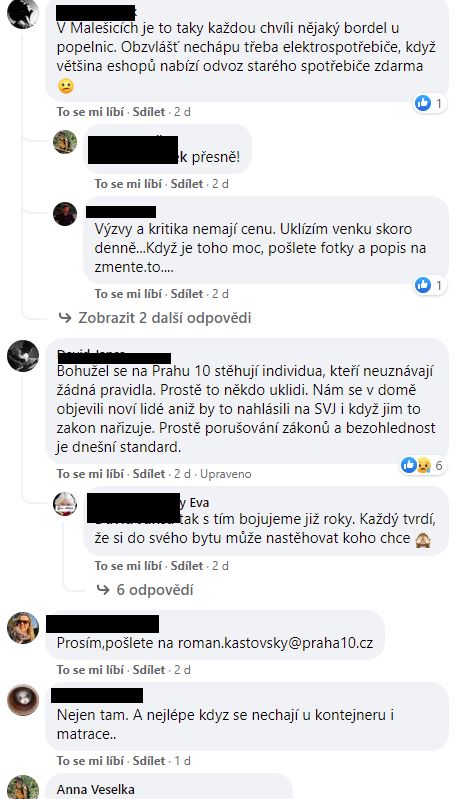 Someone there even recommended that we park our cars only where there is light and ideally also cameras. The owner of the company in Crimea, through the group, begged the thieves not to go stealing from him, because he leaves nothing in the pub, that his visit always costs twenty thousand crowns unnecessarily and it is useless to them. He seems to have a pub somewhere in the dark, and the street cameras are a long way off when the thieves were there for the second time in a month.
Personally, I tried to ask the city district for help with the disorder at least twice. I called. That was probably the mistake. I should have tried it a long time ago via the social network, because others see it there as well, and at least I will know that they are not alone in it. Next time, I will call the municipality, I will ask them for a 100% increase in the number of lights and the number of cameras, because it probably helps. although we know the saying that there is the greatest darkness under the candlestick. So I'm a little scared.
Dana H.
Are you a politician? Publish everything you want without editing. Register HERE.
Are you a reader and want to communicate with your representatives? Register HERE.