Philippe Etchemendy, JAB coach and columnist on WebGirondins TV, shares for WebGirondins readers his tactical analysis after the Monaco-Bordeaux meeting.
The pre-break matches do not really succeed at Petkoball which, after Nice, took on a new shine against Monaco. If the environment is suffering, we quickly realize that if the collective principles fail, the individual shortcomings become glaring.
Individual failures
14th: Low recovery from Monaco in its very wide 4-2-3-1 which greatly distances the Bordeaux lines. Pembele is replaced in a line of 5, Disasi will touch Aguilar and force Adli to make the effort.
@Premium Video screenshot
Adli has framed Aguilar who is forced to come out on Matazo, the line of 5 is in place, but for the only Ben Yedder and does not advance. Fransergio will take him out, but is not accompanied. Kalu replace himself.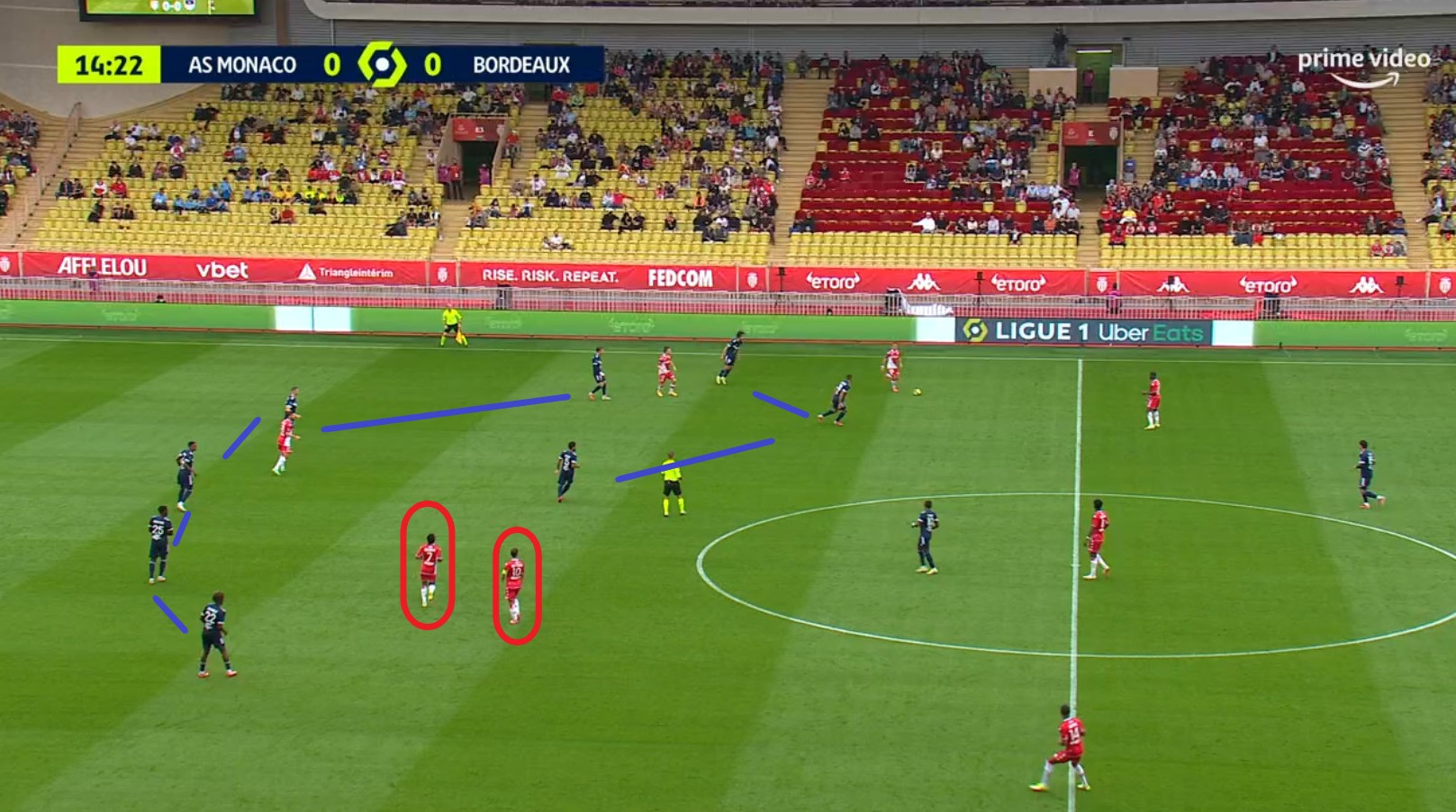 @Premium Video screenshot
Interesting sequence: Fransergio goes out on Matazo and makes a sign to be accompanied, but the line of 5 does not advance and Otavio does not cover despite a 6vs3 excess. Kalu backed off too. We will quickly see the impact.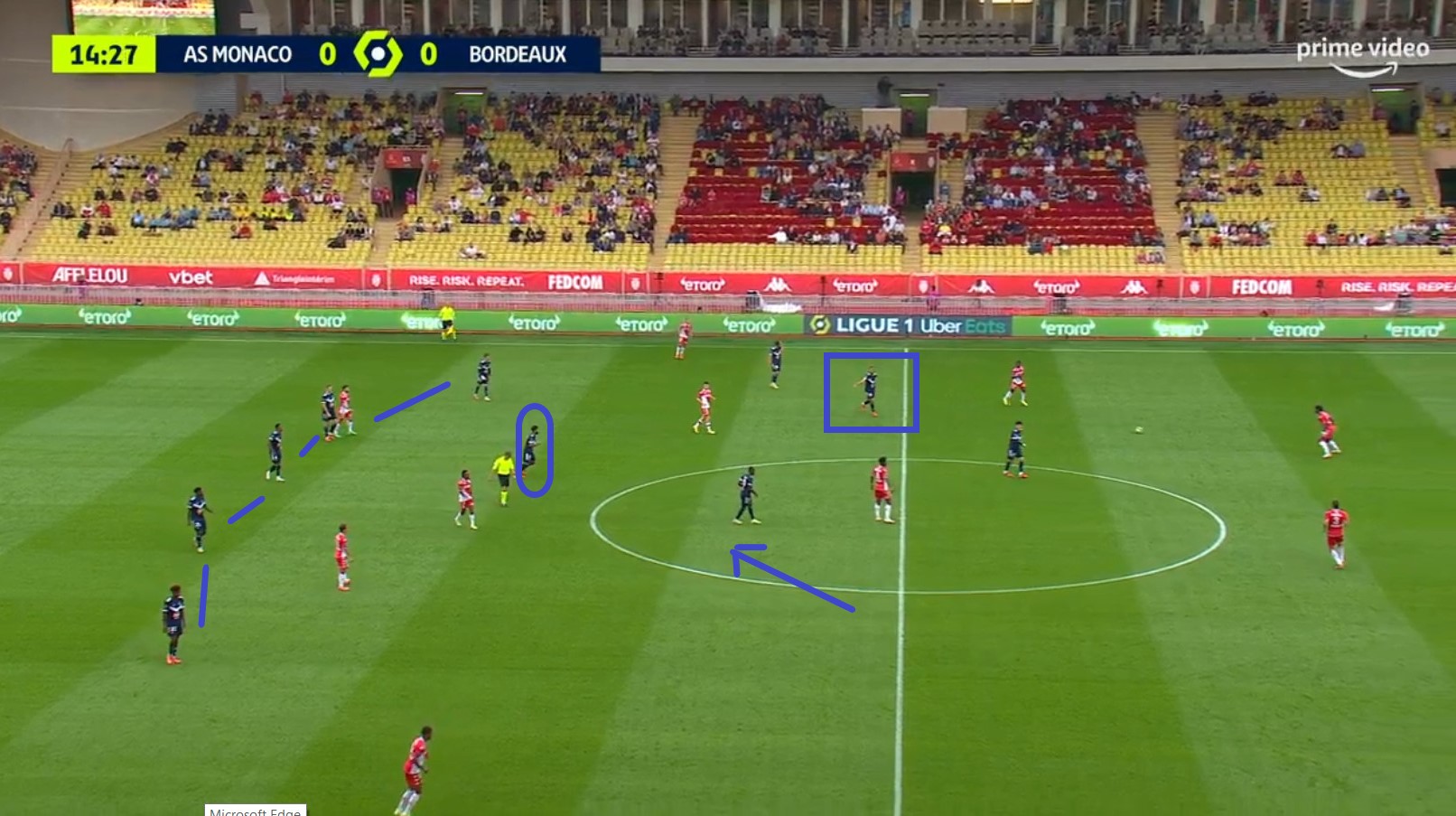 @Premium Video screenshot
The team does not gain a single meter and lets Maripan advance for 20m. Otavio did not come to push Kalu to generate the central def, suddenly he found an easy long game on Aguilar started behind Adli's back by occupying the width well.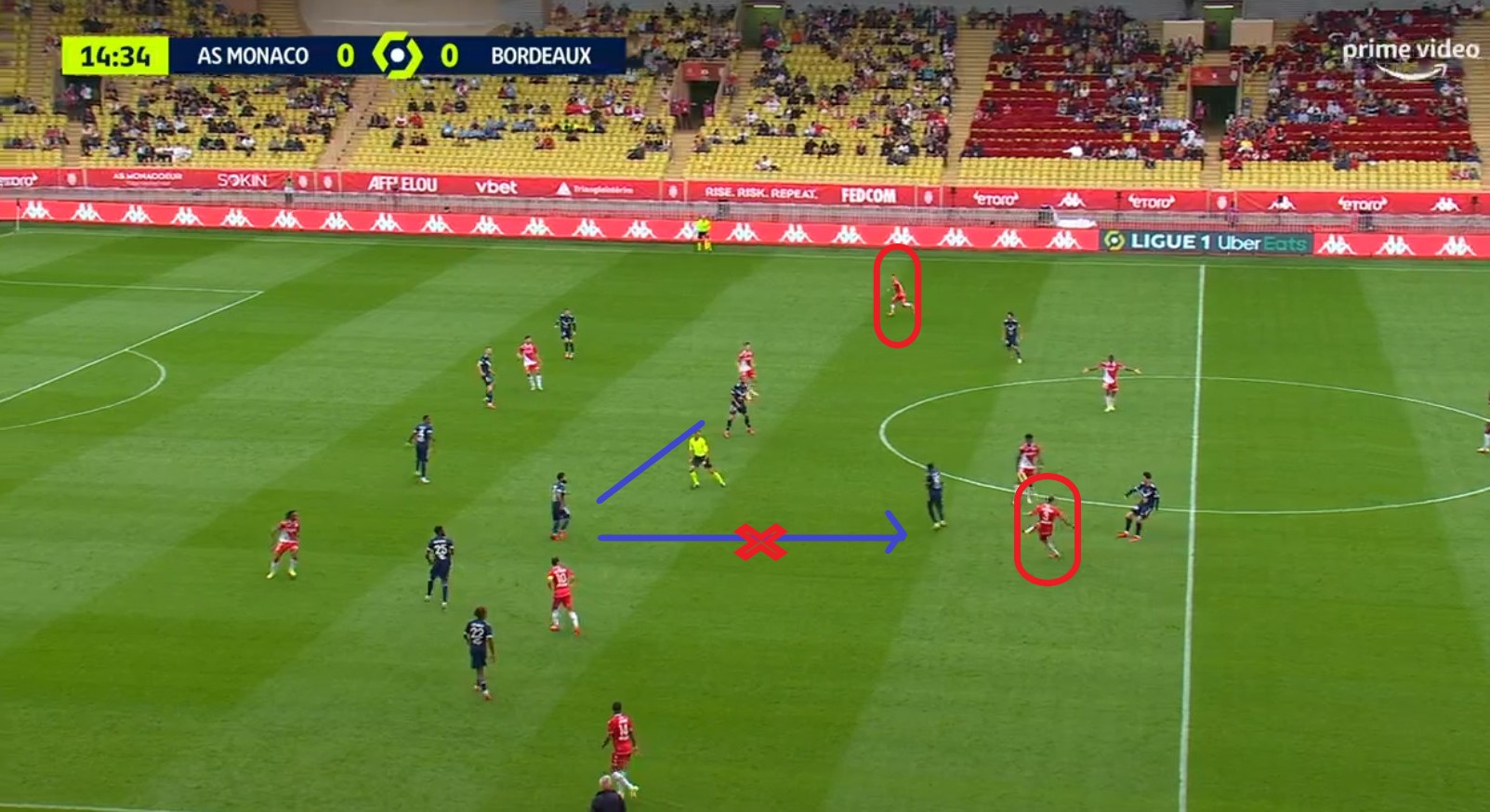 @Premium Video screenshot
3 vs 3 on the left side, no panic, especially as Bordeaux is outnumbered in the axis. Monaco will just have to be prevented from striking, but by Fransergio's aggressiveness, Golovin sends a strike countered by Gregersen's back.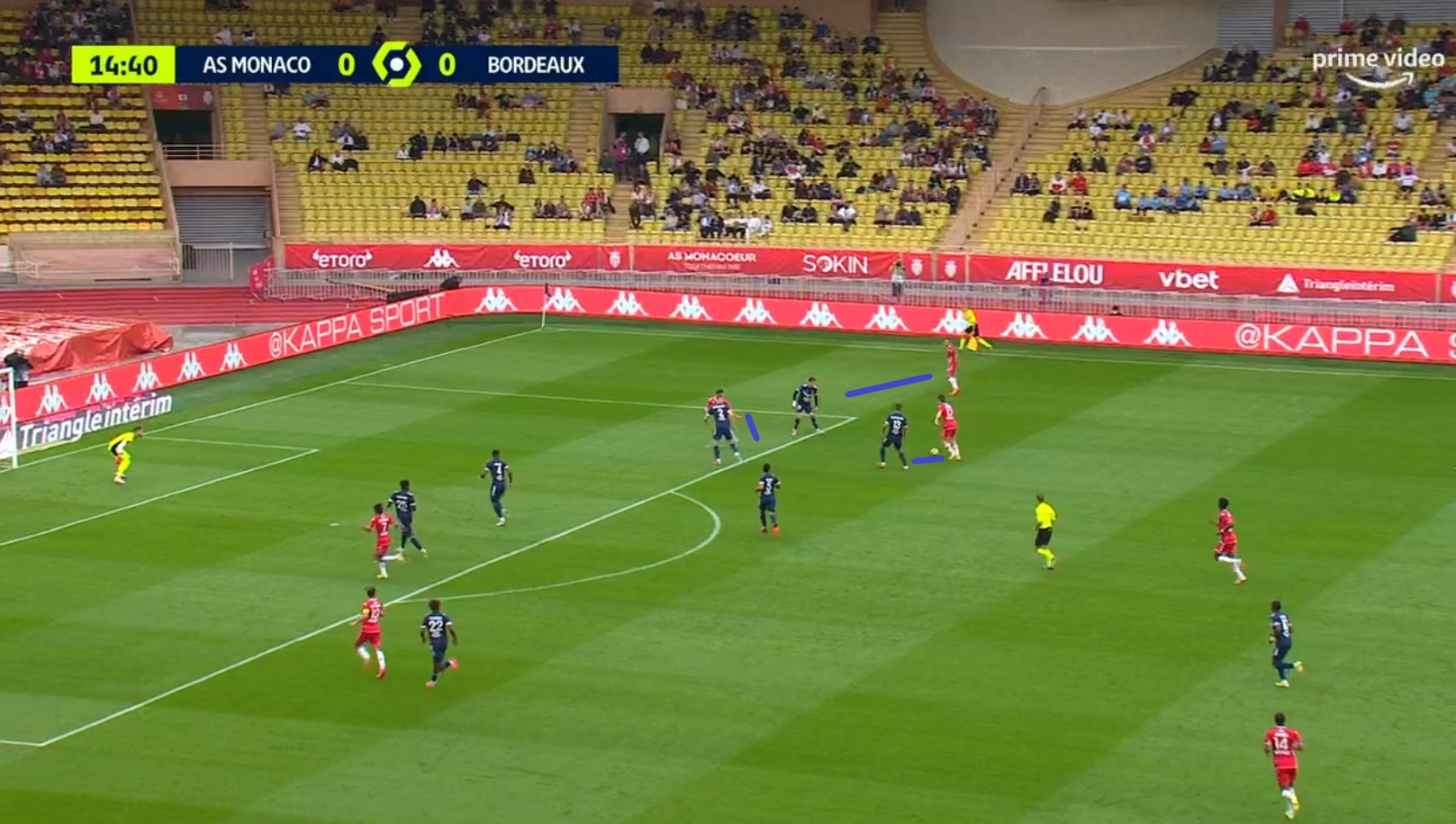 @Premium Video screenshot
Tchouameni accompanied well, Kalu is late, and despite a 7vs3 in the box, no one advances to prevent Tchouameni's strike. A minute of passivity. Kalu causes a free kick at 20m, Ben Yedder hits the wall.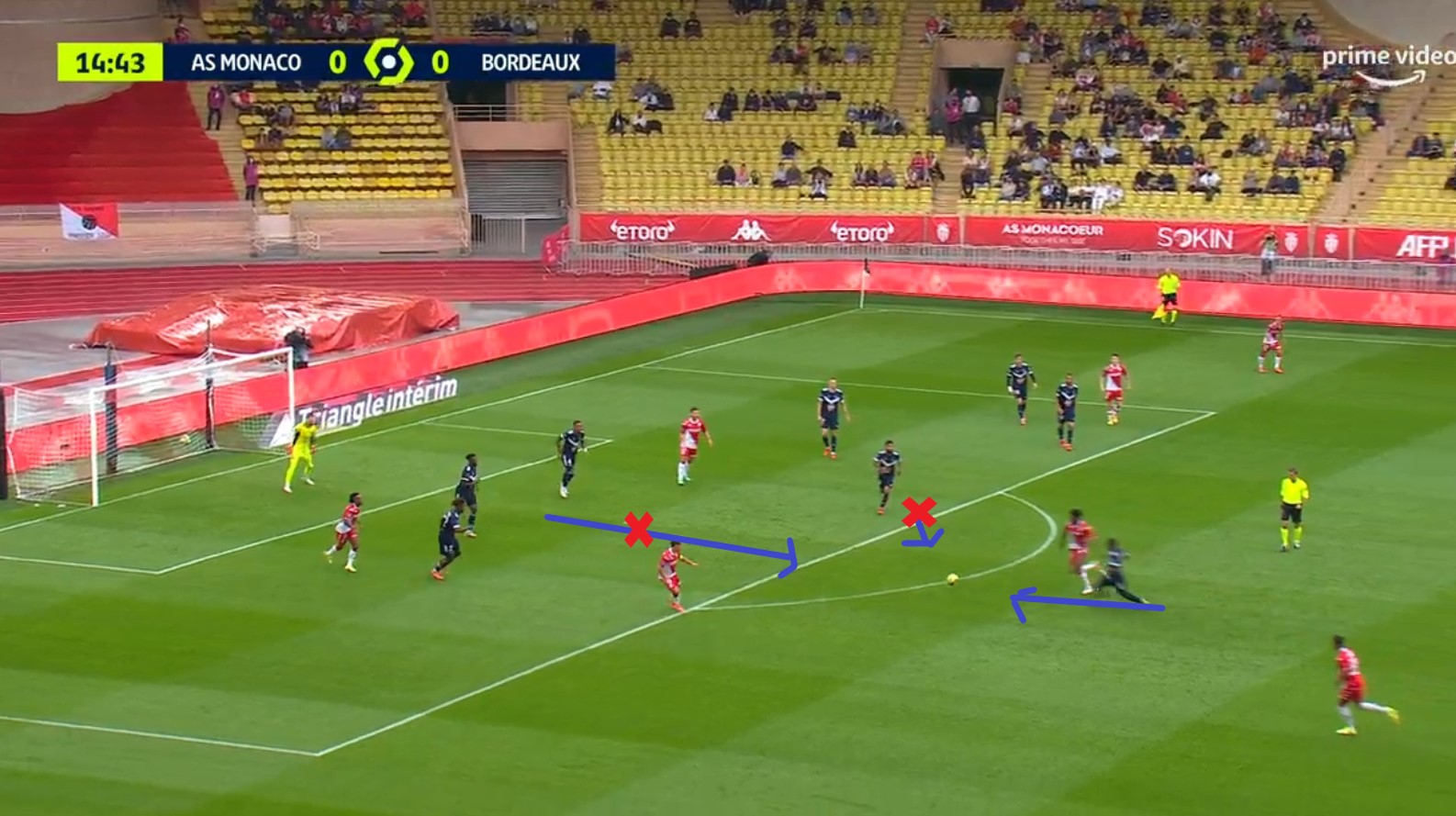 @Premium Video screenshot
32nd: again low raise from Monaco and again Fransergio who asks the block to go up! Monaco will work on the width on the right side, but a good exit from Fransergio and Kalu forces Tchouameni to retreat.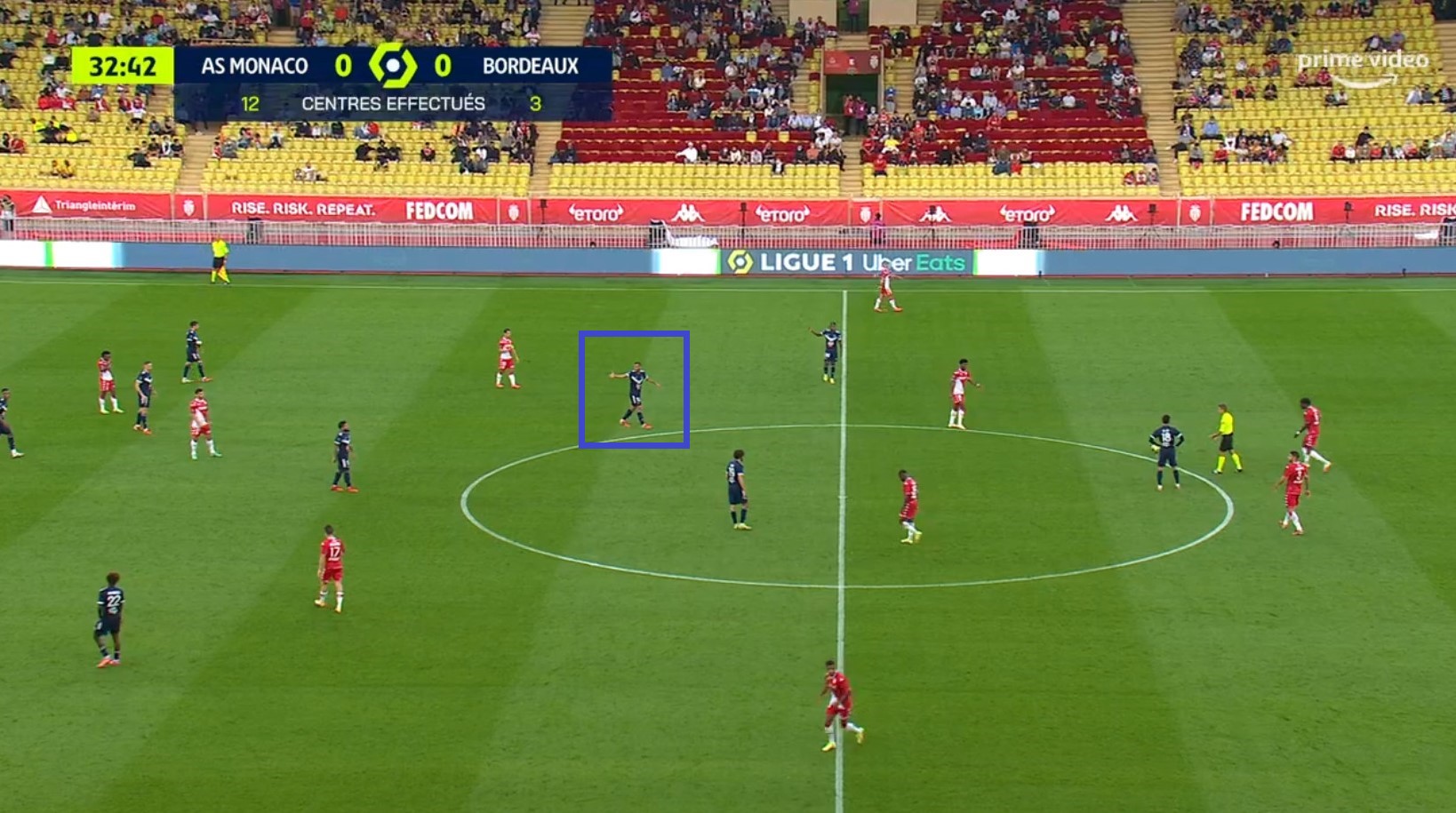 @Premium Video screenshot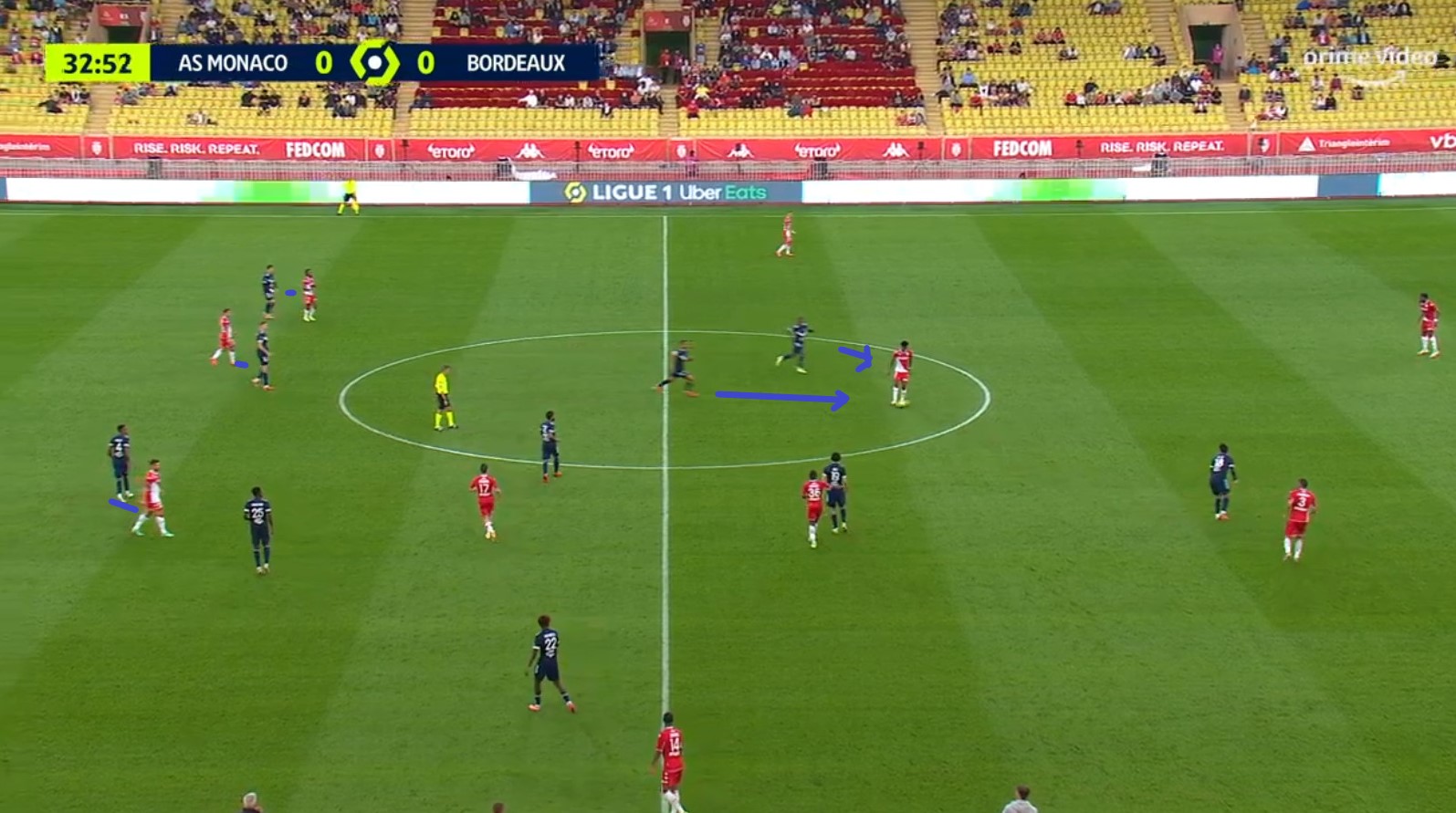 @Premium Video screenshot
Problem, the exit is not accompanied, Disasi climbs 25m without being attacked. Line 5 does not advance and no one exits on the leading. The block is far too wide, Volland found too easily, Otavio not cutting any pass line.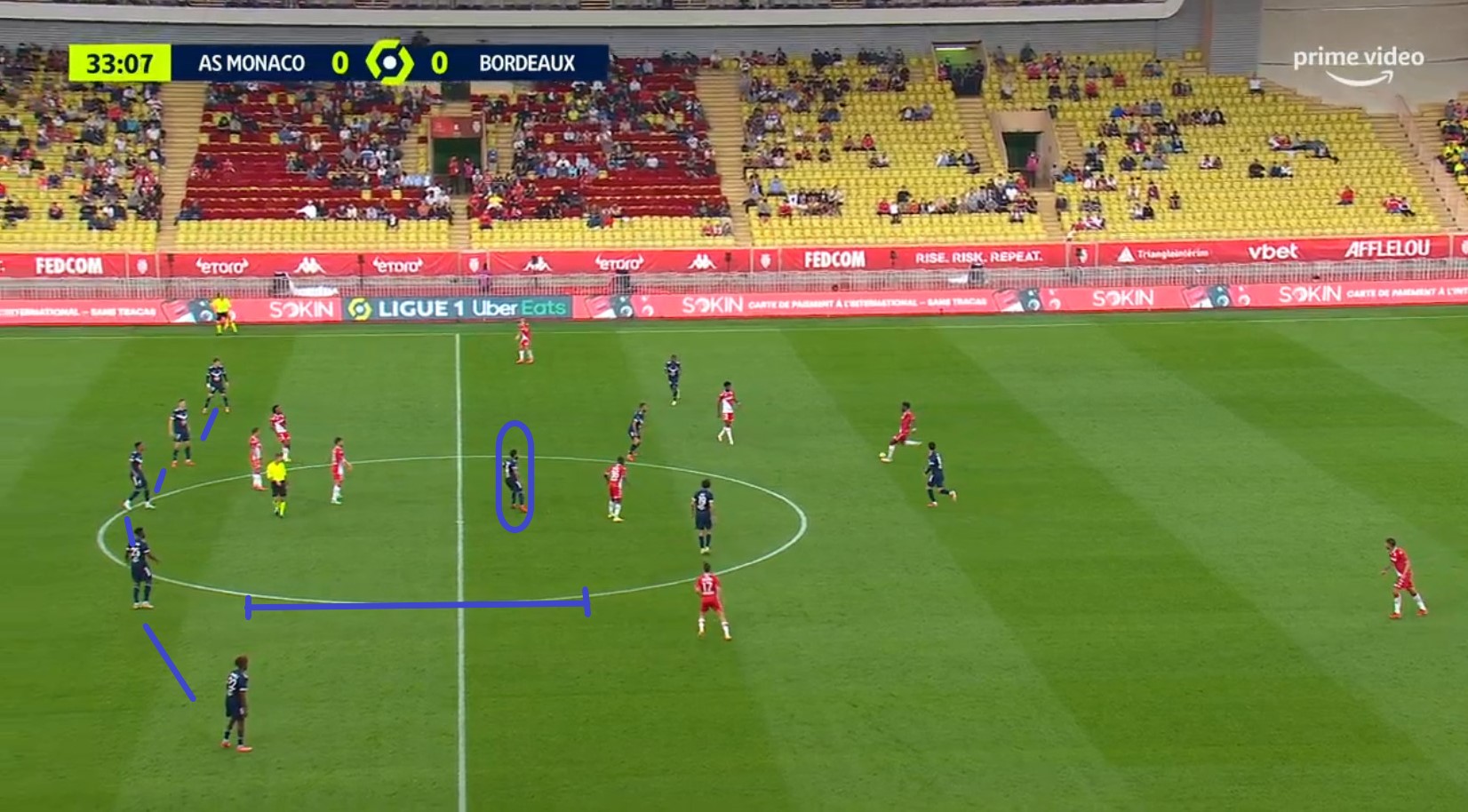 @Premium Video screenshot
Volland will then shift Aguilar who takes advantage of Martins' call to serve him in depth. Gregersen accompanies well, there is no fire, Bordeaux remains in excess in the axis.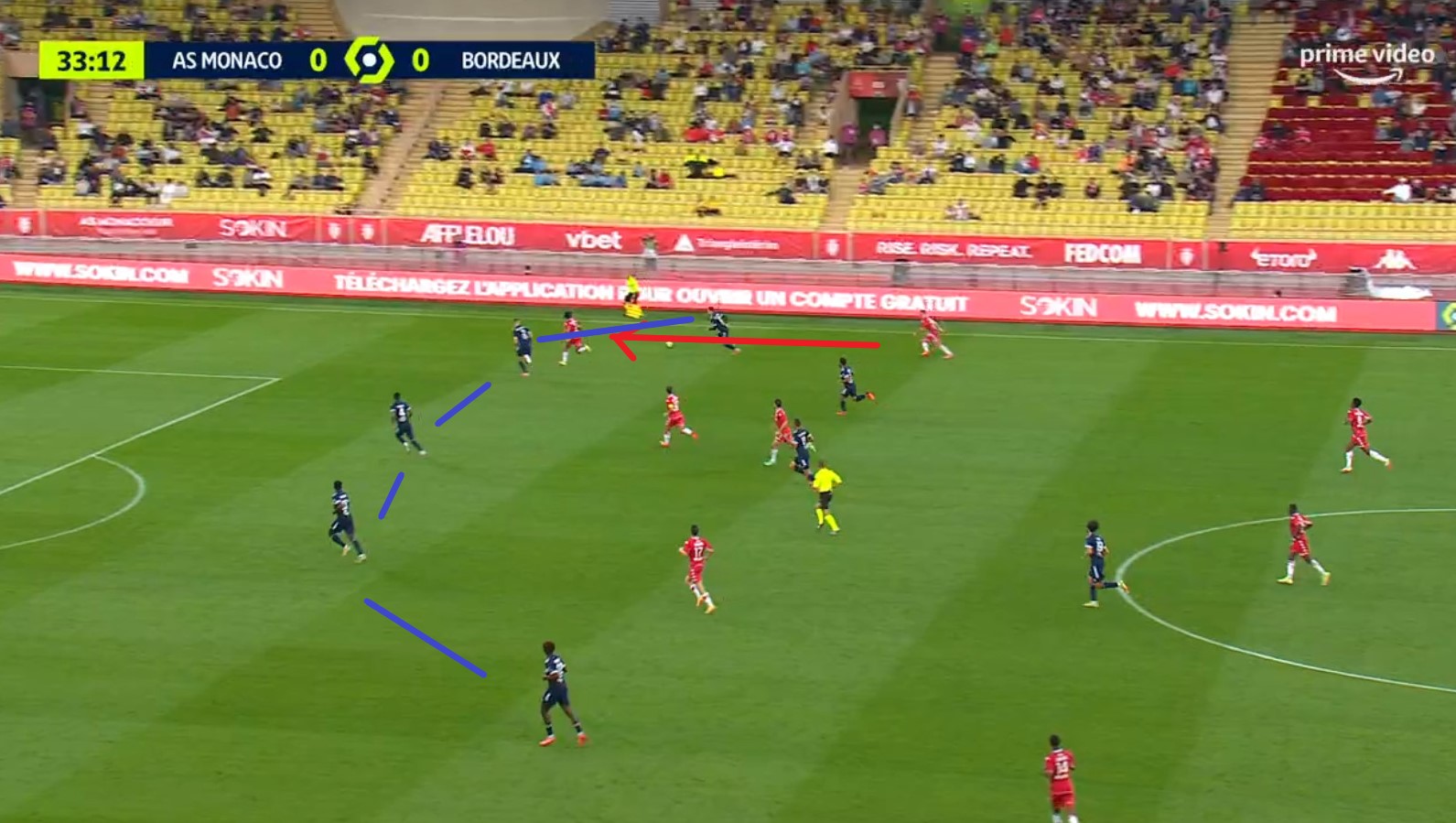 @Premium Video screenshot
Gregersen, not very solid, clears the ball, but returns it to Monaco who insists on the left side. Otavio late easily eliminated by Ben Yedder, the block still does not advance despite a 3vs1 in the axis, Monaco will start again on the left.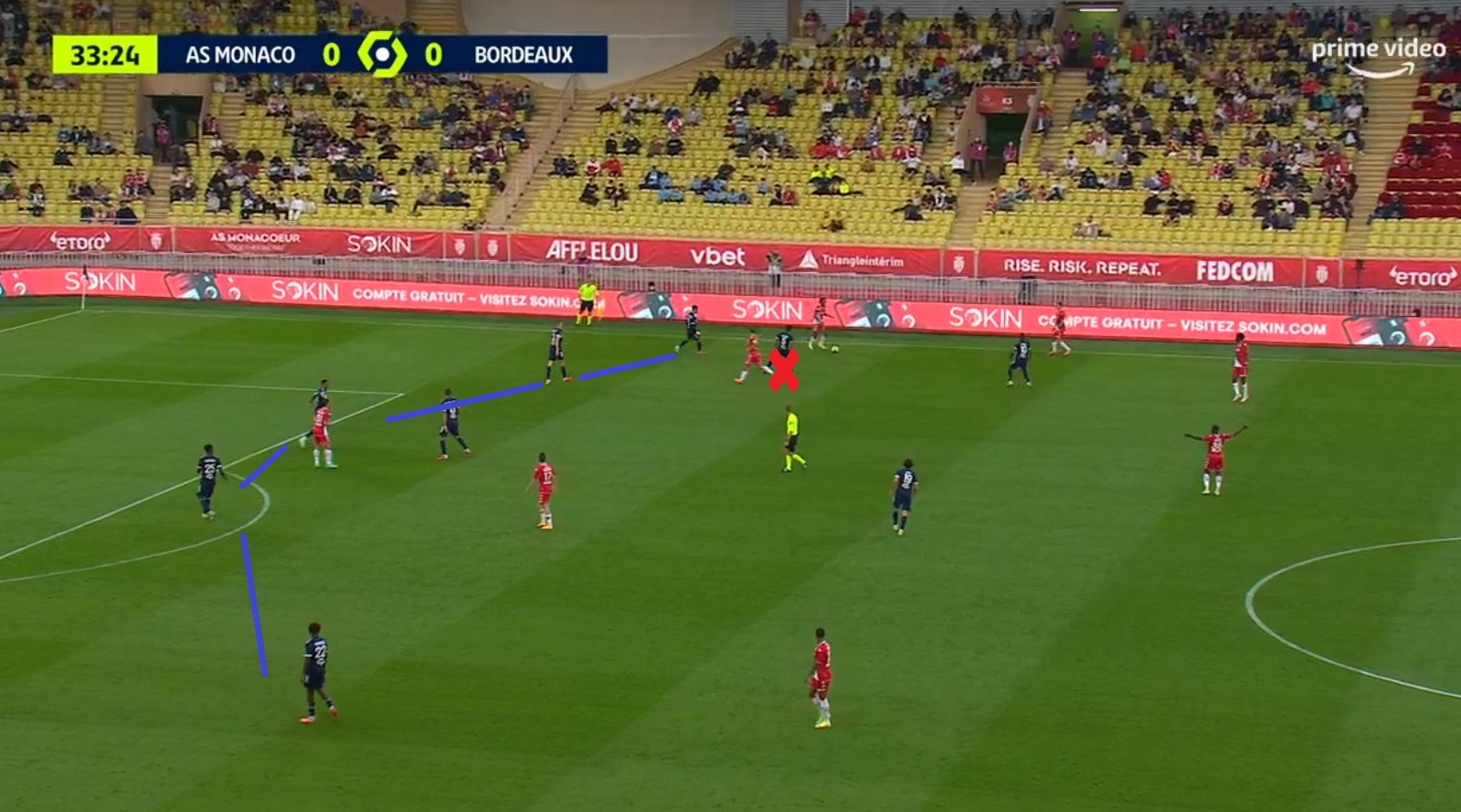 @Premium Video screenshot
Monaco moved the block which did not manage to gain meters, Fransergio will go out on Matazo, Otavio does not cover, so Hwang will help, but too soft, the 2 let Matazo find Aguilar once again on the width . Too easy !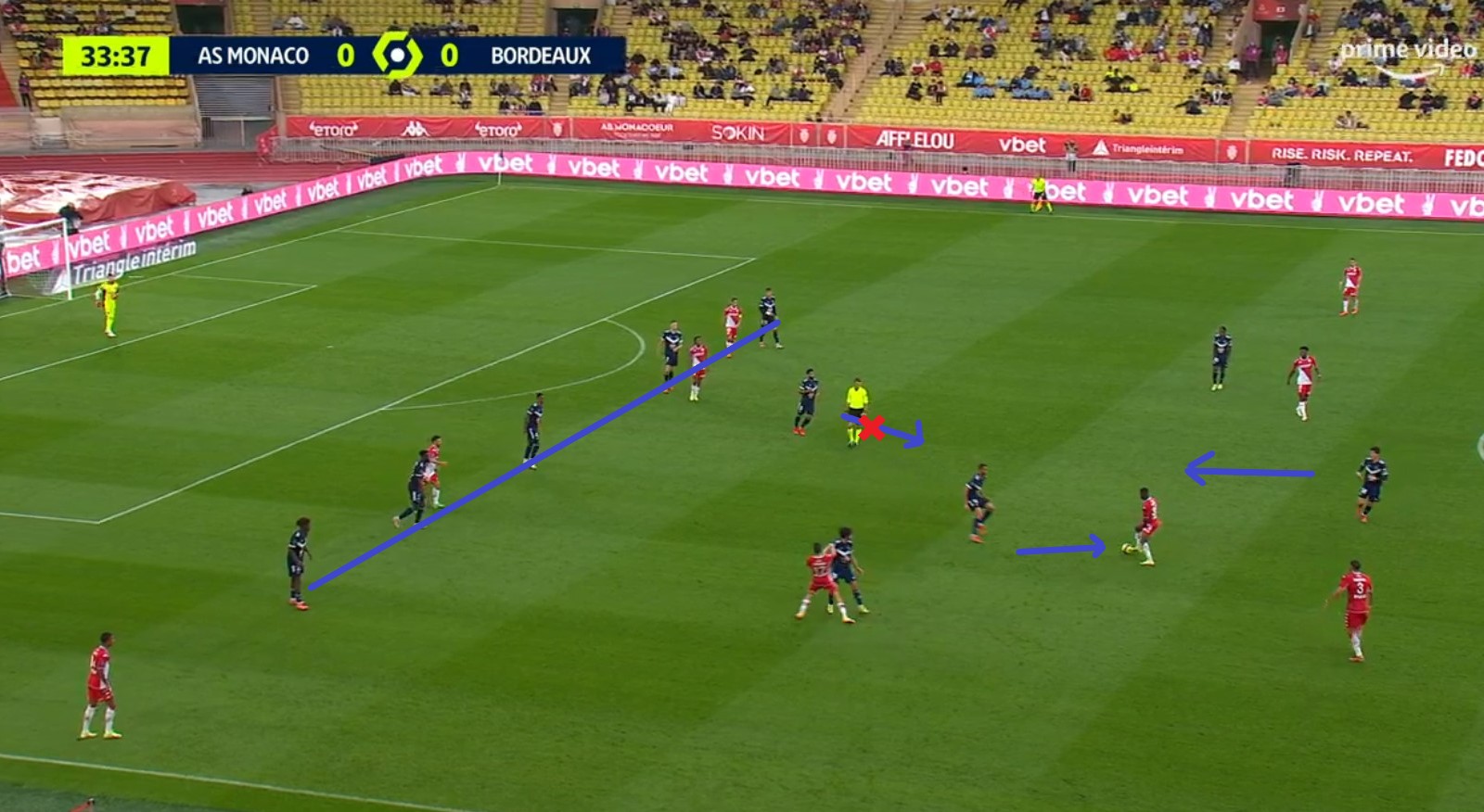 @Premium Video screenshot
Again 3vs3 on the left side, Gregersen will accompany Ben Yedder, but no panic, we are outnumbered in the axis, we must save time and prevent the center … and yet …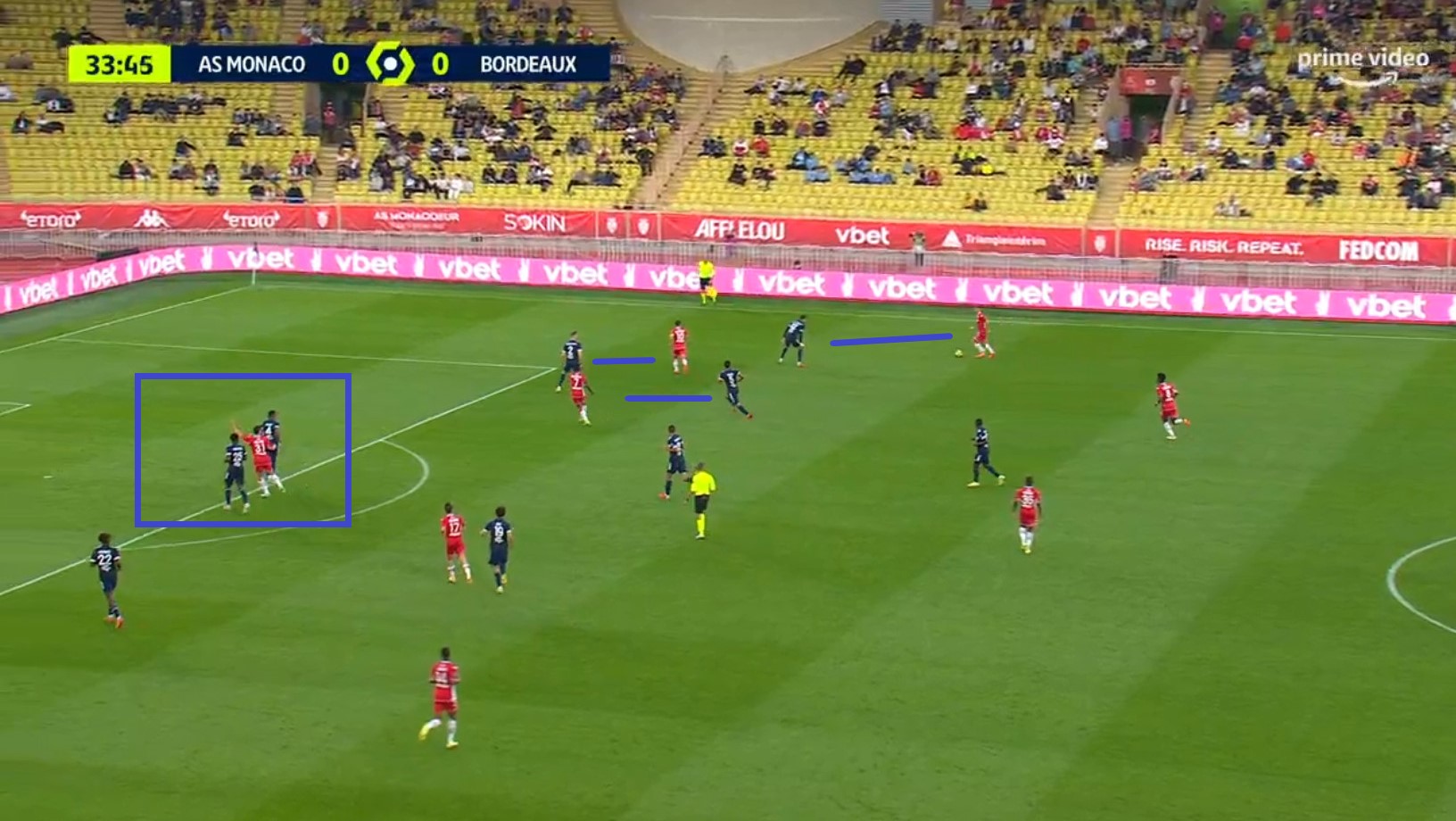 @Premium Video screenshot
… Mangas does anything: he does not come either on a 2-way hold on Ben Yedder, or in the pass line for Tchouameni (Kalu made the effort), or at a distance from Aguilar who intervened. sits in a chair to center.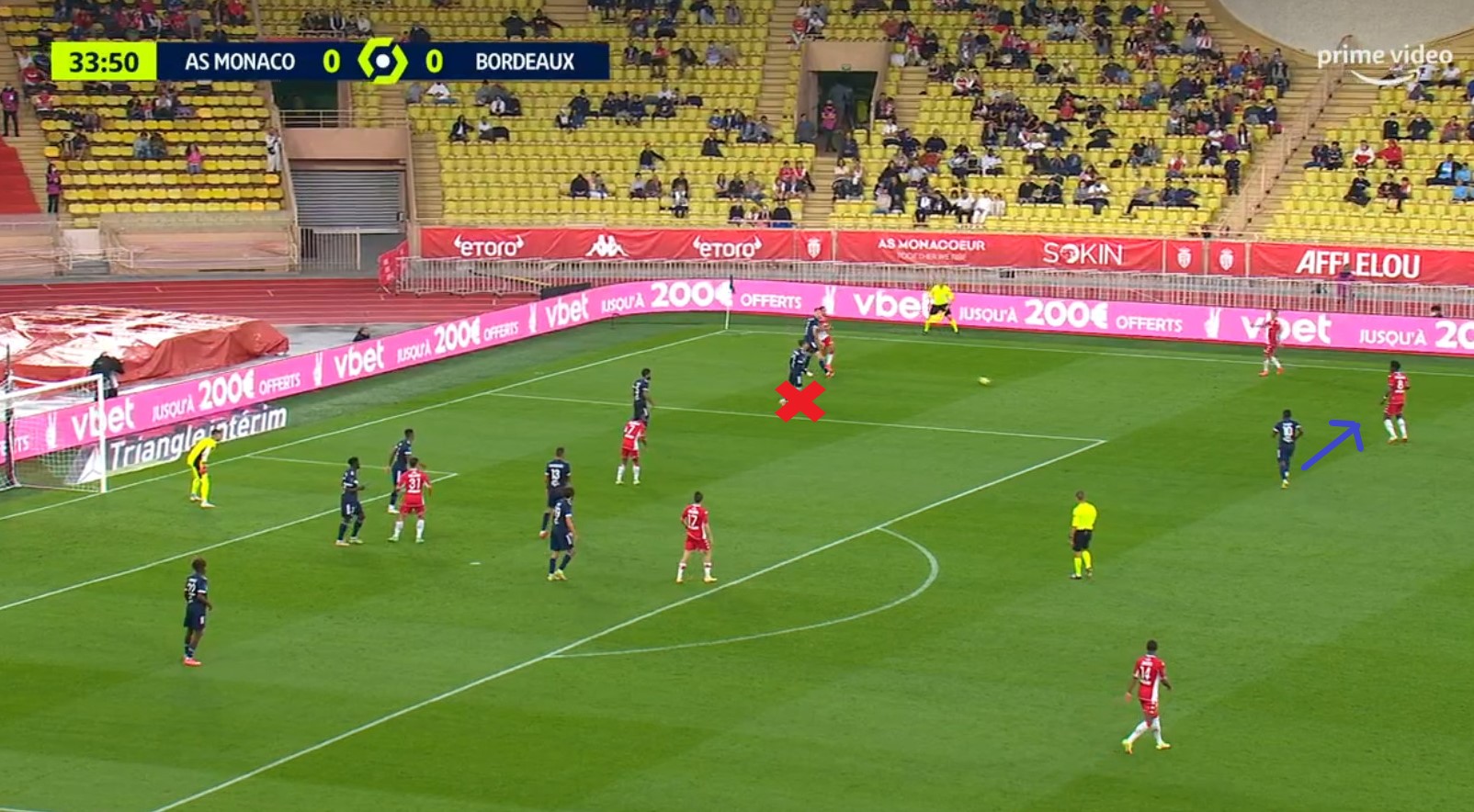 @Premium Video screenshot
And Mangas late decides to go against the arms in the back (no doubt in homage to an illustrator!), Completely useless outside the surface to extend its wings and offer a free CPA (6vs3 in the surface!). But from Tchouameni …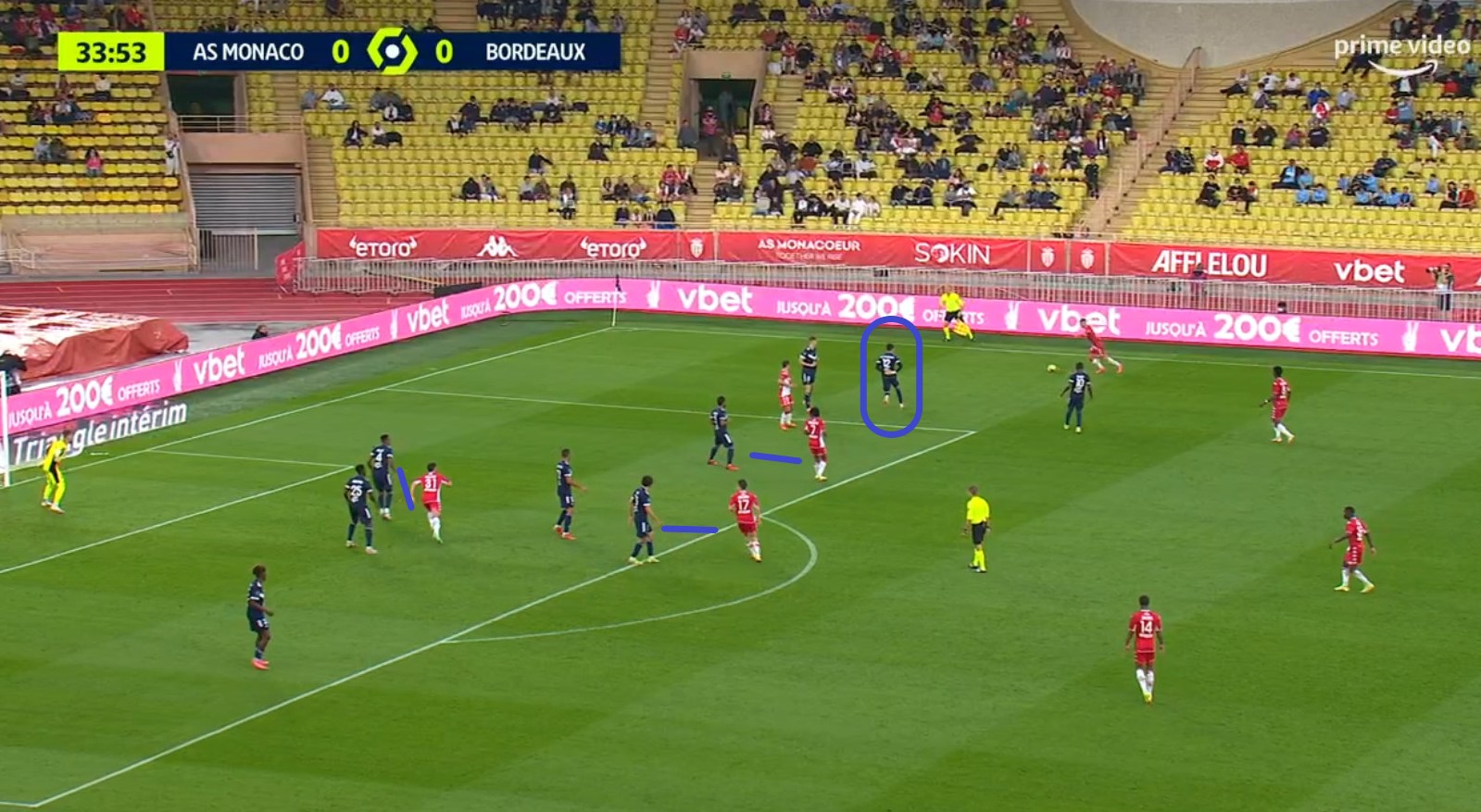 @Premium Video screenshot
Conclusion : the sum of the individualities of our club will never make it possible to beat such teams, it is therefore a collective having the will to progress and to improve the whole which will have to be created. And too bad for the grumpy, but I want to give them time!