Unscheduled, a 10 euro in silver and a 5 euro in copper for the first Olympic laurels of San Marino won at the Tokyo 2020 Games
by Roberto Ganganelli | Not only for Italy, but also for Republic of San Marino the Tokyo 2020 Olympics – which took place this summer due to the pandemic – were unforgettable results.
After the first, historic bronze medal of Alessandra Perilli in the trap specialty skeet shooting and silver in the mixed team still of Alessandra Perilli and Gian Marco Berti, in fact, another bronze in free wrestling has arrived thanks to Myles Nazem Amine Mularoni.
This is the first three Olympic laurels ever won by the Titan in its history starting from that distant 1960 in which, in the Rome Games, the first athletes under the banner of white and blue competed with the other big names in world sport.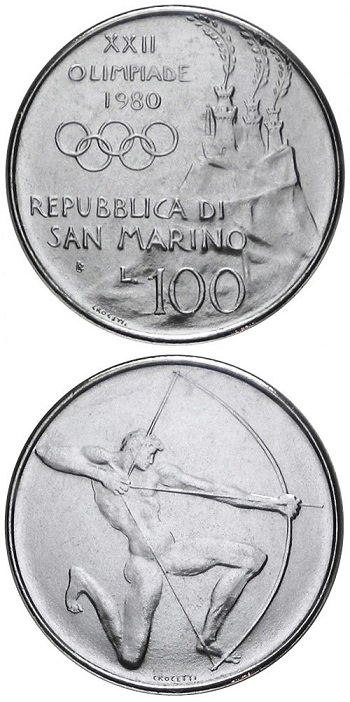 Tokyo 2020 and San Marino successes in sport will be suggested, between November and December, by two commemorative coins – obviously, not provided from the official 2021 program in the past – and worth a nominal value of 10 euros in silver and 5 euros in bronze, both with an uncirculated finish.
To these will be added, as scheduled, the issue of the 2021 proof divisional enriched by the two commemorative 2 euro coins dedicated respectively to the 450th anniversary of the birth of Caravaggio and the 550th anniversary of the birth of Albrecht Dürer.
At the moment, sinceSan Marino philatelic and numismatic office they do not filter other news on the sketches of the coins for the Olympic laurels, nor on the author or the runs.
In the meantime, however, at the new Museum of postage stamps and coins a new temporary exhibition entitled The House of Liberty dedicated announcement numismatic, medal and philatelic tributes to the Palazzo Pubblico, inaugurated on 29 September following the postal issue of the stamp celebrated for the 25th anniversary of the restoration of the building and its return to citizenship.
They are exhibited along the way among other things, a whole sheet – unique in the world – of one of the three stamps issued in 1894 for the inauguration of the building, art models for coins having as subject the public building and postal issues that have brought the unmistakable profile of this San Marino architectural icon all over the world.
For all news on numismatic issues of the Republic of San Marino click here.