The number of new cases in 14 days per 100,000 population wants 752.5.
According to the Department of Statistics, the proportion of potentially immune individuals, including those vaccinated with only one dose of the vaccine, is 68.50%.
Hospitals are currently treating 1,269 COVID-19s several dozen more than in previous days, 128 of them in resuscitation.
About 7 thousand work was done in the country last day. molecular (PCR) and 5 thousand. antigen tests for suspected coronavirus.
Hospitals and deaths
Last day, 116 people were admitted to hospitals for COVID-19 — a few fewer than in previous days.
83 artificial lung ventilation is applied, oxygen is additionally supplied to 1066 people.
During the peak of the pandemic in January this year, the figures found in hospitals reached 2.6 thousand, resulting in a regular reduction in the availability of other medical services.
Six people over the age of 70 and 80 died during the day, five over the age of 60 and two over the age of 90.
Of these, one was over the age of 80 and one in the 90s.
Since COVID-19, a total of 5,063 people have died in Lithuania, of whom 122 have been fully vaccinated. 9,985 deaths are directly and indirectly related to COVID-19.
Vaccination
To date, almost 1 million have been vaccinated with a single dose of vaccine. 752 thousand people, fully vaccinated – for 1 million. 620 thousand
93 people received the booster dose last day, for a total of almost 30,000 people who have been re-vaccinated. people.
In Lithuania, at least one vaccine dose has been received by 62.6%. population
The lowest share of vaccinated children is among children aged 12-15 – 28.8%. Among the oldest population of the country, who have been vaccinated over the age of 80, 65.1 percent.
In total, LTL 5.1 million has been received in Lithuania so far. vaccine doses, slightly more than 3.2 million vaccines were used for vaccination. doses. Unused is currently about 1.9 million. doses.
The EU is the leader in terms of the number of infections
The sixth report of 2,066 identified cases of coronavirus and 21 deaths.
Lithuania leads in the European Union (EU) according to the new COVID-19 case indicators and is second in terms of the number of deaths. For 14 days 100 thousand. There were 645.7 cases of COVID-19 in Lithuania. This is the highest rate among EU countries. According to the number of deaths per million population in 14 days, Lithuania is second with 80.5 deaths. The first most deadly is Bulgaria, with 139 deaths per million inhabitants.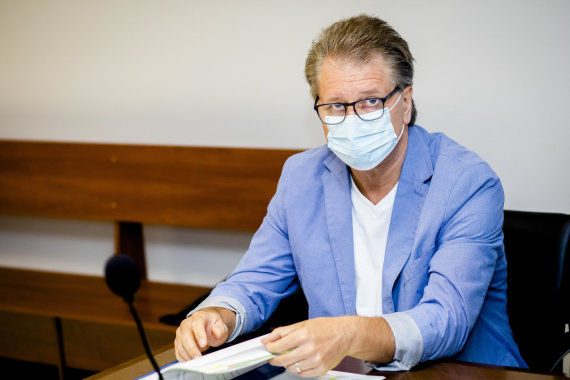 Photo by Luke April / 15 minutes / Saulius Čaplinskas
The approach of Saulius Čaplinskas, difficult situations led not only to the mutation of the virus, but also to the use of government solutions. Earlier 15min the interviewee did not spare the criticism of the former governments: "You will not build a good house on a crooked foundation. Because the foundation is crooked and built for it, we remember vividly that government that is now criticizing that government and not seeing the mistakes it has made. "
According to S. Čaplinskas, we will see a growing number of concerns for some time to come. However, the interlocutor sees a light at the end of the pandemic tunnel:
"But this winter should be the last such difficult winter. There should be less room for the virus to spread, it should no longer present so many forms of serious disease, "he said.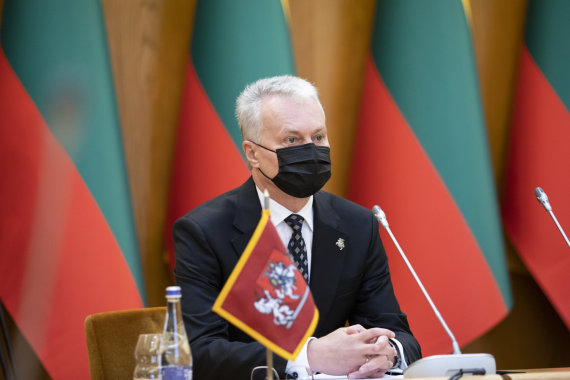 Lukas April / 15min photo / Seimas Board met with President Gitanas Nausėda
Slow vaccination – and the fault of politicians?
Criticism arrows over the stagnant vaccination process are also moving towards politicians. On Saturday, public relations specialist Arūnas Armalis raised a discussion on Facebook about how the statements of political president Gitanas Nausėda and Social Democrat leader Vilija Blinkevičiūtė about negative vaccination activity.
Data scientist Vaidotas Zemlys-Balevičius agrees that ambiguous statements did not really stimulate the process, although it is difficult to say from the data how much this contributed to the decline in vaccination rates.
A.Armalis, commenting on the situation 15min, watched that G. Nausėda currently trusts about 50–60 percent. of those surveyed, in August, such a population was about 70 percent. V.Blinkevičiūtė also remains at the top of the ratings. According to him, it would be naive to think that the speeches of famous politicians did not have people for people's decisions.