A house with a garden and extroverted character in Philothei hosts two young people with modern aesthetics.
Interior designer Alexandros Tsikordanos of 360 concept design studio, which signs the configuration of the house, repeats all the spaces – interior and exterior -, giving a new dynamic to cover the buyers of the owners.
Prefer it functional simplicity, emphasizing the basic geometric shapes. The lighting study was done by Athanasios Danilov.
The house is spread over two levels. On the ground floor, there is the main entrance, while here is hosted the living room, dining area and kitchen, the master bedroom and a bedroom that functions as a place of hospitality and sometimes as a place of isolation and relaxation.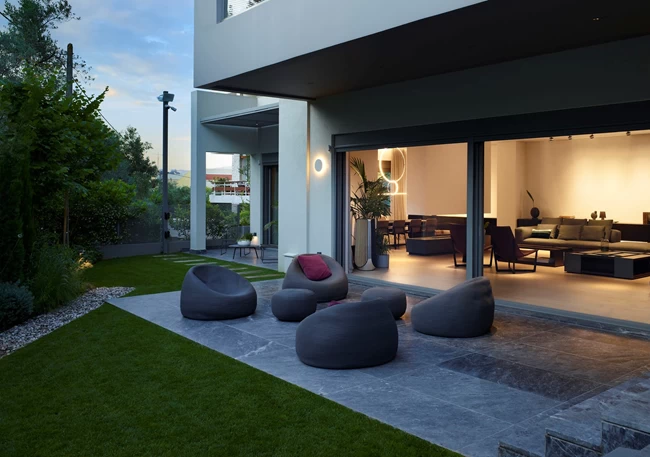 The living room and dining room are a single, high-ceilinged space with large openings that allow natural light to flood the interior. Its all-white walls and light oak floor make this room look even brighter and more spacious.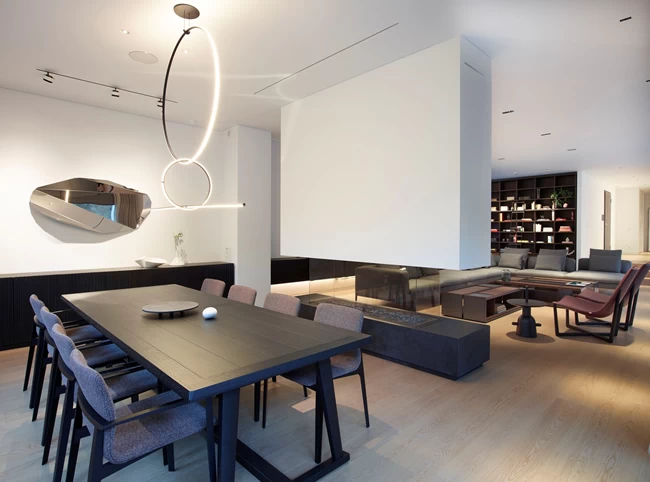 The fireplace separates the dining room from the living room, while at the same time being the central reference point for the tenants and their friends, whether they relax in the living room or dine in the dining room.
In the living room, the corner sofa of B&B Italia in L layout is in the foreground and is combined with a coffee table of the same house and armchairs by Porro. The large library and the furniture designed as a bar and buffet complement the space.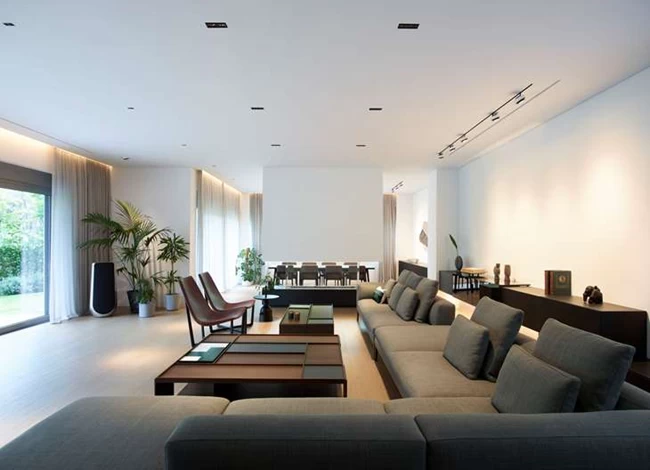 The color palette moves to the natural tones of the wood, while the warm gray fabrics emphasize the urban aesthetics. Strict geometric shapes and recognizable design complete the perfectly arranged engagement that creates a zen atmosphere. The luminaires are by Flos.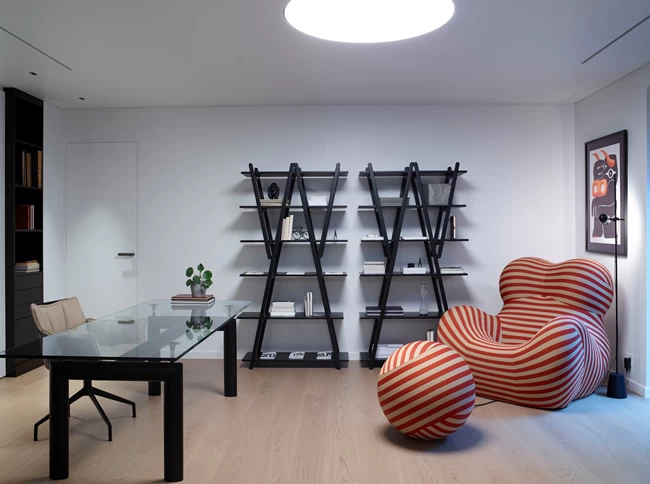 Strictly selected furniture was chosen for the dining room: the table is by B&B Italia and the chairs are by Porro. The "Arrangements Line" luminaire, designed by Michael Anastassiades for Flos, creates with its sculptural geometry a calm intensity.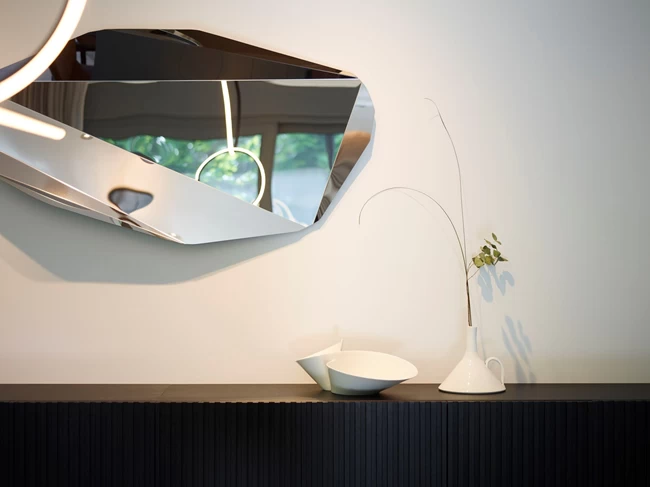 The kitchen overlooks the garden and has direct access to the barbecue and outdoor dining area. Inside her, pure aesthetics and absolute functionality characterizes the composition with the islet and the characteristic unpretentious lines of Arclinea, which is dominated by white.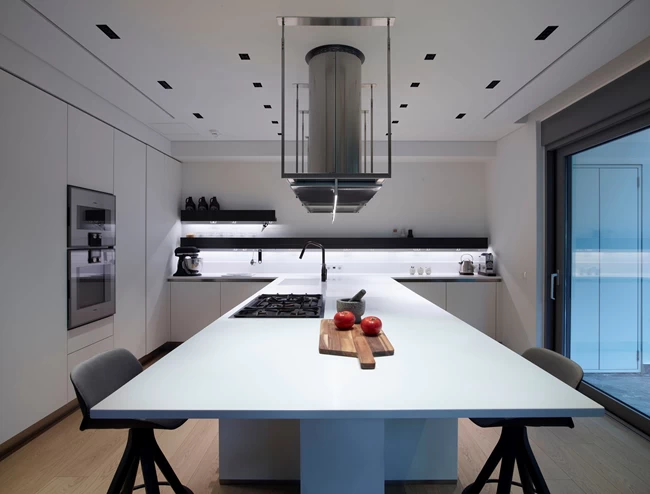 The master bedroom design reflects the personality of the owners, with simple lines and the absolutely necessary furniture for a relaxing space, but always with an emphasis on design.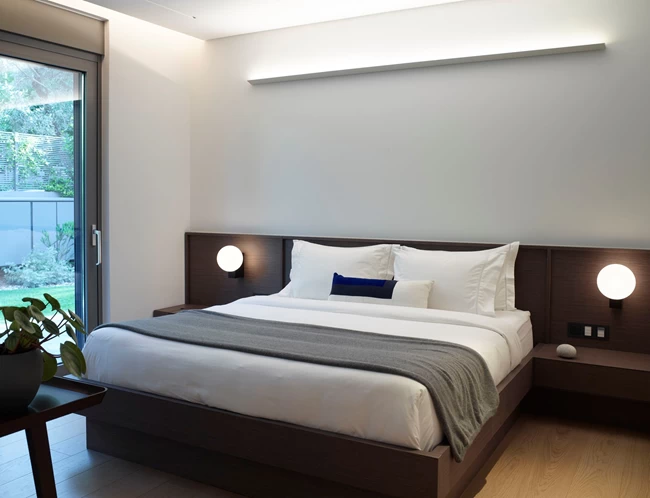 The internal staircase is typical of the strict geometry of the house and leads to the lower level of the house. There is a single space which houses the office and playroom, gym and hostels.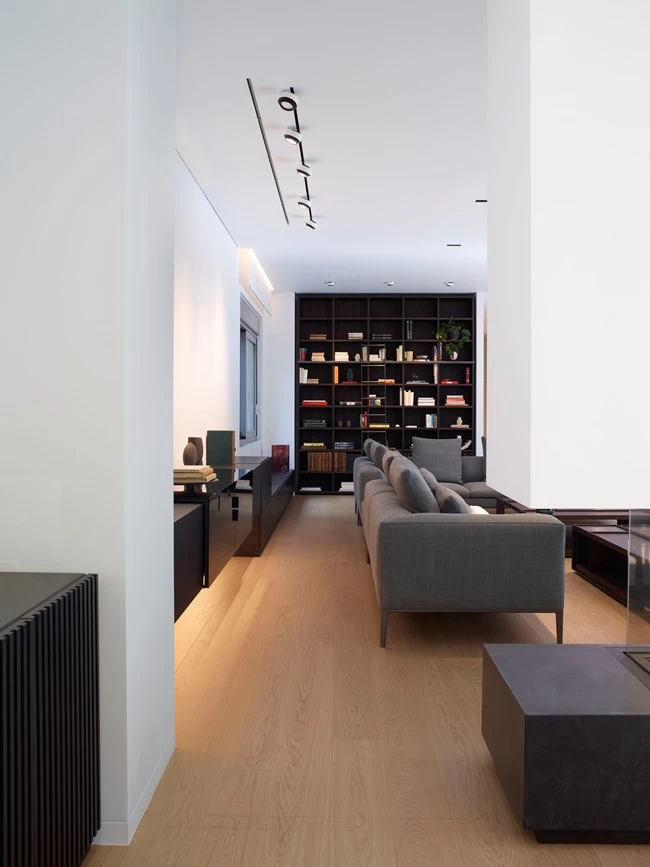 A fresh, comfortable and bright house with important references to modern design becomes a life haven for the young couple.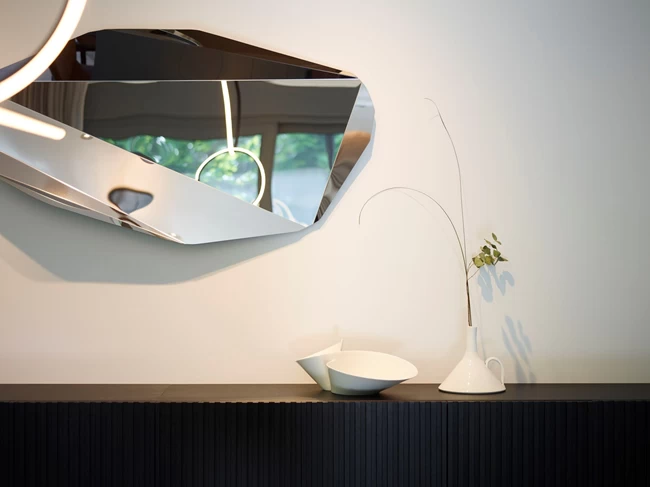 Source: casaviva.harpersbazaar.gr
Photos: Studio Paterakis
Be the first to read the News about what is happening now in Greece and the World at thetoc.gr