While, according to the latest figures from notaries, Toulouse is experiencing a surge in property prices, here is what costs, district by district, an old apartment in the Pink City.
"Today in Toulouse, if you are in the price, your property will sell in less than a month", says Philippe Pailhès, vice-president of the departmental chamber of notaries. The latter report a boom in real estate in the Pink City, of which they have unveiled the figures. Taking as a reference the median price per m² of an old apartment in each district of the Pink City.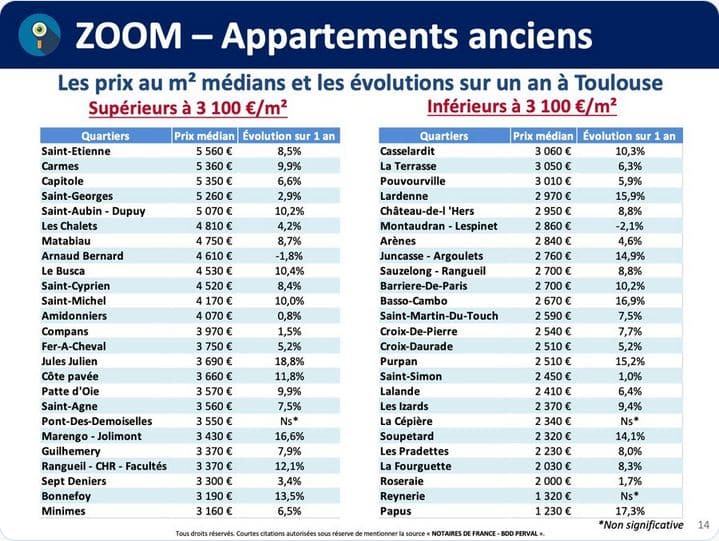 The five districts of Toulouse whose price per m² exceeds 5,000 euros
Prices have jumped by more than 10% in one year in Saint-Aubin – Dupuy, which joins the club of neighborhoods exceeding 5,000 euros per m². "It's a real phenomenon, due in particular to the installation of numerous shops and the attraction of the organic Sunday morning market", explains Philippe Paihès. He points out that Les Chalets, whose price per m² is 4,810 euros, "I expect to pass the 5,000 euros mark very soon". Still at the top of the ranking of the most expensive sectors in Toulouse are Saint-Étienne, Les Carmes, Capitole and Saint-Georges, which are also making strong progress.
The districts of Toulouse where the price per m² increases the most
The Jules-Julien district has seen the strongest growth in one year: + 18.8%, at 3,690 euros per m² median. Not long, Rangueil sees its prices increase by more than 12%. "This is called the axis of the faculties, which has found its investors in a spectacular way," analyzes the departmental vice-president of notaries. Marengo-Jolimont, Bonnefoy and to a lesser extent Matabiau, are also taking off, "because of the major renovation program in this sector and the announcements concerning the arrival of the LGV". Prices jump 17.3% in Papus, the cheapest district of the Pink City, to 1230 euros per m². Finally, Soupetard, Purpan, Juncasse or Lardenne each increase by about 15%.
Only 2 out of 50 neighborhoods see their prices drop
Real estate prices are down 1.8% in Arnaud-Bernard, eighth in the ranking of the most expensive districts in Toulouse, to 4610 euros per m². According to Philippe Pailhès, this is only a pause in the increase in prices in this area where businesses are renewing themselves at a sustained pace. The drop is 2.1% in Montaudran-Lespinet, where the many new housing programs attract more than old apartments. Finally, in the Pont-Des-Demoiselles, La Cépière and Reynerie neighborhoods, there has been no significant change in prices compared to last year.