Fortunately there is China. Lenovo and Oppo, two electronics manufacturers from the Middle Country, are currently advertising on the Zurich public transport network (VBZ).
They pay 170,000 francs each for the "full surface painting". For three months the tram is advertised as spam from early to late.
An imposition for traditional Zurichers, a must for the VBZ. The transport companies are doing badly. Ticket sales from CHF 153 million (2019) to CHF 94 million (2020).
In terms of advertising, there was already a lack of advertising before Corona. VBZ generated 8.4 million advertising sales in 2019 in trams and buses. Fast 5 percent less than last year. And last year, of course, the total diver: only 6.5 million sales.
Now the VBZ are trying to turn the wheel around. Up to now, the following applied: a maximum of five fully painted trams are allowed to travel through Zurich at the same time; This was also recommended by the Office for Urban Development, responsible for the preservation of monuments and urban planning review of advertising systems.
The troubled Zurich public transport company complained that major customers would have had to be rebuffed again and again because of the contingent. In numbers: half a million advertising campaigns are said to have gone through the limit every year.
The responsible city councilor Michael Baumer (FDP) was able to prevail. In mid-June, the city decided that the VBZ may increase the number of trams introduced in 2014 from five to seven.
During eight weeks a year, even more than seven are allowed, theoretically all Cobra and Flexity trams. The Office for Urban Development (120 employees) is now playing it down: "Back then it was a mere recommendation."
Chinese tourists will be happy to see even more painted trams with local sponsors. But whether the companies are actually on the mat is doubtful.
The VBZ want to paint as many trams as possible at peak times, including in summer. The question is: which advertisers aim to get even attention?
In contrast to previous years, the advertising trams drive past disinterested commuters. The former advertising coup is long gone. To do this, a naked person would have to be tied to the tram front today.
The VBZ try anyway. "There is hardly a bigger appearance (…) The average passenger is exclusively concerned with your advertising material for 5.13 minutes."
Who should believe that? The average passenger is likely to spend 5.13 minutes more and more on their cell phone.
Fortunately, for some advertisers, that doesn't really matter. A white tram is currently curving through Zurich. It advertises Energy 360.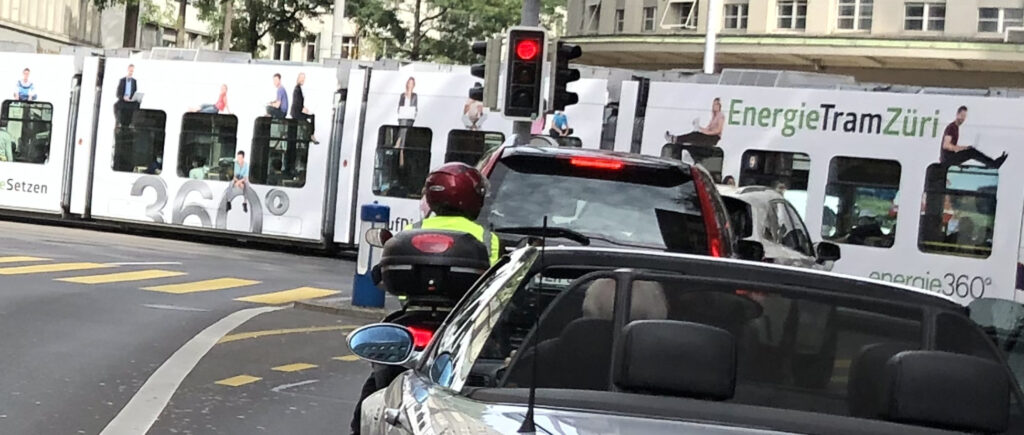 The electricity company is owned by the city of Zurich (95.9%). If a quasi-urban company transfers 170,000 francs to an urban transport company, death doesn't have to be big, at least for the recipient.
And it is certainly practical when the VBZ boss (Michael Baumer) is also on the Energie 360 ​​board of directors.
Ultimately, however, the VBZ themselves are to blame for the misery, through poor planning. Advertisers are no longer sitting on as much money as they used to be.
"The booking period for a (sic!) Full advertising vehicle is necessary, but the number of customers who want to book a (sic!) Full paint job at a similar point in time has risen," says VBZ on request.
The minimum duration for full surface painting is three months.
Is that wise? Another current example: Another tram is promoting the current James Bond film. Even until mid-December. Until then, the film will probably only be shown in the small cinemas.
Basler Verkehrs-Betriebe (BVB) show how it's done: Minimum rental period? 1 month. And you are better at the knee of the Rhine anyway.
Anyone who advertises with the Flexity tram in Zurich for three months pays even more than with the Cobra tram, namely a whopping 185,000 francs. The price is certainly negotiable. However, three months with the Flexity tram costs 85,000 francs in Basel. Also 100,000 less.
"The really big box" is what VBZ describes as its full paint scheme. In terms of price, the description is correct. It is less applicable to the wishes of advertisers.
"It is not possible to choose a line," is a requirement for top customers. In the stupidest case, a tram line that does not even run through Bahnhofstrasse, such as line 5, will also hit.