Cholera was rampant in the city of Thessaloniki at the end of the 18th century, when it was under Ottoman rule and united the number of dead was increasing daily, organized health care was absent.
Turks, Jews, Greeks, Catholics and Muslims organized their own hospitals, to peristaltically make the life of their community. One of them was the plague.
The plague
In 1743, southeast of the White Tower in Thessaloniki, the Greek community of the city founded the Panouklospito the plagueThe
He scraped a wooden stump, in which the sick lived in isolation, so as not to infect the rest of the population.
According to testimonies, the conditions were miserable and the medical care was absent.
Read more: The plague that wiped out only people in Europe started in China. Why did the Catholics hold the Jews responsible and which cities led the way in their extermination?
Theodoros Dardavesis, Emeritus Professor of Medicine, stated in the Time Machine:
"We could not characterize Panouklospito as a hospital. It was a stump made of wood. It worked to isolate the people who had been infected by the plague. The conditions were very bad. This is confirmed by the then consul of Venice, who often mentions in his letters to the leadership, the unfavorable living conditions of the sick ".
"What we do know is that in 1754 the French community proceeded to the makeshift clinic, so that I could not accept Frenchmen as well," he said. George Androutsos, Emeritus Professor of Medicine. «During the Crimean War, there was probably a British hospital building for emergency military information.
The next written testimony about the chapel dates back to 1781 by the Venetian consul in Thessaloniki, who, on his return, stated:
"..Unfortunately there are no hospitals here except for one miserable text outside the city and belonging to the Greek community .."
Thessaloniki was at the center of the "Black Death" pandemic. The death toll from the plague has increased by the thousands over the years.
Indicatively, in 1714 and 1730 the death toll amounted to 8,000 while the worst epidemic was identified in 1741, which lasted from March to October.
For 8 months, Thessaloniki counted about five hundred dead every day!
It was the period when the plague took action, unsuccessfully.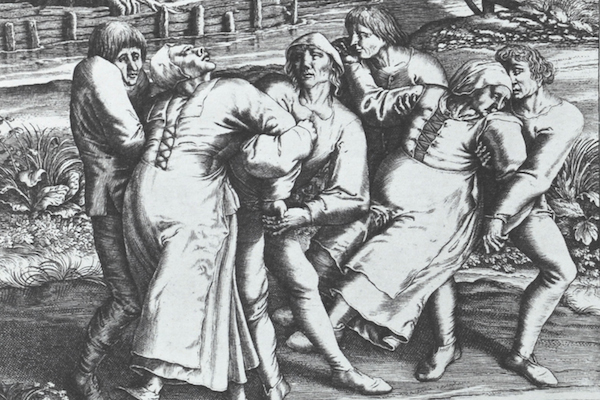 Read more in "MTX": The dancing plague, the other mystery of the Middle Ages. Hundreds of people died of exhaustion because they were unstoppable for days