On the night of September 26, professional boxing ended in London. Alexander Usik. Ukrainian athlete won by unanimous decision Anthony Joshua, and not only took away four championship titles from him at once, but also simply defeated him.
Usyk's victory was admired, without exaggeration, all over the world. His successes have been commented on by such legends as George Foreman, Oscar de la Hoya, Lennox Lewis, Roy Jones and many others. In Russia, Alexander's fight was also closely watched and rejoiced at his success from the bottom of the heart. Collected the fastest reactions of Russian athletes, functionaries and representatives of show business.
"Has the gong sounded earlier?" Joshua was saved from being knocked out by all of London
Usyk reacted ex-UFC lightweight champion Khabib Nurmagomedov, who called the boxer's performance "impressive".
Eagle's friend Islam Makhachev Also, the performance of the Simferopol resident did not ignore.
"From childhood for Usyk," wrote Islam and made a reference to a post two years ago, in which he expresses his desire to see Alexander fight Joshua.
Another ex-UFC champion from Russia Peter Yan was quite laconic. "Handsome" – wrote the Siberian in the "Stories" of his "Instagram".
Much more heartfelt and incredible if not touching reaction of an MMA veteran Alexandra Shlemenko.
"Nice to see, nice that our guy took these belts. Now the entire Russian-speaking world is experiencing pleasant emotions. You know, this is very pleasant for me. Alexander is a guy like me. Simple who loves his homeland. Which does not divide Russia, Ukraine, Belarus. You see, we were all born in the same country. Alexander is the person on whom our friendship rests. He does not forget the language in which he spoke. He gives press conferences in Russian. I am sure that he is being infringed upon. Only his victories give him the opportunity to stay afloat. We are all brothers. When a person who brings peace, brotherhood and goodness wins, it is 1000 times more pleasant. We must take an example from Alexander, because they are sowing discord between us. If the leaders of public opinion stand their ground, no one will be able to play off, "Alexander said on the Ushatayka channel on YouTube.
Usyk's immediate colleagues from Russia, boxers, also did not skimp on compliments… Dmitry Kudryashov called Alexander's boxing "space".
Arthur Beterbiev, whom Usik beat twice in amateurs, he paid tribute to the skill of an old acquaintance.
"About the fight Joshua – Usyk. When I was asked the forecast for the fight, I replied that Joshua would win. Then they made a cut from my interviews, as if I was opposed to Usyk and rooted for Anthony. But this is not the case. I expressed my opinion based on what kind of rivals these boxers faced, how they fought, etc.
I did not have and do not have a bias towards any of them. I am for boxing. For honest, beautiful boxing. There will definitely be a winner and a loser. Alexander won this battle. And I sincerely congratulate him, his team and all of Ukraine and with a beautiful, well-deserved victory, "- wrote Artur on Instagram.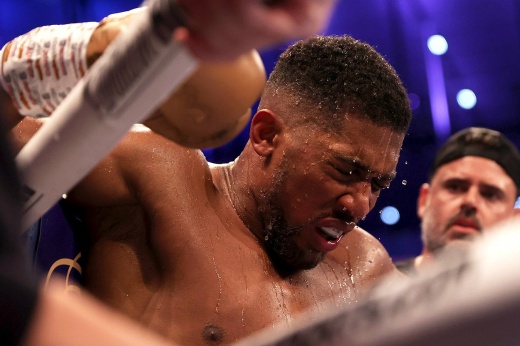 The naked king. Joshua is a hot guy who won't be great
Former world champion Grigory Drozd, judging by the recording, I watched the duel in a large company in one of the entertainment venues. At the end of the fight, Grigory called Alexander "the best heavyweight in the world, as well as an elite boxer in all positions." Neither subtract nor add, as they say.
Head of the Russian Boxing Federation Kirill Schekutyev Usyk's triumph also did not leave without a reaction, although many perceived his words not entirely unambiguously.
"Alexander is just a handsome man, he showed all the beauty of boxing! And in the 12th round, he could knock Joshua down, just seconds weren't enough. Sanya is great, he used all the power of the Soviet boxing school. At the same time, I admit that this victory for me is more surprising than predictable. Honestly, I thought that Joshua would come out the winner, but in case I will not call this result the upset of the year, as many can present it. But for me this victory is amazing. Now they will have a revenge, and in the second fight, in my opinion, Joshua will look different, "Shchekutyev said.
But Usyk was watched not only by athletes. For example, Dmitry Guberniev in the commentary to the Championship he also praised Alexander.
"Usyk is a great fellow, very witty and educated. I love it when such people win. A stunning victory. Sasha can really inscribe himself in the golden history of boxing. You always want to root for personalities, and Usyk is a person. Therefore, it is understandable that we have a huge number of people rooting for him, "the observer explained.
Notable political talk show host Vladimir Soloviev called the Ukrainian champion "The Greatest".
Artist and close friend Alexandra Povetkina Vladimir Sychev congratulated Usik and his human qualities.
"Congratulations on the great victory of a high-class boxer and an excellent decent person! Sasha, from the bottom of my heart, dear. Great fight, I regret that I could not fly, but you know that this is for reasons beyond my control, "wrote Sychev.
And, of course, the overwhelming majority of Russians supported Usik. According to many, in Russia they were rooting for him even more than in Ukraine. As you can see, the personality of Alexander is supported by absolutely everyone, and someone who, and the kindest guy from a neighboring country really knows how to unite.