You can also see by clicking here the candidates already elected for the Presidency of the Chamber
23:20 – "I respect the decision made by the people", says Manuel Machado
23:13 – The PSD / CDS coalition won the Funchal City Hall
23:09 – BE leader said tonight that the party is "having very interesting results"
Catarina Martins stated that "she will monitor the results very carefully, in Lisbon and Porto". "This will surely be a very long night."
About Lisbon, he said that BE is willing "to be a solution" and rejected any possibility of negotiating with the right.
22:56 – Jerónimo de Sousa said this evening that the known results "below the goals"
"We have to look to the future," said Jerónimo de Sousa. "Give the answers they can and should, open perspectives for an alternative policy (…) not limited to strict readings and contents of the State budget. The forms that make up the CDU will take the initiative to affirm the alternative that is necessary in that the OE is inserted, but that it is beyond it in matters that are decisive for the lives of people and workers. These are the options that must be assumed. Portugal needs another policy".
10:24 pm – CDU promises to continue fighting so that the people of Almada follow "the path of progress"
10:23 pm – Liberal Initiative cautiously receives projections that give a councilor in Lisbon
10:15 pm – Left Block waits for "final verdict"
10:14 pm – Duarte Cordeiro confident in Fernando Medina's victory in Lisbon
10:13 pm – Santana Lopes: "Winning consolidated is a unique feat"
9:59 pm – CDU perspective "consolidation and even advance" of results
9:49 pm – "It's going to be a long night", says Carlos Moedas' campaign director
9:47 pm – CDS-PP optimistic about the first results
9:43 pm – André Ventura, leader of Chega, has said a moment ago that "everything is moving towards" the party "can have a historic night"
9:42 pm – PSD says "no one sings victory" but accuses polls in campaign of failure
The secretary general of the PSD said today that "no one sings victory" is still at the Social Democratic headquarters, but he accused polls released in the campaign of "failing resoundingly".
In a first reaction to the television projections, José Silvano claimed, even so, an "expressive" victory for the PSD in Coimbra and the doubt about the winner in Lisbon.
9:41 pm – Lisbon. Surprise technical draw at the Medina campaign headquarters
9:30 pm – BE in Porto "optimistic" with the possibility of electing a councilor
The president of the Left Bloc candidacy for the Porto Chamber said today that the party is "optimistic" about the possibility of electing, for the first time, a councilor for the municipal executive.
21:00 – Catholic University Projections for RTP
Lisbon
Carlos Coins with 32 to 36 percent of voting intentions and 6 to 8 mandates
Fernando Medina with 31 to 35 percent. 6 to 8 terms
Harbor
Rui Moreira wins with 39 to 44 percent of the vote and 6 to 8 terms
PS with 16 to 19 percent with 2 to 3 terms, just like the PSD
Almada
PS with 40 to 45 percent and 5 to 7 mandates
CDU with 30 to 34 percent and 4 to 5 terms
Coimbra
PPD / PSD.CDS-PP.NC.PPM.A.RIR.VP with 42 to 47 percent of votes and 5-7 terms
PS with 27 to 31 percent and 4 to 5 terms
Figueira da Foz
Santana Lopes wins with 41 to 46 percent and 4 to 5 terms
PS with 33 to 37 percent and 3 to 4 terms
amateur
PS wins with 42 to 46 percent of votes and 6 to 8 terms
PPD / PSD.CDS-PP.A.MPT.PDR with 23 to 27 percent of the votes and 3 to 4 mandates
8:08 pm – Polling stations closed at 8:00 pm on the mainland and in Madeira
The polls for municipal changes closed today at 20:00 throughout the mainland and in Madeira, closing one hour later in the Azores, due to the time difference.
20:00 – Catholic Projection. Abstention between 45% and 50%
According to the Catholic University estimate, the current municipal participation rate will be between 50 to 55 percent.
In other words, abstention can be between 45 and 50%.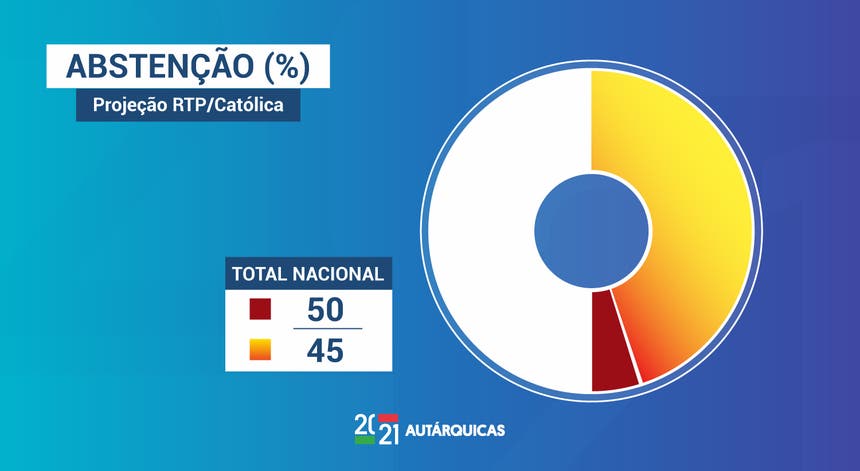 According to the Catholic University, this participation participation was created based on the results of electoral participation at 4:00 pm, released by the General Secretariat of the Ministry of Internal Administration at 5:00 pm.
Until 16:00, official data pointed to an abstention of 42.34%, which, until that time, represented the lowest value in municipal alterations.
In 2017, the abstention rate was 45%, the second highest in 12 municipal changes since 1976, but that represented a drop compared to 2013, when abstention stood at 47.4%.
7:45 pm – André Ventura spends election night in Braga
7:13 pm – Rui Rio monitors election results at the PSD headquarters in Lisbon
7:12 pm – Francisco Rodrigues dos Santos awaits results at Caldas
7:11 pm – Fernando Medina sets up campaign headquarters at Praça do Comércio
7:10 pm – Rui Moreira waiting on Avenida dos Aliados
19:00 – A special broadcast on RTP has begun, which will accompany the entire election night
6:51 pm – António Costa arrived at Largo do Rato in Lisbon
The secretary general of the PS stated that despite the turnout being below the last municipal ones, it is necessary to wait for the final results.
"The objective of the PS is to continue to be the largest Portuguese autarchic party as we were in 2013 and 2017", said António Costa.
6:47 pm – Jerónimo awaits results at a Lisbon hotel
6:46 pm – Block waits on Capitol Hill for election results
6:32 pm – Carlos Moedas meets with team and expresses confidence
18:30 – Low turnout at the University City, in Lisbon
Here we open a new window in real time to follow the 2021 Autárquicas. The essentials until this time:
– According to the voter turnout balance, up to 4 pm a turnout rate was 42.34 percent, the lowest ever recorded in municipal changes.
– Elections normally take place with the usual number of complaints
In a statement to Lusa news agency, the spokeswoman for the National Elections Commission informed that there were no boycotts until 4 pm. However, there have already been 400 complaints, considered a normal number for an election day.
– Portuguese vote for 308 municipalities and 3091 parishes

Voters choose the mayors of 308 municipalities and more than three thousand parishes. They are the second complete ones to take place in time of pandemic.
– Turnout at midday was 20.94%, lower than 2017 figures
Turnout at the polls this year, around 12:00, was 20.94 percent. Number lower than 2017 but higher than 2013.