25.09.2021 – Czech Republic
---
---
Ukrainian low cost airline SkyUp Airlines on Thursday, September 23, it opened a new regular line from Kiev to Prague. It will be operated three times a week with an airplane Boeing 737-800. Departures from Prague are always on Tuesdays, Thursdays and Sundays at 21:00 with arrival at Kiev Borispol Airport at 00:05 local time. The flight departs from Kiev on the same days at 19:00 and lands in Prague at 20:00.
The inaugural flight of the new SkyUp Airlines route was welcomed at Prague Airport by a traditional water gate (photo: Prague Airport)
"We are glad that our planes are finally returning to Prague. Before the pandemic, we operated flights from Lviv and Kharkov and now we are launching a new route from Kiev. This is an important destination for our airline and we are happy to travel for travelers, respecting the conditions in the form of departure times, flexible fares and additional services. We do everything to make every trip to Kiev as comfortable as possible for Czech tourists and business, " said Dmytro Seroukhov, CEO of SkyUp Airlines
SkyUp Airlines are after CSA AND Ukraine International Airlines the third airline that flies between Prague and Kiev. Greater competition and the entry of low-cost carriers bring a welcome reduction in direct flight tickets between the two capitals.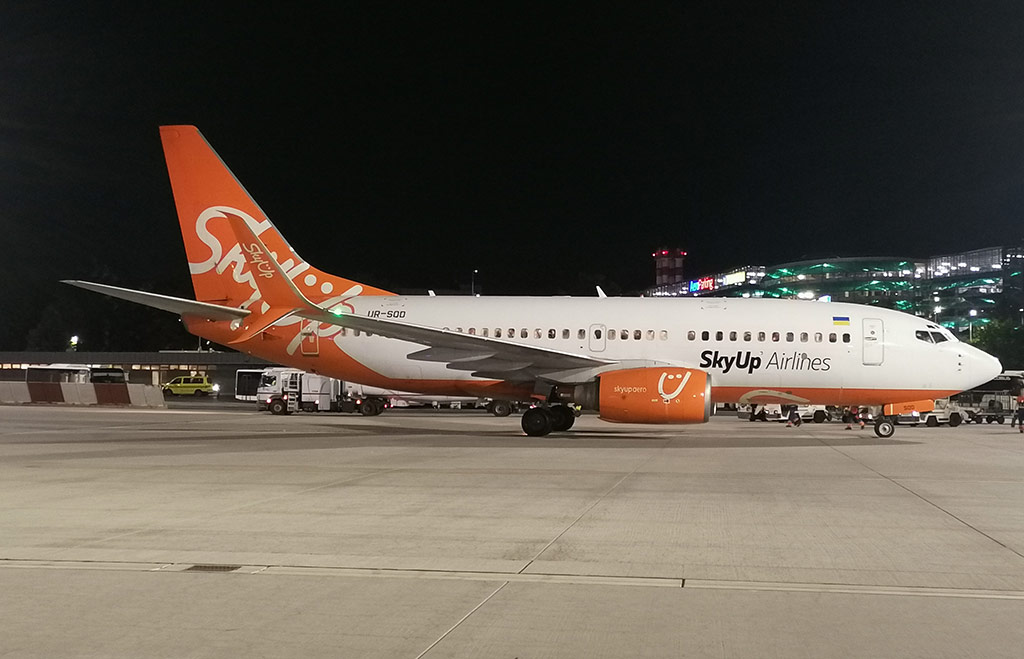 Boeing 737-800 registration UR -SQO started flights on the route Kiev – Prague – Kiev (photo: Centaureax)
SkyUp Airlines offers one-way tickets for a price starting at 49 euros (1247 crowns) in the Basic tariff, which includes only hand luggage up to 9 kilograms. With checked baggage up to 23 kilograms and two hand luggage of 9 and 5 kilograms, it is possible to get tickets from 70 euros (1780 crowns). The carrier also offers an increased tariff for a price from 95 euros (2417 crowns) with checked baggage up to 32 kilograms and two hand luggage up to 9 kilograms. Tickets are currently on sale until the end of March 2022.
SkyUp Airlines started scheduled flights to Prague in October 2019, when it opened flights from Lviv and Kharkov. Last year, it still has to reach the opening of a line from Prague to Zaporizhia, but the operation has not started. This year, these routes to Prague have not yet been operated due to the covid-19 pandemic and travel restrictions.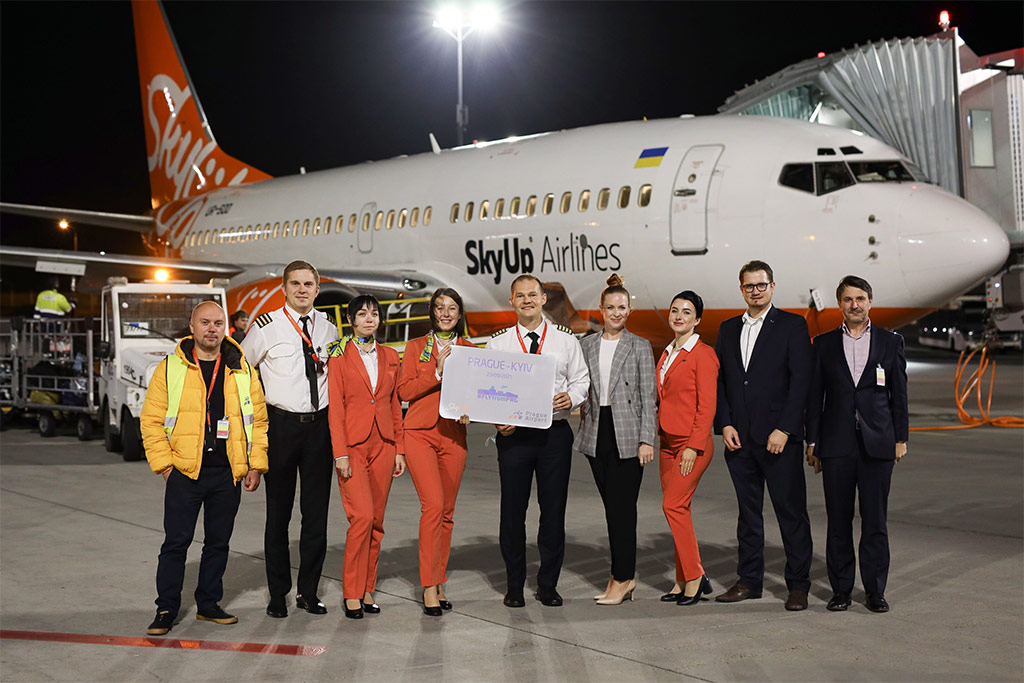 The crew of the launch flight together with the representatives of Prague Airport (photo: Prague Airport)
Labels