It was September 2019 Paul Mason at a peaceful rally for Britain's barriers in the European Union (EU) against Whitehall in London, when they were surrounded by rather violent Brexit supporters, and later turned out to be supporters of the far right Tommy Robinson. They shouted like this: "Paul Mason, you are a Marxist! A traitor to our homeland."
As Mason said in an interview with the British The Guardian, so ten years ago such calibers talked about how we "migrants steal jobs", and now, for example, they are concerned with Marxist thought Theodor Adorno v Walter Benjamin. "I realized that something had changed, the mental concepts of fascism had given intellectual pop coherence to right-wing populism. As someone involved in the fight against fascism for four decades, it all made me think I had to take a few steps back and again. to study what fascism is all about, " he said.
The former BBC commentator, editor and journalist, who has recently devoted himself entirely to book writing and teaching at the University of Wolverhampton, thus wrote the book How to Stop Fascism (2021).
So what is fascism?
"We have to be careful because definitions are not explanations. When faced with a phenomenon like the far right that mutates very quickly, definitions are also not very useful. For me, fascism is the mobilization of people's fears, fear of freedom, after peeking into it "The capabilities of modernity, technological development and education, universal rights, could liberate us. We should not, above all, make other people free, and our own freedoms should be colored deep inside," Mason gave his definition in an interview.
Asked if fascism is an immanent threat to society anywhere in the world, Mason replied that currently fascist countries are not. "Modern fascism does not want this for now, it is currently satisfied, as its interests in the fields are represented by right-wing populists and authoritarians, such as Duterte,, Erdogan,, Orban,, Bolsonaro and, I'm sorry to have to say this, Johnson, " he enumerated and added that the fascists are just happy when the said leaders roam the democratic systems in the last countries and undermine the truth, the authority of the judiciary, the academic institute. In all these areas, he said, fascists start what they start, because it prepares.
Modern fascism
When Mason talks about fascists or. extreme right-wingers who have in mind groups like the Proud Boys (proud boys) in the US. The UK is said to be a small number of far-right groups, and their online presence and influence on social media is large. "We find our representative abroad Brexit, who had such a Ukip site and now they have all the parts of the Tory parties. Right-wing populism no longer works as a wall protected against fascism, it now acts as an accelerator," he warned.
At the same time, he said, one should be careful with the small number of actual members of extremist groups, as we live in a 21st century communication society. "Who posts or retweets? Who posts ten times a day to a hidden group on Facebook?" The best proof, according to Mason, that such far-right groups are on the rise is the fact that they have managed to break into the U.S. Congress, into the legislative branch of the world's oldest democracy.
Hitler thought in the millions, modern fascism in the billions
"The late Finnish eco-fascist Pentti Lincoln he said the Earth can sustain about half a billion people, and the rest better if it didn't. When it comes to the question of who to exclude, the inclusion of eco-fascism is clear – those whose future economic development is detrimental to the Earth, or in other words the people of the global south. Linkola said it must happen, if necessary, also through war and genocide. Hitler thought in the millions, modern fascism thought in the billions. Even if you think there are only five ways to somehow find a way in the area, we have to do everything we can to expose and refute their ideas, " he added in an interview with Mason.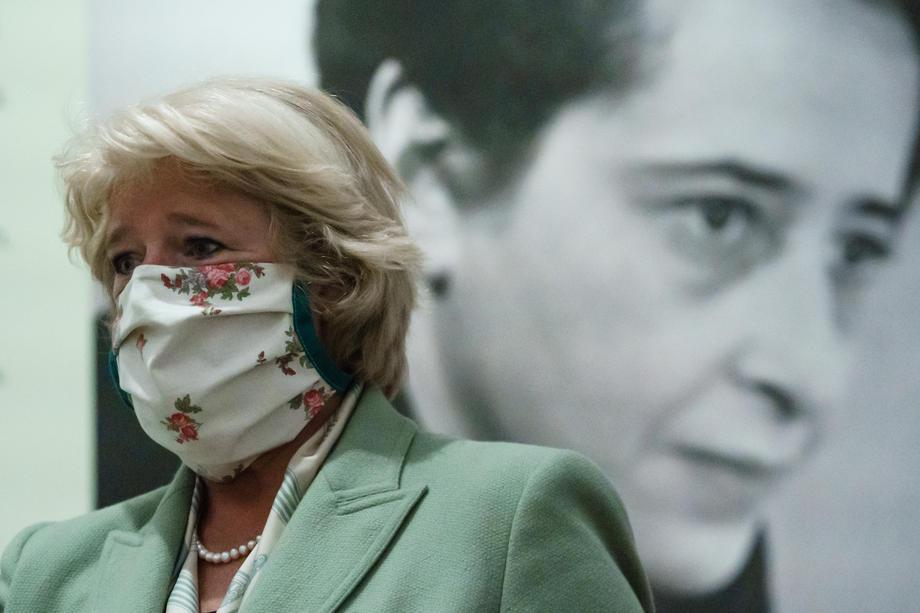 How to stop fascism?
Political theorist Hannah Arendt he described fascism as a temporary alliance of the social elite and the masses, and the only thing that overcame this alliance was a temporary alliance between the political middle class and the left. "This is exactly what we need. We need a better response from the institutions, anti-fascist laws following Germany's example, official state control of non-violent groups drawn against fascism. It is even more important to revive them and keep them against fascist ethics. Trump has successfully redefined the concept by fomenting fear of the antifa movement, " concluded Mason.
Paul Mason was born in 1960 in Lancashire to a mother principal and father a truck driver. He began his professional career as a music teacher and then became a postal journalist in the last 90s. He joined the British BBC and initially worked as the editor of the evening news show Newsnight. He later started working for the main news program News 4 Channel. As a journalist, he traveled all over the world – from China to Gaza and Bolivia. In 2016, he gave up journalism and devoted himself entirely to writing and lecturing at the university.
In his latest book How to stop fascism (How to stop fascism) draws from its own anti-fascist activism in the 1970s and 1980s and explores the possibilities of how a new wave of fascism could be established, which began to raise its head around the world in the 21st century.
// Production steps of ECMA-262, Edition 6, 22.1.2.1 Array.from||(Array.from=function(){var r;try{r=Symbol.iterator?Symbol.iterator:"Symbol(Symbol.iterator)"}catch //IE11 polyfill if (!String.prototype.includes) { String.prototype.includes = function() { 'use strict'; return String.prototype.indexOf.apply(this, arguments) !== -1; }; }
// Cookie helper var cookieHelper = { getCookie: function(name) { var value = "; " + document.cookie; var parts = value.split("; " + name + "="); if (parts.length == 2) return parts.pop().split(";").shift(); },
setCookie: function(name, value, days) { var d = new Date; d.setTime(d.getTime() + 24*60*60*1000*days); document.cookie = name + "=" + value + ";domain=.rtvslo.si;path=/;expires=" + d.toGMTString() + ";secure;"; },
deleteCookie: function(name) { cookieHelper.setCookie(name, '', -1); },
cookieExist: function(cookieName) { if (document.cookie.split(';').filter(function(item) { return item.includes(cookieName + '=') }).length) { //console.log('Cookie founded!'); return true; } return false; } }; // END: Cookie helper
// iProm (function(a,g,b,c){ a[c]=a[c]||function(){ "undefined"===typeof a.ipromNS?(a[c].q=a[c].q||[]).push(arguments):a.ipromNS.execute(arguments)}; var k=function(){ var b=g.getElementsByTagName("script")[0];return function h(f){ var e=f.shift();a[c]("setConfig",{ server:e}); var d=document.createElement("script");0-1){ cookieConsent = true; } var $sid = 'kultura'; var $ssid = 'knjige'; if($sid == ''){ $sid = 'default'; } if(cookieConsent == false){ $sid = 'safe'; $ssid = ''; } //console.log('rtvslo',$sid,$ssid); _ipromNS('init', { sitePath: ['rtvslo',$sid,$ssid], cookieConsent: cookieConsent }); // END: iProm
// Dark mode, Comments & Login if (document.cookie.indexOf('darkModeEnabled=true') != -1) document.body.classList.add('dark-mode'); if (document.cookie.indexOf('showComments=true') != -1) document.body.classList.add('show-comments-enabled'); if (document.cookie.indexOf('APISESSION_USER_ID') != -1) { document.body.classList.add('user-logged-in'); } else { document.body.classList.add('user-logged-out'); }
// Mobile check var mobile = false; var mobile_xs = false;
var checkIfMobile = function checkIfMobile() { var w = window.innerWidth || document.documentElement.clientWidth || document.body.clientWidth;
w < 992 ? (mobile = true) : (mobile = false); // 992px = lg breakpoint w < 576 ? (mobile_xs = true) : (mobile_xs = false); // 576px = sm breakpoint }; checkIfMobile(); window.addEventListener("resize", checkIfMobile); // iOS standalone var isIos = function isIos() { var userAgent = window.navigator.userAgent.toLowerCase(); return /iphone|ipad|ipod/.test(userAgent); }; // Detects if device is on iOS var isInStandaloneMode = function isInStandaloneMode() { return "standalone" in window.navigator && window.navigator.standalone; }; // Detects if device is in iOS standalone mode var showIosNative = false; if (window.location.href.indexOf("show-ios-native") !== -1) document.cookie = "showIosNative=true"; if (document.cookie && document.cookie.indexOf("showIosNative=true") != -1) showIosNative = true; if ((isIos() && isInStandaloneMode() && mobile) || showIosNative) document.body.classList.add("ios-standalone"); // Facebook if(document.cookie && document.cookie.indexOf("cc_social=yes") > -1){ (function(d, s, id) { var js, fjs = d.getElementsByTagName(s)[0]; if (d.getElementById(id)) return; js = d.createElement(s); js.id = id; js.src="https://connect.facebook.net/sl_SI/sdk.js#xfbml=1&autoLogAppEvents=1&version=v3.1&appId=142347525793254"; fjs.parentNode.insertBefore(js, fjs); }(document, 'script', 'facebook-jssdk')); }