Photos of paparazzi show 45-year-old Barker boarding a private jet in Camarillo, California with 42-year-old Kourtney Kardashian by his side for moral support.
She hugged before boarding, and then she held his hands as she climbed the stairs.
The couple traveled with Kourtney's mother Chris Jenner (65) and her boyfriend Corey Gamble (40) on holiday in the stars of the popular resort town of Cabo San Lucas in Baja.
The private jet is owned by Kourtney's younger sister Kylie Jenner, but is also often used by her famous sisters. Kendall,, Kim,, Kourtney v Khloe.
The 24-year-old millionaire has deducted $ 72.8 million for the year, and annual maintenance is known to be around five million, Page Six reports.
In June, Barker shocked his fans by tweeting that he was considering flying again. A series of expressions of support and encouraging messages flooded the tweet.
Four people died in the accident
The musician, who has also been touring only by bus all these years, has been a little more open lately about his traumas related to the horrific plane crash of 2008, in which four people died, Barker was seriously injured.
In an interview with Men's Health in May, he revealed that it was the accident that motivated him to stop abusing prescription drugs.
"People keep asking me if I went for treatment, and I tell them, 'No, I was in a plane crash. That was my treatment.' When you lose three friends and you almost die here, it's a wake-up call. If I hadn't had an accident, I probably would never have given up the pills. "
The accident happened on the night of Sept. 19, 2008, when Barker boarded a private flight back in Los Angeles after a concert in South Carolina. His friend was also on the plane Adam "DJ AM" Goldstein, his security guard Charles Still and his assistant Chris Baker.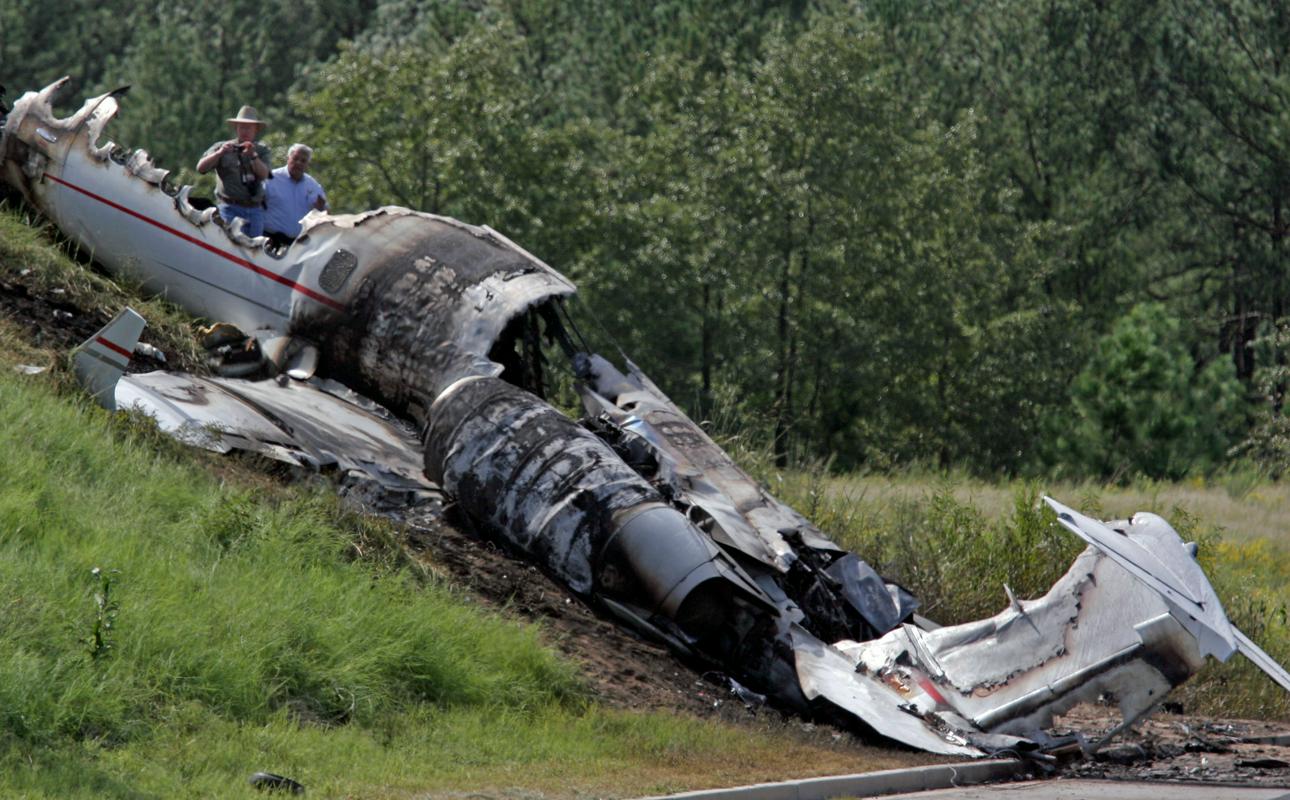 Goldstein died a year later
As the toddler tried to take off, one of the tires blew up, the plane took off from the runway, broke through the airport fence, from there onto the highway, and finally crashed into the side of the road and caught fire.
Pilot Sarah Lemmon and co-pilot James Bland they died within minutes of inhaling smoke and burns, and Still and Baker were also killed at the scene.
Barker and Goldstein managed to escape the burning flight via an emergency exit, but both were engulfed in flames as it descended down the wing, covered in flammable fuel.
The drummer had third-degree burns after 65 percent of the bodies and spent three months in hospital and underwent 26 surgeries.
Goldstein, then 35, also had burns and sought solace in drugs. He died less than a year after the accident due to an overdose of the drug mixture.
Happy with Kourtney
In the years that followed, Barker was paralyzed by fear of flying and guilt for surviving the crash and his friends not. He broke his burn scars with tattoos, including an inscription "Survivor's fault".
The divorcee and father of two has been in a relationship since January this year with Kardashian's eldest sister, with whom they make no secret of being completely crazy about each other.
// Production steps of ECMA-262, Edition 6, 22.1.2.1 Array.from||(Array.from=function(){var r;try{r=Symbol.iterator?Symbol.iterator:"Symbol(Symbol.iterator)"}catch //IE11 polyfill if (!String.prototype.includes) { String.prototype.includes = function() { 'use strict'; return String.prototype.indexOf.apply(this, arguments) !== -1; }; }
// Cookie helper var cookieHelper = { getCookie: function(name) { var value = "; " + document.cookie; var parts = value.split("; " + name + "="); if (parts.length == 2) return parts.pop().split(";").shift(); },
setCookie: function(name, value, days) { var d = new Date; d.setTime(d.getTime() + 24*60*60*1000*days); document.cookie = name + "=" + value + ";domain=.rtvslo.si;path=/;expires=" + d.toGMTString() + ";secure;"; },
deleteCookie: function(name) { cookieHelper.setCookie(name, '', -1); },
cookieExist: function(cookieName) { if (document.cookie.split(';').filter(function(item) { return item.includes(cookieName + '=') }).length) { //console.log('Cookie founded!'); return true; } return false; } }; // END: Cookie helper
// iProm (function(a,g,b,c){ a[c]=a[c]||function(){ "undefined"===typeof a.ipromNS?(a[c].q=a[c].q||[]).push(arguments):a.ipromNS.execute(arguments)}; var k=function(){ var b=g.getElementsByTagName("script")[0];return function h(f){ var e=f.shift();a[c]("setConfig",{ server:e}); var d=document.createElement("script");0-1){ cookieConsent = true; } var $sid = 'zabava'; var $ssid = 'iz_sveta_znanih'; if($sid == ''){ $sid = 'default'; } if(cookieConsent == false){ $sid = 'safe'; $ssid = ''; } //console.log('rtvslo',$sid,$ssid); _ipromNS('init', { sitePath: ['rtvslo',$sid,$ssid], cookieConsent: cookieConsent }); // END: iProm
// Dark mode, Comments & Login if (document.cookie.indexOf('darkModeEnabled=true') != -1) document.body.classList.add('dark-mode'); if (document.cookie.indexOf('showComments=true') != -1) document.body.classList.add('show-comments-enabled'); if (document.cookie.indexOf('APISESSION_USER_ID') != -1) { document.body.classList.add('user-logged-in'); } else { document.body.classList.add('user-logged-out'); }
// Mobile check var mobile = false; var mobile_xs = false;
var checkIfMobile = function checkIfMobile() { var w = window.innerWidth || document.documentElement.clientWidth || document.body.clientWidth;
w < 992 ? (mobile = true) : (mobile = false); // 992px = lg breakpoint w < 576 ? (mobile_xs = true) : (mobile_xs = false); // 576px = sm breakpoint }; checkIfMobile(); window.addEventListener("resize", checkIfMobile); // iOS standalone var isIos = function isIos() { var userAgent = window.navigator.userAgent.toLowerCase(); return /iphone|ipad|ipod/.test(userAgent); }; // Detects if device is on iOS var isInStandaloneMode = function isInStandaloneMode() { return "standalone" in window.navigator && window.navigator.standalone; }; // Detects if device is in iOS standalone mode var showIosNative = false; if (window.location.href.indexOf("show-ios-native") !== -1) document.cookie = "showIosNative=true"; if (document.cookie && document.cookie.indexOf("showIosNative=true") != -1) showIosNative = true; if ((isIos() && isInStandaloneMode() && mobile) || showIosNative) document.body.classList.add("ios-standalone"); // Facebook if(document.cookie && document.cookie.indexOf("cc_social=yes") > -1){ (function(d, s, id) { var js, fjs = d.getElementsByTagName(s)[0]; if (d.getElementById(id)) return; js = d.createElement(s); js.id = id; js.src="https://connect.facebook.net/sl_SI/sdk.js#xfbml=1&autoLogAppEvents=1&version=v3.1&appId=142347525793254"; fjs.parentNode.insertBefore(js, fjs); }(document, 'script', 'facebook-jssdk')); }