The Slovenian Embassy in Tokyo and the public agency Spirit have only prepared a website for an event on the promotion of the Slovenian economy through sports.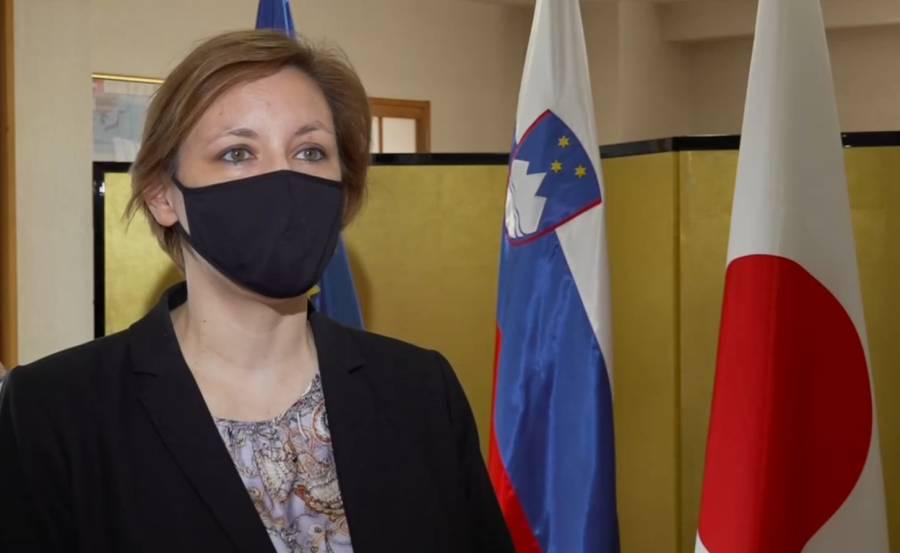 A two-hour promotional message online event On the sidelines of Slovenia's success at the Olympic Games, it was clear: Slovenia is not only the first in sports, but also in sustainable development. By presenting innovative solutions of five Slovenian companies from sustainable e-mobility to solar photovoltaics, they tried to arouse interest in Slovenia in Japanese companies. The event is a patch on the wounds due to the cancellation of Slovenian houses, said the ambassador to Japan Ana Polak Petrič. "Under normal circumstances, Slovenia would have a real range of promotional activities here from the economy, cuisine, tourism, as well as cultural events that were planned, but complaints, due to the measures in force here, we had to cancel these activities," she said.
This was the only opportunity to promote Slovenia this time. In addition, which, of course, is made by Slovenian athletes with their visible results.

Japanese investments in Slovenia have been growing rapidly in recent years, says Polak Petrič. Since 2013, they have increased tenfold.
What kind of business environment is Japan? "Any Slovenian company that works with Japan will tell you that this is a demanding market in a way, because a lot needs to be invested in personal contacts, but once the Japanese shake hands, that's true."
In Tokyo in particular, many Japanese are politely remarking at this year's Olympics that people should be proud in the future when the covid will be a thing of the past. These games will bring them almost no profit. The opportunities for cooperation with the third largest economy in the world are really great in a wide variety of areas. Also for Slovenia.

"Japan has big companies operating around the world. We want to work together, too."
said at an online event David Palčič (Robot).
"The basketball team can certainly be an example now. If it weren't for covid, I would be almost in Japan now, in Saitama Hall, looking forward to tomorrow's game," he said. however, he stated Doug King from Bisol and added: "Sport encourages the strengthening of values ​​that are easily transferred to the world of entrepreneurs."
And if it weren't for covida-19, the Olympic economic network would certainly be more vibrant.
// Production steps of ECMA-262, Edition 6, 22.1.2.1 Array.from||(Array.from=function(){var r;try{r=Symbol.iterator?Symbol.iterator:"Symbol(Symbol.iterator)"}catch //IE11 polyfill if (!String.prototype.includes) { String.prototype.includes = function() { 'use strict'; return String.prototype.indexOf.apply(this, arguments) !== -1; }; }
// Cookie helper var cookieHelper = { getCookie: function(name) { var value = "; " + document.cookie; var parts = value.split("; " + name + "="); if (parts.length == 2) return parts.pop().split(";").shift(); },
setCookie: function(name, value, days) { var d = new Date; d.setTime(d.getTime() + 24*60*60*1000*days); document.cookie = name + "=" + value + ";domain=.rtvslo.si;path=/;expires=" + d.toGMTString() + ";secure;"; },
deleteCookie: function(name) { cookieHelper.setCookie(name, '', -1); },
cookieExist: function(cookieName) { if (document.cookie.split(';').filter(function(item) { return item.includes(cookieName + '=') }).length) { //console.log('Cookie founded!'); return true; } return false; } }; // END: Cookie helper
// iProm (function(a,g,b,c){ a[c]=a[c]||function(){ "undefined"===typeof a.ipromNS?(a[c].q=a[c].q||[]).push(arguments):a.ipromNS.execute(arguments)}; var k=function(){ var b=g.getElementsByTagName("script")[0];return function h(f){ var e=f.shift();a[c]("setConfig",{ server:e}); var d=document.createElement("script");0-1){ cookieConsent = true; } var $sid = 'tematski_ena'; var $ssid = ''; if($sid == ''){ $sid = 'default'; } if(cookieConsent == false){ $sid = 'safe'; $ssid = ''; } //console.log('rtvslo',$sid,$ssid); _ipromNS('init', { sitePath: ['rtvslo',$sid,$ssid], cookieConsent: cookieConsent }); // END: iProm
// Dark mode, Comments & Login if (document.cookie.indexOf('darkModeEnabled=true') != -1) document.body.classList.add('dark-mode'); if (document.cookie.indexOf('showComments=true') != -1) document.body.classList.add('show-comments-enabled'); if (document.cookie.indexOf('APISESSION_USER_ID') != -1) { document.body.classList.add('user-logged-in'); } else { document.body.classList.add('user-logged-out'); }
// Mobile check var mobile = false; var mobile_xs = false;
var checkIfMobile = function checkIfMobile() { var w = window.innerWidth || document.documentElement.clientWidth || document.body.clientWidth;
w < 992 ? (mobile = true) : (mobile = false); // 992px = lg breakpoint w < 576 ? (mobile_xs = true) : (mobile_xs = false); // 576px = sm breakpoint }; checkIfMobile(); window.addEventListener("resize", checkIfMobile); // iOS standalone var isIos = function isIos() { var userAgent = window.navigator.userAgent.toLowerCase(); return /iphone|ipad|ipod/.test(userAgent); }; // Detects if device is on iOS var isInStandaloneMode = function isInStandaloneMode() { return "standalone" in window.navigator && window.navigator.standalone; }; // Detects if device is in iOS standalone mode var showIosNative = false; if (window.location.href.indexOf("show-ios-native") !== -1) document.cookie = "showIosNative=true"; if (document.cookie && document.cookie.indexOf("showIosNative=true") != -1) showIosNative = true; if ((isIos() && isInStandaloneMode() && mobile) || showIosNative) document.body.classList.add("ios-standalone"); // Facebook if(document.cookie && document.cookie.indexOf("cc_social=yes") > -1){ (function(d, s, id) { var js, fjs = d.getElementsByTagName(s)[0]; if (d.getElementById(id)) return; js = d.createElement(s); js.id = id; js.src="https://connect.facebook.net/sl_SI/sdk.js#xfbml=1&autoLogAppEvents=1&version=v3.1&appId=142347525793254"; fjs.parentNode.insertBefore(js, fjs); }(document, 'script', 'facebook-jssdk')); }