Martine, last week in front of her barracks at the Royers lock.
Photo: ATV
Antwerp-
Frituur Royerssluis will not disappear after all. For seven years, owners Martine and Marc remain in the dark about the future of their chip shop. "But we can still survive." And that at a new location, a little further on one of the yards of the Oosterweel Works.
Together with the chip shop on the pedestrian tunnel on the Left Bank, Frituur Royerssluis is the last real chip shop in Antwerp. The business has been around since the 1960s and is located next to the Royers lock on the Noordkasteel. For more than 13 years Martine Van den Broeck (58) and Marc Jondral (59) have been at the frying pans. Seven years of that relate to the couple in the past when it became clear that their beloved bar was related to the expansion of the Royers lock.
"Work on the lock has been postponed time and again. Our agreement was only extended by one month each month instead of three years," Martine. "At a certain point we wanted to transfer our chip shop. We had even received an offer, but that was not received by those short concessions. Nobody wants to take over your business like that."
And so the couple continued to work. But now the story is moving and work on the Royers lock will start this autumn. In addition, works for the Oosterweel connection are also planned in the area. Result: by October 1, Martine and Marc's barracks have to go. Last Friday they baked their last fries at the Royers lock.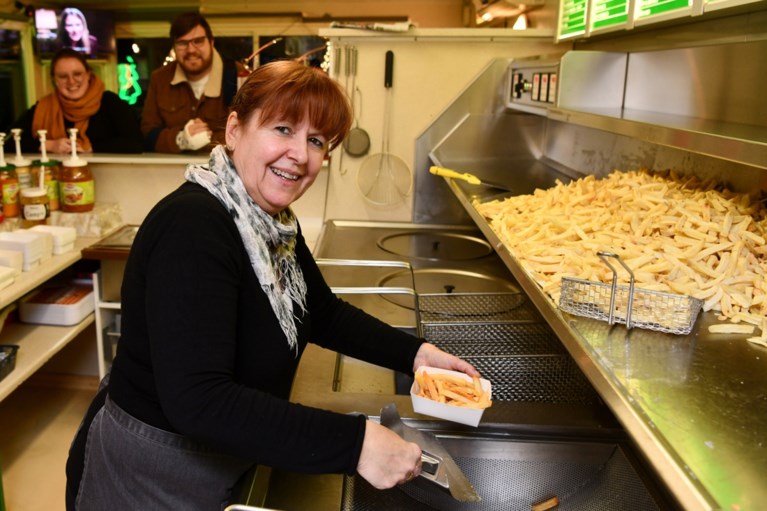 New location
But their chip shop will not disappear, it sounds relieved. "We can go to a new location, less than five minutes by bike from where our barracks now stand. And that for at least four years," says Martine. The site is located on the future wharf village of Lantis, near the factory of the Roufs Group on the Noordkasteelbrug. "Nothing has been signed yet, but I don't think Lantis will back down now," says Martine. "We expect a phone call soon to visit the yard together."
The couple will have to bear the costs of moving their barracks themselves. And that has some feet in the ground. "We have to arrange exceptional transport for that. No idea how much that will cost us."
The couple hopes to start again by mid-October. They are not afraid of losing customers. "Our huge clientele consists of dock workers. For them we will now be a little closer to the road. And we will normally also get new customers when the Oosterweel works start. We are especially happy that we can't even continue yet. Do we want to be a little too young to retire." One thing is certain: "If we stop it, it will stop for the barracks."