Back to the past! What the Czechs laughed from years ago and believed would never return is interest back. The practice where new flats, which not only in Prague have become insufficient and appropriately hot goods, will be preferentially offered to registered applicants, is already being introduced to their other developers and the biggest players in the real estate market.
"We are sorry, but the Nová Elektra project is now completely sold out. Congratulations to all clients who have chosen their new home here. If you are interested in real estate planned in this project, register below, " Finep tells clients on its website.
"Do you want to know about the newly prepared apartments first? Feel free to operate through forms. We will contact you as soon as possible. " supplies one of the largest Prague developers.
"Sales have been at record levels for nine months in a row. The demand of women still very affordable mortgages and also the fear of devaluation of savings due to inflation. Queues are even being created for flats, and new projects will be sold out for the most part. Practically immediately after the launch, " says the founder and head of Central Group Dušan Kunovský.
"Insufficient supply of new flats is not a satisfactory demand appetite, and therefore the growth of prices of new flats in Prague has accelerated again to ten percent. It is highly likely that similar growth will continue for several more months. " Marcel Soural, Chairman of the Board of Directors of Trigema, added for the List of Reports.
A house with city flats is to be built on Prague's Palmovka.
Due to rising apartment prices, Prague is no longer the primary place for real estate investments.
The ranking of Forbes magazine shows that the most suitable areas for investment are the north of Bohemia, especially Chomutov. An average forty-meter apartment in a statutory town in the Ústí nad Labem Region is sold for 775 thousand crowns, an annual yield of over ten percent can be expected.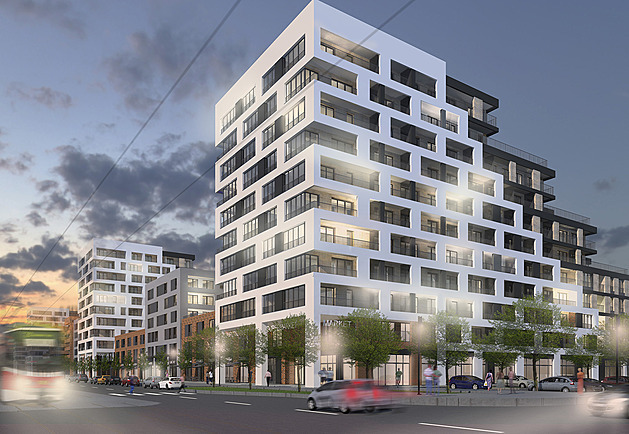 Tesla Hloubětín
The unsatisfactory development on the reality market has already prompted the representatives of Prague to take action. The city requires the construction of a house with city apartments in Palmovka.
"At the present time, when apartment prices for development projects are still rising and which are no longer available for the middle class, I welcome this step by the municipality positively. I believe that in the following, flats for long-term rent will be available on the market again at an affordable rent, " Councilor Karel Ptáček made himself heard.