When *Leila arrived at her home in Ghent on Saturday evening, she overheard three students arguing among themselves that they didn't have a window with them to stick over her. There is a rainbow flag hanging from that window, a symbol of the LGBTQ+ community. "Do you think that's normal, that flag?" the group leader asked. "Janets ensure that fewer white babies are born, that is not normal. And they are all pedophiles."
That same day, anti-LGBTQ+ stickers had appeared in various locations in Antwerp, including around the Seefhoek, Park Spoor Noord and the Carnotstraat. These are rainbow flags with a black stripe, with the words 'Just normal' around it.
It was author and human rights activist Fleur Pierets (48) who had been forwarded messages with photos of the stickers in question since Saturday. One after the other followed. It's almost about forty photos," says Pierets.
Pierets called on social media to report the stickers to the diversity cell of the Antwerp police. "Our cell is bundling all those reports together," the police said. "The stickers on both street furniture and shop windows. "We are now investigating whether those stickers were put up with the owner's approval. An official report will also be drawn up for both hate crime and vandalism." The main question that the police want an answer to is who is behind these stickers.
According to mayor Bart De Wever (N-VA), the stickers are absolutely unacceptable. "Antwerp has always been a pioneer in the field of LGBT rights. Messages like this are completely at odds with the values ​​of our open and tolerant city."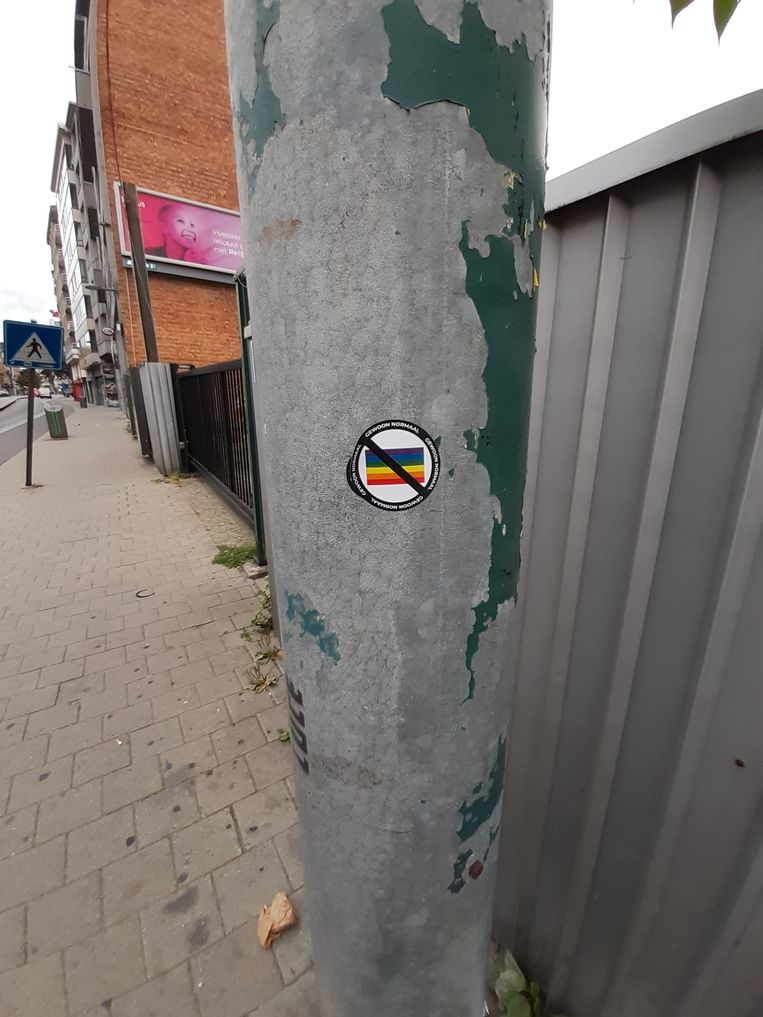 According to Bart Abeel, chairman of the Antwerp Pride, people should also be regularly removed from the Pride against the LGBTQ+ community. "But all in all, that's a marginal phenomenon. I think it's the first time that anti-LGBTQ+ stickers are being put up all over the city. I was really not even good about it."
Fleur Pierets also finds it 'incredibly creepy'. It reminds her of the 'lgbtq free zone' stickers that the Polish conservative newspaper Gazeta Polska distributed in 2019. Barely a year later, a third of Polish cities had already declared themselves 'LGBTQ-free'. "I get hate mail myself," says Pierets. "But this isn't personal, it feels organized. Let's hope this isn't a harbinger of what we've seen in Poland."
Last week, the violence against VRT journalist Riadh Bahri once again made it clear that it is not always safe for people from the LGBTQ+ community in Belgium. According to Abeel, Belgian politicians have a responsibility in this. Through their toxic discourse, for example towards trans people, they normalize discrimination and inspire others to violence."
Lgbtq+ phobia and racism often go hand in hand. "The conversation with the students suddenly changed when they saw that I have foreign roots. 'Are you a real Belgian?' said the group leader. 'Cause if you're a Moroccan bent, it's good that you're bent a janet.'"
It is the first time she has been attacked by her rainbow flag at her house. "I understand that after such an incident others will feel less likely and may remove the flag. But for me it is yet another proof why that flag should be there."
Anyone who encounters these stickers can (anonymously) notify the police via [email protected] For questions about gender and sexual preference, you can contact [email protected]
*Leila is a pseudonym. Her real name is known to the editors.