RegioJet counts on trains three times a week, they will run from Prague and Warsaw, they will connect in Břeclav.
RegioJet has made progress with its plans to introduce direct night trains to ski resorts in the Alps from the Czech Republic and Poland. It has published the first draft timetables, which provide for a total of eighteen stops in alpine resorts, including Zell am See and Kitzbühel.
The timetable envisages the concept of connecting two trains in Břeclav: one will leave Prague at 21:55, the other from Warsaw at 20:00. From Břeclav, both trains continue as one train via Vienna, Linz and Salzburg to the alpine resorts. In Innsbruck, the train is to be divided again: one part will continue to the Brenner station, the other further west to the Landeck-Zamst station. The train will serve a number of ski resorts in the federal states of Salzburg and Tyrol along the way.
The train from Prague has a draft timetable via Pardubice and Brno, and will probably have to cross Havlíčkův Brod due to lock-in jobs. He goes from Warsaw via Ostrava, where he is at 0:24. In the Czech territory, it will stop in Hranice, Přerov and Otrokovice, and in Břeclav there will be a connection with the Prague train station.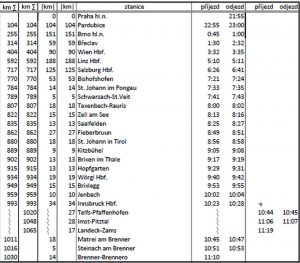 According to the published announcement, the train is to run from mid-December to mid-April three times a week (Tuesday, Friday, Sunday in the direction there), the total capacity is up to 850 seats. From Prague there are four to eight cars, from Warsaw there are six to thirteen cars. The carrier has not yet published timetables for the return journey.
The Alp daily Zdopravy.cz informed about the plan for trains to at the end of May. The owner of RegioJet, Radim Jančura, inspired the success of trains to the Adriatic, which showed that many people are willing to travel longer by train instead of traveling to the sea by car.
"During the winter, charters fly between Warsaw and Innsbruck on ski tours, and the market obviously exists here. A train could be a cheaper and convenient alternative. " added Jančura. He wants to take advantage of the current night train boom in Europe.
149 comments