05.03.2021 ––– architecture ––– Ondřej Krynek
Villa Sophia was recently built on a slope in the Troja district of Prague, designed by the local architectural studio CollColl. The villa, which is inconspicuous from the outside in black, impresses with its extravagantly designed interior and the integration of autonomous systems and artificial intelligence. The most striking is the atrium and joinery elements.
"The descending terrain allows the house to open to the south and offer three basic composed views. From the living space to the garden, from the bedroom to the treetops and from the study to the city skyline. The double entrance from the northern blind façade, especially into the residential and working spheres, serves mainly for visitors. For the home, the house begins with a garage, from which its spatial spiral develops. The garage is thus a complete part of the house and practically serves as an entrance hall. In the spirit of Palladian villas, the square floor plan is divided into 9 fields, which spiral up the slope and end with the most public part of the house, ie the working part, "says a team of 15 architects who worked on the project for eight years.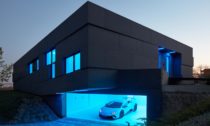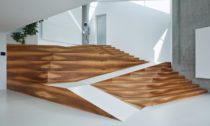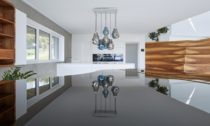 "The main living space is entered at the level of the gardens and the central staircase hall leads to the higher parts of the house along a rising gas slope. The approach for residents and guests is antagonistic. A similarly different experience from the perception of space or the use of a stair slope by descending or, on the contrary, ascending, according to the opposite ends of the spiral. In addition, the staircase is crossed by a barrier-free ramp, which again underlines the overall functionality of the house as a lifelong place to live, according to the clients' specifications. It develops movement at an early stage of life and makes it easier to function at the end of it, "they add.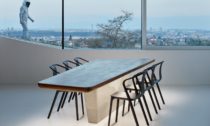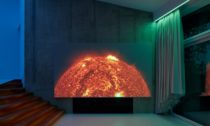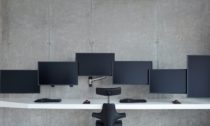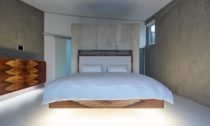 The clients, who are a cultural scientist and a computer scientist, had the requirements for a house full of smart technologies and, in addition, artificial intelligence. The architects managed to connect the two systems and it is possible to open the doors moving on magnets, the lights in the full spectrum of RGBW and, of course, control the air conditioning. House functions can be actively used. The total usable area of ​​the house is 390 square meters. The construction costs were 80 million Czech crowns.
Read more articles on housing
Photo: Boys Play Nice
Source: CollColl
Author of the article
Ondřej Krynek is an admirer of imaginative design, creative concepts, modern architecture, pleasant interiors, innovative technologies, new media, usable web design, extravagant fashion, expressive art, good music and other branches of culture.