Praguers do not have to have any document or affidavit when traveling to work or shopping from one city district to another. Restrictions do not apply to playgrounds that have remained open. However, restrictions apply, for example, to night walking of dogs. This was said on Saturday by the municipality's spokesman Vít Hofman. At its meeting on Friday, the government must restrict, in particular, the free movement of persons. Prague is both a region and a municipality and is divided into 57 city districts.


Prague


Share on Facebook


Share on LinkedIn


Print


Copy the URL





Abbreviated address




Close


"It is possible to travel between city districts without further proof, for example to work, to doctors or shopping. However, restrictions also apply within Prague, such as walking dogs at night only up to a distance of 500 meters, "said Hofman on Saturday.
There may not be a visit to relatives within the capital unless it is to provide for their essential needs and similar matters.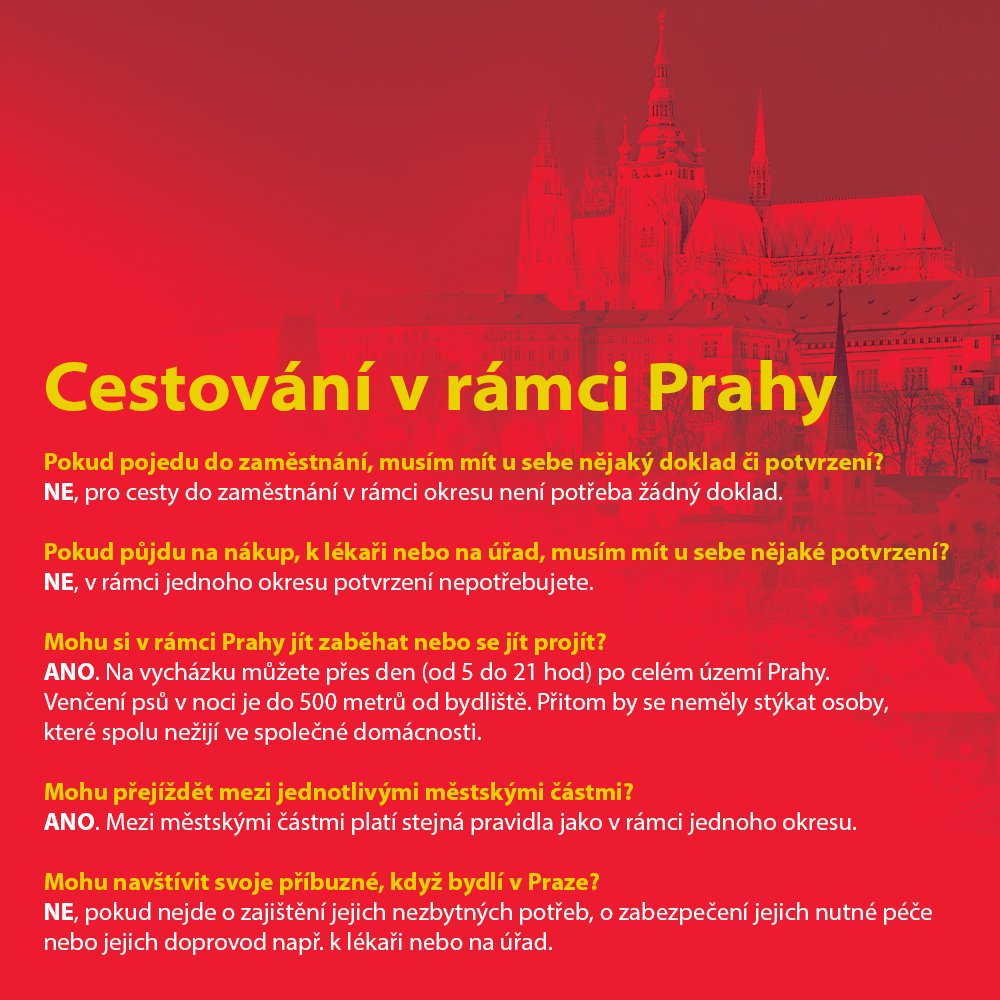 Prague is considered to be one district, from Monday, March 1, it will be possible to travel between city districts, for example to work, to shops or to doctors.
Practical questions and answers to bit.ly/CestovaniMeziO….
11:46 – 27. 02. 2021

14

61
It is possible to leave the residence for another purpose, such as a walk or jogging, during the day from 5.00 to 21.00, and only within the territory of the municipality, not the district. When not staying outside, people who do not live in the same household should not associate.
On the contrary, there is no playground to close. "We believe that Praguers are sensible enough and will keep at least two meters apart and wear respirators when babysitting their children. Children still can't just sit at home and need exercise in the fresh air, "said Vít Šimral (Pirates), a Prague councilor for education, on his twitter account.
The whole of Prague is perceived as one district within the new measures, so you can document it for work, for a walk or a run across city districts without authors. Please note, however, it is forbidden to visit similar ones within the district, if you live separately and it is not a necessary help.
13:26 – 27. 02. 2021

46

827
Due to the coronavirus pandemic, the government will initially restrict the movement of people from Monday to three weeks. For trips to work outside the district, for example, a confirmation from the employer will be required, for trips to doctors or to offices outside the district, a sworn statement or a form with the place, time and destination of the trip. Purchases will be possible only within the district, in the necessary number of people.
Share on Facebook


Share on LinkedIn


Print


Copy the URL





Abbreviated address




Close