02/11/2021 –– art –– Ondřej Krynek
Although the Kunsthalle Prague is still in its infancy, it already organizes exhibitions. An inscription by Joël Andrianomeariso from Madagascar has currently been installed on the facade of the building towards Pod bruskou Street. Until June 2021, it is possible to read the illuminated inscription in the artist's native language, Malagasy.
"The Czech translation could sound like this: Translations of our past passions and future desires. Multicultural artist, set designer and poet Joël Andrianomearisoa, who in 2019 was the first artist to represent his native Madagascar at the 58th Venice Biennale, which reflects the current crisis and the urgency of the moment. The distinctive lighting installation is the central output of the art-correspondence project, "says the emerging Kunsthalle Praha institution about the project, which can be viewed on the institutions' social networks.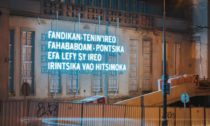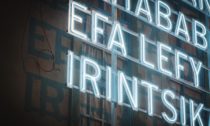 "In such an unprecedented situation, Andrianomearisoa decided to turn back to the Mail-art movement, which developed during the Cold War in the 1980s. In the coming months, the artist will send so-called letter works to Prague – objects made from economical materials of our time, from drawings and paintings through textiles and jigsaw puzzles to sound compositions. If the object arrives in Prague, the newly emerging Kunsthalle will temporarily become a part of the old-new premises, "add the representatives of the institution.
Read more articles on art
Photo and source: Kunsthalle Prague
Author of the article
Ondřej Krynek admires imaginative design, creative concepts, modern architecture, pleasant interiors, innovative technologies, new media, usable web design, extravagant fashion, expressive arts, good music and other cultural fields.