11/01/2020 –– architecture –– Ondřej Krynek
Four years ago, a slightly unexpected project for the reconstruction of Masaryk Railway Station in Prague and the surrounding area was presented. She was designed by her most famous architect, Zaha Hadid, with her British studio. Since then, not only has the completion date been postponed, but the architect has died, the project has been modified, scaled down and turned green. We bring you a look at the final form of the project around Masaryk railway station in Prague from Zaha Hadid Architects.
Zaha Hadid would celebrate her 70th birthday on Saturday, and even though it is four years since her death, Zaha Hadid Architects still works, provides her with designed projects and designs new buildings according to her principles. One of the most watched projects in recent years is clearly the reconstruction of Masaryk Railway Station in Prague, its completion and the associated development of unused open spaces in the area. The Zaha Hadid Architects studio won the competition for the design of almost all buildings in 2016. According to their proposal, however, only the most significant part will be built, marked as the first phase.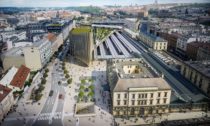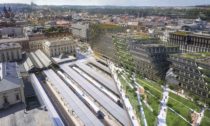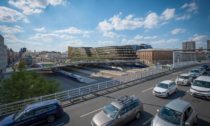 The final form of the project has undergone a number of changes compared to the proposal. What continues is the reconstruction of the historic Masaryk Railway Station building, a plan for the modernization and completion of the railway station. A green park with an overpass above the platform should be created above the station. It will connect Hybernská and Na Florenci streets. A new Hotel Hybernská will be built in Hybernská, which was not the only street designed by Zaha Hadid.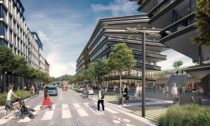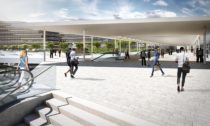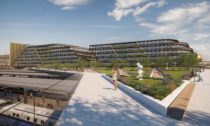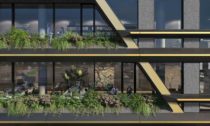 Developer Penta also plans to build the multifunctional Masaryk Center in the first phase, designed by Zaha Hadid and her studio. Compared to the original design, the imaginary golden tower will be slightly lowered, new trees will be added in the vicinity and the facade will generally turn green. Construction should begin in a few months. The next stages of construction, divided by successive stages 2 and continuing stages 3 behind the bridge near Florence, will be the subject of a new architectural competition, despite the fact that Zaha Hadid Architects designed these other parts of the projects.
Read more articles on Zaha Hadid
Photo and source: Penta AND Masaryk connects
Author of the article
Ondřej Krynek is an admirer of imaginative design, creative concepts, modern architecture, pleasant interiors, innovative technologies, new media, usable web design, extravagant fashion, expressive art, good music and other cultural fields.