The routine inspection of the books and property of the capital city of Prague surprised the deputy mayor Pavel Vyhnánek (Prague himself). When browsing the records include that the capital also owns two tanks. Although they will not defend the metropolis in the event of an attack, they are among the necessary helpers in live disasters. In the past, Prague used them, for example, during floods. As Vyhnánek himself confirmed, they are fully functional.
"On closer inspection of the books and property of the capital city of Prague, you will come across a lot. For example, countless nuclear shelters and two tanks," Vyhnánek wrote on his Facebook account. He then went to see them on the premises of the Service Administration in Dubč.
Rescue tanks (VT 55) have no weapons, they are indispensable due to their strength. "Tanks can dig up, bury or hold anything in any terrain during floods on the Vltava, which could otherwise offend the pillars of the bridge," said Petr Hlubuček, Deputy Mayor for the Environment, Infrastructure, Technical Equipment and Security (United Forces for Prague).
This became apparent in practice, for example, during the floods in 2002, when it was necessary to provide a floating restaurant at Smetana's embankment, which the owner did not tow. Heavy army technology was then used to anchor it.
Vyhnánek confirmed that the tanks are able to anchor such large ships as the floating Grosseto restaurant or the Albatros boat. "Using ropes, the ship is tied to a tank. It has digs to dig into the ground and keep the ship from breaking," he explained. "These are the necessary things we need for civil defense," Hlubuček added.
Mobile anti – flood mobile elements in Dubč Photo: Administration of Services of the Capital City of Prague
If necessary, they are managed by people from the city police
Both tanks are owned by the Capital City Services Administration, which garages them in the center in Dubč. According to Hlubučka, VT 55 are maintained in a standby state. In the case of deployment, the armored vehicles are driven by employees of the city police, who take regular journeys with them. Flood barriers are also stored in containers in the same place.
"The operation of tanks costs us almost nothing, only driven diesel," said Hlubuček. According to him, maintenance costs are minimal. They only require regular washing with water and lubrication with oil, they have not needed repair yet. Hlubuček estimated the age of the tanks at several decades.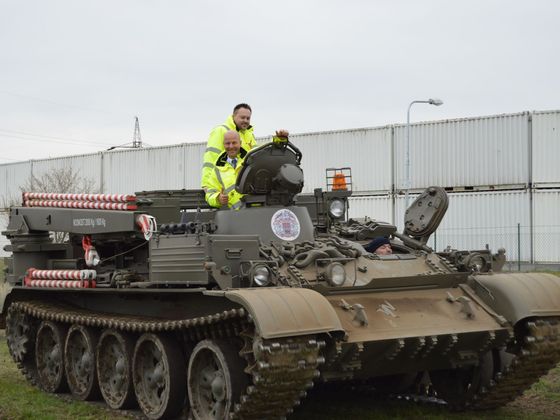 Deputy Petr Hlubuček on tank control. | Photo: Administration of Services of the Capital City of Prague