The capital will have a new government this week. And the elections have already suggested that the main topics to arrive in four years will be, above all, the lack of flats and their high price or transport. But what will the metropolis look like in the middle of the 21st century? Economists, transport experts, developers and architects must respond to this at the Prague – Vision 2050 conference organized by Mafra.
Prague as an important part of Europe
"Prague will be affected by several important trends. In 2050, we will be part of an Earth with a population of almost ten billion. This will be followed by various pitfalls. One of the biggest things for Prague will be that the dominance of the Euro-American world will move to Asia. Of course, Prague will still be an important part of Europe, but it will be part of a whole that will no longer economically determine the development of our planet, "predicts Křeček.
According to which, in the coming years, we should build an energy self-sufficient city in particular, because the almost ten billion people who will live on the planet at that time will need more scarce resources than today.
One world will experience population expansion, according to Křeček, Europe will have its inhabitants lost. Residents will live longer, but low birth rates will make the population significantly older than it is today. "This is also a challenge for Prague. It should be thus obliged with the needs of its inhabitants, who will be older as a result. Contributing to Europe will already lose its economic dominance and there will be fewer resources for this adaptation than we are used to, "says Křeček. Once Europe loses population, the Czechia will maintain more or less the same population level, depending on the economy. Not so the capital, which is estimated to grow, could have 1.6 million inhabitants.
Prague will merge with the Central Bohemian Region
According to Křeček, however, Prague will basically merge with the Central Bohemian Region, which will experience an even greater expansion of the population than the metropolis. "People will move to Central Bohemia, because there will not be enough places in Prague, Prague and the Central Bohemian Region will basically merge into one large agglomeration, which will have 3.4 million inhabitants. In terms of population, it will be the entire third of the Czech Republic, which will be the most educated and will also be the economic engine of the entire republic. That is why we should try to adapt the capital and the region to it, "says Křeček.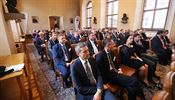 The conference Vision – Prague 2050 addressed the quality and comfort of life or living in Prague.
According to the director of the Strategies Section at the Prague Institute of Planning and Development, Tomáš Lapáček, questions about whether it only makes sense to plan only the city, but it would not be better to plan the entire region, already arise. According to Křeček, in a similar case as Prague, Brno and the South Moravian Region will also join the Central Bohemian Region. On the contrary, some regions will "shrink", including the Karlovy Vary, Ústí nad Labem, Olomouc or Zlín regions. According to the economy, the Hradec Králové, Pardubice, Liberec and South Bohemian regions will maintain their current position.
Moreover, according to Křeček, Prague will not be a poor city. If a similar development occurs in the next 30 years as in the previous 25, then the metropolis will manage 86 billion in 2050, compared to today's 54, in the present day. By 2050, more than 2,200 billion crowns will flow through Prague. The hamster also predicts that skyscrapers will be built in the wider center.
"The cornerstone of all the changes that should take place should be Prague, not the sale of Prague scenery to tourists," says architect Josef Pleskot.
It will be difficult to find housing
According to Křeček's economy, housing will be the same problem with housing in the metropolises as today – the center will become more and more expensive and inaccessible to many people – Prague is forecast to grow not only in height but also in width. "Prague currently has a desperately low population density, which is one of the worst European capitals, which of course means that you have higher costs for education, urban transport and public infrastructure and its maintenance is expensive. It is necessary to thicken Prague mainly from the inside, "says developer Radim Passer.
High-speed lines will also play a role in the future. According to Křeček, thanks to them, the capital will become any center and people from other regional cities will be able to commute to Prague, because it will take less than an hour.
According to Petr Moose's traffic experiment, it cannot be assumed that high-speed trains would stop all over the country. "Regional cities will be able to be connected by lines at 160 kilometers," Moos predicts. He adds that in 2050, the inner and Prague ring road should be completed in Prague, but also the so-called agglomeration ring road. It will look a little different on the roads too. According to him, students are already designing small vehicles that people could use on the principle of carsharing. "Through information systems, it will be possible to call such a vehicle and use it within a shared economy. Similar things are already being tested today in Copenhagen, for example, Moos specified.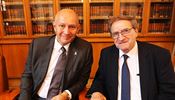 Radim Passer, founder and CEO, Passerinvest Group, as and Petr Moos, Department of Applied Informatics in Transport, CTU in Prague, Faculty of Transport.
According to the commissioner of the Czech participation in the world exhibition Expo 2010 in Shanghai Pavel Antonín Stehlík, Prague must above all have a vision. Without it, Prague will never return to the time of Charles IV, when it was the famous capital of Europe. "I had a bad dream about Prague in 2050. Citizens stood in front of the building authorities queue for a building permit for snowmen. The Immigration Commission of Prague was currently processing a request from a Brno citizen for a sublease in Prague. The City Department's Transport Department has just approved the reintroduction of tram transport on the last functional Prague bridge – Charles. And there are several hundred thousand migrants in front of the municipality – they don't want to go inside. They are Praguers, let them go, "said Stehlík. According to him, the city is being built for decades to come, so a new vision of Prague until 2050 should be created as soon as possible.